| | |
| --- | --- |
| June 23, 2020 | Volume 16 Issue 24 |
---
---


20,000 Stock Metric Gears
KHK USA Inc offers the largest selection of stock metric gears in North America. With over 200 types, in more than 20,000 configurations, KHK USA offers the broadest selection of metric spur gears, helical gears, internal ring gears, gear racks, bevel gears, worms and wormwheels, and other gear types.
See what KHK USA has in stock for you today.
---

Feature articles

Defiant attack helicopter proves it's faster than Black Hawk

On a recent flight test, Sikorsky-Boeing's new SB-1 Defiant attack and assault helicopter proved it was faster than the legendary Black Hawk by reaching 205 knots -- and the compound coaxial copter is designed to go much faster. Defiant is one of two designs in the running for the Army's Future Long-Range Assault Aircraft competition.
Read the full article.

---


Cool Tools: New OnRobot Screwdriver for cobots/robot arms
Automated precision assembly using cobots and robot arms just got easier with the introduction of an impressive new screwdriver unit from OnRobot. The OnRobot Screwdriver allows manufacturers to automate a wide range of assembly processes quickly, simply, and flexibly. It includes precise torque control, a nifty screw retraction system, and Quick Changer mounting.
Read the full article.


Going super small can make super-strong metals
It's long been thought by materials scientists that metals get stronger as their grain sizes get smaller -- down to a point of 10 nanometers, and then the materials get weaker. But experiments led by a former University of Utah researcher show that's not always the case. A team produced nickel that is 10 times stronger than commercial-grade material using grain sizes as small as 3 nm.
Read the full article.


Ford brings back Mustang Mach 1
The Mustang Mach 1 is back after a 17-year hiatus. The 480-hp limited-edition fastback coupe aims to set a new standard for 5.0-liter V8 track-ready performance in the Mustang lineup. Like the original, the new Mach 1 spans the gap between the Mustang GT and Shelby models.
Read the full article.


50 ways to use a hexapod
Hexapods, six-legged parallel-kinematic machines, can solve many complex positioning and alignment tasks in fields including Optics, Photonics, Precision Automation, Automotive, and Medical Engineering. Features include a programmable pivot point, sub-micron precision, and load capacities from 2 kg to 2,000 kg. From drone testing to the largest telescope project in the world, PI (Physik Instrumente) shares a full complement of applications to inform and inspire.
Learn more.


Self-lubricating polymers improve surf machines
A company in Brazil that designs fitness training equipment that simulates the movements of a surfboard reduced costs by 70 percent by switching to bearings manufactured by igus, the Germany-based motion plastics expert. The bearings also cut down on maintenance significantly.
Read the full article.


Why would you need a sapphire piston -- and who could make one?
If you want a prototype piston made of metal for research purposes, you have a lot of options -- you can even 3D print your own. But what if you need something much more exotic, like the second-hardest natural material? When Mid Michigan Research had just such a need, it turned to Insaco for the company's long history of custom fabrication of sapphire precision parts, often in unusual forms.
Read the full article.


THK world-class KR actuators -- Rigid, accurate, and compact
The LM guide actuator model KR from THK provides high rigidity, high-precision functionality, and space savings. It is achieved by a nut block designed in a structure that integrates an LM rail having a highly rigid U-shaped cross-sectional form with the LM guide section. The KR features a four-way equal load rating. The LM guide actuator can be operated in any position, which makes it ideal for loading in directions that are not fixed.
Learn more.


Solenoid valves for spaceflight applications
Marotta Controls has introduced four new solenoid valves to its CoRe Flow Controls series -- one of the only valve catalogs available for spaceflight. These new products support the commercial space industry's growing use of more efficient in-vehicle system designs and propellants that deliver better performance and greater ROI. CoRe pneumatic valves operate with 1/4-in. to 3/4-in. lines; handle fluids such as helium, methane, nitrogen, and oxygen; and are qualified to the Air Force Space Command's (AFSC) SMC-S-016 standard. These valves include Marotta's customer Qualification-by-Similarity (Qual-by-Sim) support, designed to get customers into orbit faster and with less upfront investment.
Learn more.


CNC machining for prototypes or low-volume parts
For plastic parts, CNC machining allows you to test the form, fit, and function of prototypes prior to tooling up for the injection molded production parts. For both plastic and metal, CNC machining provides fast turnaround and low cost for small quantities of parts. Learn all about ICOMold's CNC machining capabilities, which typically include tolerances to within +/- 0.2 to 0.3 mm for plastics and +/- 0.05 mm for metals. Parts that are CNC machined can also exhibit better structural integrity than those that are 3D printed, due to the nature of the manufacturing process. Secondary processes also available from ICOMold.
Learn more.


World's lowest-power PDM microphone
TDK has just introduced InvenSense T3902, the world's lowest-power Pulse Density Modulation (PDM) microphone for mobile, IoT, and other consumer devices. The T3902 is an ultra-low-power, low-noise, multi-mode bottom-port MEMS microphone that enhances voice-based services that are now commonplace in many devices. The microphone's AlwaysOn functionality in low-power mode enables immediate accessibility upon wake command. This microphone enables OEM partners to differentiate their product offerings by improving the consumer experience with reduced power consumption.
Learn more.


High-quality camera for Raspberry Pi
The Raspberry Pi High Quality Camera offers a high resolution of 12.3 MP and approximately 50 percent greater sensitivity than its predecessor for improved low-light performance. The camera features a circuit board with Sony IMX477 sensor, an FPC cable for connection to a Raspberry Pi computer, a milled aluminum lens mount with integrated tripod mount and focus adjustment ring, and a C- to CS- lens mount adapter. Available from Newark. Stock is being replenished continually. Wide-angle and telephoto lenses also available.
Learn more.


Reverse engineering software with never-before-seen features
3D Systems' Geomagic Design X 2020 combines robust 3D scan processing and complete CAD design functionality to enable faster, more accurate, and reliable reverse engineering. Using the software's newest features, engineers will benefit from streamlined modeling workflows as well as expanded modeling pathways for complex, revolved parts. The newest Geomagic Design X release includes an Unroll/Reroll function that enables an engineer to unroll the mesh to automatically extract a 2D sketch, make the modifications needed, and then re-roll the sketch for additional engineering. Wait, what? Wow. The software also includes a new Selective Surfacing feature that combines very fast organic surfacing with high-precision feature modeling methods.
Learn more.
---
Most popular last issue


50 years of Mazda rotary-engine prototypes: Weird, wild, and wonderful
Founded in 1920, Mazda is celebrating its 100th anniversary this year. As part of the big celebrations, we take a look back at two of the things the company is well known for: its success with the rotary (Wankel) engine, first introduced in the company's vehicles in 1967, and their sometimes-out-there prototype rotary-engine cars, which range from fancy track racers to everyday commuters.
Read the full article.


Air Force Research Lab improving processes for fabricating aircraft engine inlet ducts
The Air Force Research Lab's Manufacturing and Industrial Technologies Division has conducted research to quantify the benefits of replacing legacy manufacturing processes with novel processes for the fabrication of an 11-ft-long, S-shaped engine inlet duct for a powerful drone. The introduction of a reusable shape-memory polymer mandrel together with an automated overbraid process will lead to significant cost and cycle time reductions.
Read the full article.
---
Videos+: Technologies and inspiration in action
ClampDisk micro fastener is new alternative for automotive and consumer electronics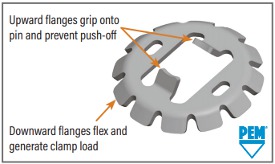 Designed as a unique alternative in assemblies for the automotive and consumer electronics markets, the ClampDisk Press-on Fastener is a new offering from PennEngineering that delivers a fast, simple way to achieve sheet-to-sheet clamped attachment while replacing the use of standard screws, nuts, and adhesives. The most common challenges that can be eliminated or reduced by using ClampDisk include over installation, cross threading, stripped screw heads, broken screws, and damaged product. This fastener can be removed easily with a sharp-edged tool.
Learn more and see how ClampDisk works.
Cut-and-form LED panels let you bend the rules of lighting design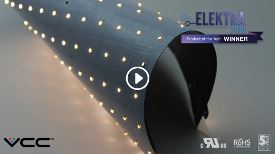 VCC is bending the rules of lighting design with its new VentoFlex tiles. The VentoFlex modular lighting system opens up countless ways for architects and lighting designers to make an impact. Available in 12-in. x 12-in. sheets, these innovative LED tiles can be cut and formed around any design element, including rounded corners and tight spaces, without taking up much room at all -- just 0.15 in. (3.81 mm). A pair of scissors is the only tool required to cut VentoFlex tiles to the size and shape you desire. Ten or 15 tiles can be linked together to one driver and dimmer to create thousands of square inches of versatile lighting power.
Learn more about this new and exciting lighting technology.
---