| | |
| --- | --- |
| July 07, 2020 | Volume 16 Issue 25 |
---



A New Level of Torque: GPT Gearheads
The new FAULHABER GPT planetary gearheads are compact, extremely robust, and tolerate both frequent and sudden load changes. These metal planetary gearheads operate with high efficiency and can be combined with an extensive range of DC or brushless motors. Various shaft configurations are available. GPT gearheads are ideal for applications in robotics, lab automation, test and measuring equipment, as well as semiconductor handling.
Learn more.
---
---


Freudenberg introduces seal with integrated bearing for automotive
In an innovation first, Freudenberg Sealing Technologies has created a machine component that combines a plastic rotating bearing with a seal in a single, precisely matched unit. The design offers significant weight, cost, and friction advantages over separate bearings and seals. It was tested in the sensor housing of an electric power steering (EPS) system installed in an electric-powered vehicle.
Read the full article.


710-hp Dodge Durango SRT Hellcat is new most powerful SUV
Move over, Jeep Grand Cherokee Trackhawk (707 hp) and Porsche Cayenne Turbo S E-Hybrid (670 hp), there's a new most powerful SUV in town. Featuring a supercharged 6.2-liter HEMI V8, the 710-hp Dodge Durango SRT Hellcat was born from a long muscle car lineage. It's a mountain lion, a toughened alley cat with street smarts, and a cheetah on the racetrack all in one.
Read the full article.


How to choose the best online CNC machine shop
Sourcing professionals, engineers, and designers alike need to have parts produced through technologies like CNC machining, turning, and milling. In development, the requirements may be loose to get a product validated. In production, the expectation is that parts are made consistently, on time, and to specifications. Given these conflicting demands, it is sometimes difficult to determine the best vendor to meet your needs. Greg Paulsen from Xometry provides a useful guide on what to look for when selecting a machine shop.
Read the Xometry blog.


Ideal for boost mode: Disc Magnet stepper motor + encoder
High resolution meets impressive speed when a FAULHABER Disc Magnet stepper motor is combined with a high-quality IE3 magnetic encoder. With an extended length of about 13 mm, this new combination offers high positioning resolution up to 1,024 lines per revolution together with extremely fast acceleration capabilities in a short and light package. It is ideal for boost-mode operation. Typical applications are found in the textile, semiconductor, and medical industries.
Learn more.


FAQs about HVAC filtration and COVID-19
Because infectious viral particles can float or drift around in the air, there are some concerns about indoor air quality and the potential for airborne transmission through an HVAC system. In many industries from healthcare to manufacturing, facilities managers are exploring whether their buildings are equipped to reduce the threat of infection. People want to know about their home systems too. Filtration experts at Parker Hannifin tackle the basics and even provide a takeaway fact sheet.
Read this informative Parker blog.


Thermal cameras for elevated skin-temp screening
FLIR Systems has just announced the availability of their modified thermal cameras for fast and safe non-contact elevated skin-temperature screening. The FLIR EST thermal screening solutions provide front-line screening at building entries and in high-traffic areas to improve safety and help curb the spread of COVID-19. The EST series cameras are designed to simplify the screening process, reducing the burden on screening operators and adhering to recommended social distancing guidelines. Handheld, fixed-mounted, and custom integrated solutions available.
Learn more.


New cable reel with worm guide increases safety in assembly areas
igus has just introduced a clever cable reel that can guide cables and hoses for the transmission of energy, media, and data without interruption. The e-spool flex increases safety at manual workstations and operating panels. For quick installation of the cable reel, the developers opted for a worm guide. The cable is inserted in a few simple steps, and the e-spool is ready for use. No complicated slip rings are required, so bus cables and hoses for air and liquids can also be guided without interruption. Both manual and automatic return options available. Extension lengths to 15 m possible.
Learn more.


20,000 stock metric gears available
KHK USA Inc offers the largest selection of stock metric gears in North America. With over 200 types, in more than 20,000 configurations, KHK USA offers the broadest selection of metric spur gears, helical gears, internal ring gears, gear racks, bevel gears, worms and wormwheels, and other gear types.
See what KHK USA has in stock for you today.


BAE Systems delivers radiation-hardened radios
BAE Systems has delivered its first shipment of next-gen radiation-hardened software defined radios (SDR) enabled by its RAD5545 computer to Lockheed Martin Space. The radios provide spacecraft with the on-board signals-processing capacity needed to support future space missions -- from planetary exploration to communications, national security, surveillance, and weather missions. These radios can be easily customized. The system leverages modular and standard building blocks including the RAD5545 single board computer (SBC), a SpaceVPX chassis and backplane electrical connectors, Serial RapidIO and Spacewire interfaces, and a fully supported expansion port for a custom interface card.
Learn more about BAE Systems' radiation-hardened electronics.
---
Most popular last issue


Defiant attack helicopter proves it's faster than Black Hawk
On a recent flight test, Sikorsky-Boeing's new SB-1 Defiant attack and assault helicopter proved it was faster than the legendary Black Hawk by reaching 205 knots -- and the compound coaxial copter is designed to go much faster. Defiant is one of two designs in the running for the Army's Future Long-Range Assault Aircraft competition.
Read the full article.


Ford brings back Mustang Mach 1
The Mustang Mach 1 is back after a 17-year hiatus. The 480-hp limited-edition fastback coupe aims to set a new standard for 5.0-liter V8 track-ready performance in the Mustang lineup. Like the original, the new Mach 1 spans the gap between the Mustang GT and Shelby models.
Read the full article.
---
Videos+: Technologies and inspiration in action
SOLIDWORKS Tech Tip: Getting started with sheet metal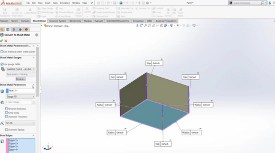 The experts over at TriMech have put together this short and informative tutorial for getting started with sheet metal design using SOLIDWORKS. Application Engineer Stephen Petrock demonstrates how to start by using the base flange method or by drawing a 3D shape and converting it into a sheet metal component later. TriMech is known for having very good video tips.
View the video.
Porsche vastly improves the brake rotor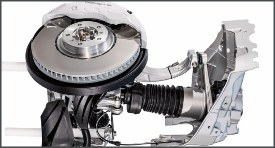 Jason Fenske of Engineering Explained runs through what makes the Porsche Surface Coated Brake (PSCB) technology, which made its debut on the new Cayenne Turbo series, so special. Two big standouts are that it doesn't rust and produces hardly any brake dust. In fact, Porsche is so confident in this "clean" tech that it makes its brake calipers white on purpose, just to show off how pristine they stay. What else makes PSCB so impressive -- and so very expensive to replace? Find out.
View the video.
---