| | |
| --- | --- |
| July 14, 2020 | Volume 16 Issue 26 |
---



PolyDrill® Multi-Spindle Heads
Multiple drill heads are available for a variety of machine OEMs. Two-spindle up to 10-spindle units, with fixed or flex shaft power, adjustable or fixed hole pitches and compact designs allow adaptability for the machine builder, integrator or assembly line designer. Holes in most material from 0.06"-1".
Contact Lee Coleman at Suhner for all the details.
706-314-2927
Learn more.
---
---


1/4 Ton Of Refrigeration
This small, stainless steel Vortex Tube produces 1/4 ton of refrigeration and has no moving parts to wear out. Temperatures range from minus 50 to +250 degrees Fahrenheit. Cooling applications include electronic controls, machining operations, heat seals, welding operations, hot melts and more.
More details online.


Universal Robots holding virtual Cobot Expo
Mark your calendars. Universal Robots is hosting a unique trade show called "The Cobot Expo" July 28-30 to offer American manufacturers flexible automation solutions for a fast-changing world. The virtual expo will provide a rich experience with an extensive range of product news and demonstrations, featuring more than 30 different booths, insightful keynotes, interactive QAs, and live chats with automation experts.
Learn more.


Space Motors: NASA's Perseverance rover packed up for Mars, complete with mini helicopter on board
The Red Planet's surface has been visited by eight NASA spacecraft. The ninth, which carries the Perseverance rover and the Ingenuity mini helicopter, will be the first that includes gathering Mars samples for future return to Earth. Launch is targeted for July 30. For the first time, NASA is using brushless DC motors in some Mars-bound equipment. These and other motors from maxon will be used for numerous mission-critical tasks. This article is filled with interesting insights and videos for the Mars 2020 mission.
Read the full article.


New U.S. Army Infantry Squad Vehicle based on Chevy Colorado ZR2 truck
GM Defense, a subsidiary of General Motors, has been awarded the production contract to build, field, and sustain the Army's new Infantry Squad Vehicle (ISV). The agile and light all-terrain troop carrier is based on the award-winning 2020 Chevrolet Colorado ZR2 midsize truck architecture. GM says the new vehicle design leverages 90 percent commercial off-the-shelf parts.
Read the full article.


Basics of Design: Touchless rotary sensors
Touchless rotary sensors are position sensors that use a position marker attached to an application's rotating part plus a sensor to measure the marker's angle. Learn about their distinct advantages over potentiometric track-and-wiper components and noncontact sensors, sizing and installation, and design tradeoffs in this informative white paper from Novotechnik. Applications include automotive, off-highway, material handling, robotics, and so much more. No registration required.
Read this informative white paper.


Automation: ECONOmaster drilling units help build trailers
On a recent project for Mid-State Engineering, Suhner custom ECONOmaster drill units were used to automatically drill holes into fiberglass panels for a truck trailer body. The quill-feed drill unit has selectable drill heads that can be used in combination or individually. Using servo drive motors, the machine auto indexes down a table to ensure precision hole locations across a 60-ft span.
Read the full article.


Stepper or servo motor -- Which should it be?
Bring out the full capacity of your machines through the most efficient mechatronic design. Hurley Gill, Senior Applications/Systems at Kollmorgen, outlines servo and stepper motor baseline capabilities for selection criteria like torque, speed, accuracy, and repeatability. Technical advantages and disadvantages are discussed, helping machine designers select the best motor-drive system for their application.
Click here to read: Servo or Stepper: Which Should It Be?
Kollmorgen designs and manufactures innovative motion control systems, including servo and stepper motors, drives, amplifiers, gearheads, and actuators.


Top Product: Alternative to traditional drive systems
Nexen Group has introduced a stainless steel version of its patented precision roller pinion system (RPS). The Nexen RPS engages two teeth simultaneously to achieve superior accuracy with zero backlash at any length. The system is also extremely quiet and 99 percent efficient. Stainless steel makes the system corrosion resistant, with a long life of up to 36 million meters. Nexen's RPS provides a low-maintenance, durable alternative to rack and pinion, ball screw, and belt drive technology. The RPS is used for a wide range of applications including laser cutting, plasma cutting, and gantry applications.
Learn more.


Efficient, powerful, compact: Hypoid PMDC gearmotors
More efficient than comparable worm-gear models, Bodine's new hypoid gearmotors can deliver up to 1,535 lb-in. (173 Nm) torque while using 40% to 60% less energy than a same-size worm gearmotor. Side-by-side tests have shown that hypoid gearmotors can run as much as 15% cooler than worm-gear gearboxes, resulting in lower power consumption and longer lubricant life. The hollow-shaft design eliminates expensive shaft couplings and mounting hardware. Hardened steel gears ensure long life and maximum performance. The initial product launch includes 60 standard models with gear ratios from 5:1 to 240:1.
Learn more.


Assembly pins help build in safety
Assembly pins are not new, but JW Winco has been able to make them even better by enhancing fully developed parts according to the application and combining them with other standard securing parts. See what's new, including assembly pins with different end washer forms, spring cotter pins with specific wire-gauge sizing, and more.
Read the full article.


Hubble Focus: Galaxies through Space and Time
NASA has a whole library of no-cost ebooks filled with fascinating facts, figures, and images. One of the latest is "Hubble Focus: Galaxies through Space and Time," a short but incredibly interesting read describing some of the Hubble telescope's recent discoveries about galaxies and their evolutions. Great images, of course, and some links to videos that are mind blowing if you give yourself some time to really think about them. So many stars.
Learn more.
---
Most popular last issue


710-hp Dodge Durango SRT Hellcat is new most powerful SUV
Move over, Jeep Grand Cherokee Trackhawk (707 hp) and Porsche Cayenne Turbo S E-Hybrid (670 hp), there's a new most powerful SUV in town. Featuring a supercharged 6.2-liter HEMI V8, the 710-hp Dodge Durango SRT Hellcat was born from a long muscle car lineage. It's a mountain lion, a toughened alley cat with street smarts, and a cheetah on the racetrack all in one.
Read the full article.


FAQs about HVAC filtration and COVID-19
Because infectious viral particles can float or drift around in the air, there are some concerns about indoor air quality and the potential for airborne transmission through an HVAC system. In many industries from healthcare to manufacturing, facilities managers are exploring whether their buildings are equipped to reduce the threat of infection. People want to know about their home systems too. Filtration experts at Parker Hannifin tackle the basics and even provide a takeaway fact sheet.
Read this informative Parker blog.
---
Videos+: Technologies and inspiration in action
Scanning: How to perform detailed measurement on large parts and assemblies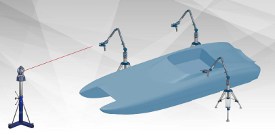 Capturing accurate and detailed 3D measurement data on extremely large parts and assemblies is often a huge challenge. The clever engineers at FARO have solved it. The FARO Super 6DoF TrackArm solution addresses this challenge by combining a FARO ScanArm and Laser Tracker into an ingenuous tool. The Tracker registers each Arm location into one coordinate system. Multiple ScanArms can even be used to collect data simultaneously.
See how it's done.
---