| | |
| --- | --- |
| August 11, 2020 | Volume 16 Issue 30 |
---



THK World-Class KR Actuators -- Rigid, Accurate and Compact
The LM guide actuator model KR from THK provides high-rigidity, high-precision functionality and space saving. It is achieved by a nut block designed in a structure that integrates an LM rail having a highly rigid U-shaped cross-sectional form with the LM guide section.

The KR features a four-way equal load rating. The LM guide actuator can be operated in any position, which makes it ideal for loading in directions that are not fixed.
Learn more.
---
---


Discover the design and functional advantages of copper foam
Copper foam from Goodfellow combines the outstanding thermal conductivity of copper with the structural benefits of a metal foam. These features are of particular interest to design engineers working in the fields of medical products and devices, defense systems and manned flight, power generation, and the manufacture of semiconductor devices. This product has a true skeletal structure with no voids, inclusions, or entrapments.
A perennial favorite of Designfax readers.
Learn more.


First Look: Cadillac's all-electric LYRIQ show car
Cadillac has just revealed its first all-electric prototype, and it's a super-luxe SUV filled with impressive features like an over-300-mile range, Super Cruise, and remote self-parking. The LYRIQ show car aims to be the brand's touchstone for future EV design, featuring a very sophisticated and detailed design language that coalesces into something pretty slick.
Read the full article.


25% more speed: Proven high-speed machining unit gets even faster
Specifically for metals with high cutting speed rates or small-diameter hole-drilling applications, the SUHNER SPINDLEmaster has been proven in thousands of installations. Now the BEX15 unit provides new speed options -- reliably up to the maximum speed limit. With an increase of 25 percent up to a permissible maximum spindle speed of 23,000 rpm, operations requiring higher spindle speeds can be accomplished more easily. This improvement is the result of a complete redesign of drive and spindle bearing components.
Learn more.


Redesigned jaw bucket is more productive for grab-and-go work
Bob Brooks, an expert in residential and commercial site preparation in the Pacific Northwest, says no other equipment accessory he has used compares to Parker's Helac PowerGrip Multi-Purpose Jaw Bucket when it comes to productivity. With PowerGrip, all the moving parts are fully enclosed, and there are no obstructions in the bucket shell (unlike competing units). It is equipped with a durable, enclosed rotary actuator hinge that offers 120 degrees of smooth jaw movement and constant clamping force.
Read this informative Parker blog.


World's smallest precision ball bearings
SPB-USA, located in Sarasota, FL, has the world's smallest ball bearings available. Manufactured in Japan by Sapporo Precision Inc. under the EZO-SPB brand name, each bearing has an inside shaft diameter of just .06 mm or .0236 in. and outside diameter of just 2.5 mm and a width of 1 mm. Each ball, and there are five in each race, is smaller than those found in a ballpoint pen, and each is precision ground to an exacting specification to ensure long life at operating speeds of between 142,000 rpm and 160,000 rpm. Applications include medical, aerospace, electro-mechanical, and packaging equipment.
Learn more.


PAEK polymer made specifically for 3D printing
VICTREX AM 200 filament has been specifically developed and optimized for additive manufacturing. The excellent mechanical properties of PAEK are in demand for high-performance parts. However, until now they were difficult to be fully realized in 3D-printed parts with existing choices such as PEEK and PEKK. For example, repurposing injection molding PEEK into filament fusion AM typically results in weak parts because of poor interlayer bonding. This new material is designed to address this weakness in printing PEEK. It has a higher Z-axis strength and is stronger in the XY direction, with a better fused filament forming (FFF) printing adaptability than the existing PAEK materials.
Learn more.


Self-supporting pliable hose
Flexaust Pliaduct is a 100% rigid, self-supporting PVC duct with a ribbon-lock construction that lets users expand the diameter up to 25% by twisting it, using both hands, to fit nozzles, funnels, or fittings. Ideal for spot-cooling applications, this wireless, flame-retardant duct can be reshaped and spliced together without tools and stays in place once bent.
Learn more.


Shaft collars and couplings for agricultural applications
Stafford AG Shaft Collars and Couplings include a wide array of mounting devices, stops, spacers, and couplings that feature hex and square bores often found in large drive systems. Ideally suited for use in heavy-duty equipment where the adjustment and repositioning of arms, blades, cutters, and levers is required, they can incorporate features such as threaded and keyed bores. Supplied off the shelf in aluminum, stainless steel, and steel that can be plain, plated, paintable, or case hardened, these collars and couplings are ideal for simplifying machinery building and maintenance.
Learn more.


Cool Tools: CadMouse Pro Wireless Left
Attention all southpaws. 3Dconnexion's latest CadMouse product, the CadMouse Pro Wireless Left, provides excellent ergonomics and heavy-use CAD comfort for left-handers. This mouse's angled shape creates natural hand placement and increased comfort. The middle mouse button is CAD user-specific. Other features include an intelligent scroll wheel, high-resolution optical sensor, QuickZoom, easy access to programmable radial menus, and durability rated to over 50 million clicks. This model can also benefit right-handers requiring a left-side transition to reduce Chronic Repetitive Strain Injury (RSI).
Learn more.
---
Most popular last issue


Wow. Researchers claim new material can't be cut
Engineers in England at Durham University and their research partners have created what they say is the first manufactured, "non-cuttable" material. Their unlikely design inspirations? Grapefruit and abalone shell. In tests, the metallic foam material could not be cut by angle grinders, drills, or high-pressure water jets.
Read the full article.


Be a speed racer: Mercedes-AMG GT Black Series
If you've got a high-end speed racer inside you just waiting to be set free and a wad of cash at the ready, Mercedes has a top-of-the-line super sports car that you can drive through town or at the racetrack. Featuring the most powerful Mercedes-AMG V8 series engine of all time, the new 720-hp Mercedes-AMG GT Black Series does 0 to 60 in 3.1 sec sporting a design that stems directly from the current AMG GT3 race car.
Read the full article.
---
Videos+: Technologies and inspiration in action
Learn the benefits of Roller Pillow Blocks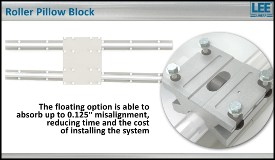 The Roller Pillow Block from LEE Linear provides key performance benefits such as high load capacities, high speeds, and design compatibility, while also providing size interchangeability with industry-standard blocks. In contaminated environments, the roller bearings push particulates out of the way or roll seamlessly over them. Large rollers in the Roller Pillow Block system are well suited for long travel applications, minimizing vibration and providing smooth and quiet travel over joined shafts.
View the video.
Watch NASA's Mars Curiosity rover take a selfie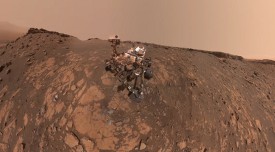 This video shows Curiosity taking a selfie at the "Hutton" drill site on Feb. 26, 2020. A total of 86 images were taken and later stitched into a panorama (the final selfie). The video was taken with one of Curiosity's black and white Navigation Cameras on the rover's mast. It shows the Mars Hand Lens Imager (MAHLI) camera that Curiosity uses to take all its selfies. At the very end, you can see MAHLI's cover closing, which protects it from Martian dust.
View the video.
---