| | |
| --- | --- |
| August 18, 2020 | Volume 16 Issue 31 |
---
---


Cool Electronic Cabinets
Prevent hot weather failures that can affect production. UL Listed Cabinet Coolers produce 20-degree Fahrenheit air from an ordinary supply of compressed air to cool electrical controls. Thermostat control minimizes air usage. Maintains the NEMA 4, 4X (stainless steel) and 12 rating of the enclosure.
Website offers video, CADs and more.
---
Feature articles


Mercedes adds electric motor-generator to turbocharger
A high-end, combustion-engine passenger-car model from Mercedes-AMG will soon sport a turbocharger that boasts no turbo lag. Drawn straight from Formula 1 technology, the innovative design adds a small electric motor directly on the turbocharger shaft between the turbine wheel and the compressor wheel.
Read the full article.


Designing with threaded metal inserts for plastics
When deciding how best to attach plastic materials or components in an assembly, designers can choose several options, including adhesives or rivets. But what if disassembly and reassembly will be necessary for the unit down the road? The practical solution: threaded metal inserts. Bob Gallagher from PennEngineering runs through your insert fastening options, processes, materials, and sizes.
Read the full article.


How airplanes counteract St. Elmo's Fire during thunderstorms
For centuries, sailors observed corona discharges at the tips of ship masts during storms at sea. They coined the phenomenon St. Elmo's fire. Corona discharge on electrically grounded objects can strengthen in windy conditions, glowing more brightly, but aerospace engineers at MIT have found that wind has the opposite effect on ungrounded objects, such as airplanes.
Read the full article.


What is the C-Flex Pivot Bearing?
It's a flexure-based bearing utilizing internal flat crossed springs, capsuled in a cylindrical housing, to provide precise rotation with low hysteresis and no frictional losses. The C-Flex bearing will offer indefinite life when used within its rated load and rotation values. Applications include Medical, Industrial, and Aerospace.

Advantages include: Frictionless, Backlash-free, Self-centering, Simple installation, Low hysteresis, Vacuum applications, Stock items, No lubrication, No maintenance, and Indefinite life.
Learn more from C-Flex, The Leader in Flexing Metal Technology.
View the C-Flex Pivot Bearing training page.


First Look: Top-of-the-line Bentley Bentayga Speed
If you want proven power and performance mixed with heritage luxury in an SUV, you'd be hard-pressed to find better than the special Bentayga Speed edition -- Bentley's top-of-the-line SUV that does 190 mph. This is the vehicle that broke the SUV record at Pikes Peak in a stunning upset in 2018, and its refresh is filled with updated style and impressive new tech.
Read the full article.


You asked. We answered.
Finding the best possible solution for your design challenge is no easy task. Smalley engineers have created a brand new Ask the Expert - Wave Spring FAQ E-book that answers all of your wave spring questions in one simple guide.
Download Now!


Primary packaging through the pandemic: 3 insights
During the COVID-19 pandemic, there have been clear shifts in shopping practices, product demand, and channel distribution. Eric Roegner, President, Amcor Rigid Packaging, shares his view on changing consumer patterns and the role of packaging that enables the safe delivery of food, beverages, healthcare products, and home and personal care items during this extraordinary time.
Read the full article.


Robots improve electric vehicle charging
While electric vehicle adoption continues to increase, some of the logistics of owning one remain less than ideal. Charging stations can be an eyesore along city streets, and bulky cables and plugs remain inconvenient for consumers' garages. While inductive charger pads help address some of the issues, they come with a hefty price tag and require extended, slower charging times. A technology prototype could be the new solution: a charging platform with an automatic robot arm, driven by FAULHABER DC motors.
Read the full article.


No hard tooling required: Photo Etching Precision Parts Guide
This Tech-Etch guide describes how photo etching produces prototype quantities and large production runs of precision parts for many mechanical and electrical applications -- without the high cost and long lead times of hard tooling. Custom metal parts from .0005" thick and up are produced with intricate patterns, precise tolerances, and burr-free edges, in addition to exact repeatability. By combining photo etching for blanking with inexpensive or universal tooling for forming, Tech-Etch produces complex designs and shapes with complete in-house finishing.
Download the Parts Guide (no registration required).


Stepper or servo motor -- Which should it be?
Bring out the full capacity of your machines through the most efficient mechatronic design. Hurley Gill, Senior Applications/Systems at Kollmorgen, outlines servo and stepper motor baseline capabilities for selection criteria like torque, speed, accuracy, and repeatability. Technical advantages and disadvantages are discussed, helping machine designers select the best motor-drive system for their application.
Click here to read: Servo or Stepper: Which Should It Be?
Kollmorgen designs and manufactures innovative motion control systems, including servo and stepper motors, drives, amplifiers, gearheads, and actuators.


Top Product: Alternative to traditional drive systems
Nexen Group has introduced a stainless steel version of its patented precision roller pinion system (RPS). The Nexen RPS engages two teeth simultaneously to achieve superior accuracy with zero backlash at any length. The system is also extremely quiet and 99 percent efficient. Stainless steel makes the system corrosion resistant, with a long life of up to 36 million meters. Nexen's RPS provides a low-maintenance, durable alternative to rack and pinion, ball screw, and belt drive technology. The RPS is used for a wide range of applications including laser cutting, plasma cutting, and gantry applications.
Learn more.


Knob with a twist makes for easier operation
Created with ergonomics in mind, Rogan's new ST series clamping knobs feature a contoured design that allows for more comfortable operation and ease of function. Perfectly engineered for applications in industrial, medical, lawn and garden, and consumer, ST knobs are made of glass-reinforced polypropylene with zinc-plated brass inserts or zinc-plated steel studs. Available in black, grey, white, blue, yellow, green, or red. Completely customizable too.
Learn more.


Linear rotary actuator for capping, screw driving, thread inspection, and more
The LBR40 is a slim, stackable linear rotary actuator that provides a long life cycle, high linear force, and high rotary torque. It includes an SMAC HT35 direct-drive brushless motor. Standard encoder resolution is 5 micrometers (with a 1-micrometer option) for application flexibility to optimize position control. Priced competitively, with the added benefit of real-time feedback of data required to ensure quality. IP67 protection is available, as well as a built-in controller with popular communication protocols. Available from Electromate.
Learn more.
---
Most popular last issue


First Look: Cadillac's all-electric LYRIQ show car
Cadillac has just revealed its first all-electric prototype, and it's a super-luxe SUV filled with impressive features like an over-300-mile range, Super Cruise, and remote self-parking. The LYRIQ show car aims to be the brand's touchstone for future EV design, featuring a very sophisticated and detailed design language that coalesces into something pretty slick.
Read the full article.
---
Videos+: Technologies and inspiration in action
Learn the advantages of DualVee technology for linear motion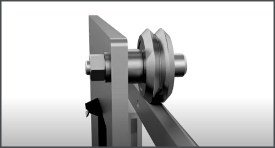 DualVee guide wheels and track are the flagship products of Bishop-Wisecarver and provide the foundation of UtiliTrak and LoPro products. This distinctive "v" guide wheel provides quiet, low-friction motion in even the most extreme conditions; comes in a diverse array of sizes, materials, and flexible mounting options; and can be customized to exact specifications and needs.
View the video.
---