| | |
| --- | --- |
| August 25, 2020 | Volume 16 Issue 32 |
---



20,000 Stock Metric Gears
KHK USA Inc offers the largest selection of stock metric gears in North America. With over 200 types, in more than 20,000 configurations, KHK USA offers the broadest selection of metric spur gears, helical gears, internal ring gears, gear racks, bevel gears, worms and wormwheels, and other gear types.
See what KHK USA has in stock for you today.
---
---
---
Feature articles


Aero History: WWII Superfortress bomber engine struggles
In July 1944, a B-29 Superfortress aircraft conducted a series of flight tests at the NACA Aircraft Engine Research Laboratory (now NASA Glenn) in Cleveland, OH. The tests were part of a national effort to get the new bomber into combat as the Allies sought to turn the tide in the Pacific theater of World War II.
Read the full article.


MXene 2D material shows incredible EMI shielding ability
Researchers at Drexel University have discovered an exceptional two-dimensional material from a family of materials called MXenes that can absorb electromagnetic interference rather than just deflect it. It can block EMI interference about three to five times more effectively than a similar thickness of copper foil, which is typically used in electronic devices.
Read the full article.


Made for sun and fun: 2021 Lexus LC 500 convertible
With 471 hp, a top that pops down in 15 sec, and a climate control unit that will keep you cool while you bask in the open air and full sun, the 2021 Lexus LC 500 convertible has got a lot to offer. It features a beefy-yet-sleek design that takes the basic LC 500 coupe to new heights, sporting its own special structural, suspension, and tuning modifications to carve its own place in the Lexus lineup.
Read the full article.


Top reasons cylinders fail
Cylinders can fail for a number of reasons from wrong specifications to operator error. However, one of the leading causes of cylinder failure is still seals. Ryan Roberts from Parker Hannifin's Cylinder Division details common seal problems and suggests a number of remedies.
Read this informative Parker blog.


The always-on magnetic encoder!
Novotechnik's RSM2800 Series measures up to 5,760° of rotation (16 turns) while measuring angles to less than 0.1° resolution. The RSM2800 continues to count turns and measure angle -- even when you lose power! There are no gears, optics, or batteries. Applications include robotics, material handling, forklifts, overhead doors, agricultural machines, and more.
Learn more.


Compressed-air vac simplifies vacuuming wet and dry materials
EXAIR's new 55-gal EasySwitch Wet-Dry Vac is designed to handle the toughest of industrial cleanup jobs with ease. Utilizing minimal compressed air, the EasySwitch is a powerful pneumatic vacuum that is ideal for any application -- wet, dry, light, or heavy. The fast and tool-less conversion to vacuuming liquids is done by releasing one latch, removing the filter element, and securing the latch. Simply reinstall the filter into the lid assembly for dry materials. Because the vacuum generator has no moving parts and uses no electricity, there is little concern for failed parts, motor failure, or working with liquids associated with electric industrial vacuums.
Learn more.


Stepper or servo motor -- Which should it be?
Bring out the full capacity of your machines through the most efficient mechatronic design. Hurley Gill, Senior Applications/Systems at Kollmorgen, outlines servo and stepper motor baseline capabilities for selection criteria like torque, speed, accuracy, and repeatability. Technical advantages and disadvantages are discussed, helping machine designers select the best motor-drive system for their application.
Read "Servo or Stepper: Which Should It Be?"
Kollmorgen designs and manufactures innovative motion control systems, including servo and stepper motors, drives, amplifiers, gearheads, and actuators.


Top Product: Alternative to traditional drive systems
Nexen Group has introduced a stainless steel version of its patented precision roller pinion system (RPS). The Nexen RPS engages two teeth simultaneously to achieve superior accuracy with zero backlash at any length. The system is also extremely quiet and 99 percent efficient. Stainless steel makes the system corrosion resistant, with a long life of up to 36 million meters. Nexen's RPS provides a low-maintenance, durable alternative to rack and pinion, ball screw, and belt drive technology. The RPS is used for a wide range of applications including laser cutting, plasma cutting, and gantry applications.
Learn more.


Cool Tools: Newly designed electronic digital micrometers
The L.S. Starrett Company has introduced more than 100 Electronic Digital Micrometers with new features for improved ergonomics, functionality, and productivity. They offer upgraded electronics, a longer battery life, an advanced locking mechanism, and a large, easy-to-read LCD display. The micrometers are available in a 0-1" (25-mm) model up to 24" (600 mm), and in 0-6" (152-mm) and 0-12" (304-mm) sets of individual micrometers. Some include IP67 protection. Industry 4.0 ready, these micrometers are equipped with an RS232 output, ideal for use with data-collection systems such as Starrett DataSure.
Learn more.


New PLC handbook chock full of must-know information
AutomationDirect's Practical Guide to Programmable Logic Controllers Handbook has been improved with tons of new need-to-know info, making it a more comprehensive guide to the world of PLCs. Besides covering the basics of PLC history, PLC hardware, and PLC software, this guide takes you deeper into the ever-changing world of PLC communication, the importance of feedback loops, cyber security, and many other areas that are a must-know for any PLC novice or seasoned automation professional.
Get this great resource today.


New Service: Custom-designed motion controllers
Nippon Pulse is pleased to offer a new service to its OEM customers: custom-designed motion controller boards that utilize the Nippon Pulse Commander core for multi-axis applications. The boards can be designed to meet unique specifications, helping streamline the design process to bring a new product to market faster or reduce the manufacture/testing time on an existing product. Fewer cables are a benefit too.
Learn more.
---
Most popular last issue


Mercedes adds electric motor-generator to turbocharger
A high-end, combustion-engine passenger-car model from Mercedes-AMG will soon sport a turbocharger that boasts no turbo lag. Drawn straight from Formula 1 technology, the innovative design adds a small electric motor directly on the turbocharger shaft between the turbine wheel and the compressor wheel.
Read the full article.


How airplanes counteract St. Elmo's Fire during thunderstorms
For centuries, sailors observed corona discharges at the tips of ship masts during storms at sea. They coined the phenomenon St. Elmo's fire. Corona discharge on electrically grounded objects can strengthen in windy conditions, glowing more brightly, but aerospace engineers at MIT have found that wind has the opposite effect on ungrounded objects, such as airplanes.
Read the full article.


First Look: Top-of-the-line Bentley Bentayga Speed
If you want proven power and performance mixed with heritage luxury in an SUV, you'd be hard-pressed to find better than the special Bentayga Speed edition -- Bentley's top-of-the-line SUV that does 190 mph. This is the vehicle that broke the SUV record at Pikes Peak in a stunning upset in 2018, and its refresh is filled with updated style and impressive new tech.
Read the full article.
---
Videos+: Technologies and inspiration in action
Pneumatics: Control media flows with a Festo pinch valve
The Festo pinch valve VZQA, which controls granulates, liquids containing solid particles, and highly viscous and abrasive media, is now available in normally closed (N/C) and normally open (N/O) variants. This food-safe, compact pneumatic valve is quick to install, simple to clean, and can be configured as modules. It features position detection via an integrated magnet ring and Festo sensors. Includes multiple connection options.
View the video.
Cadillac's giant 4-cylinder was made for truck use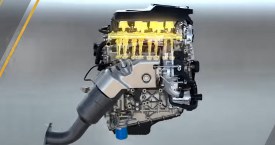 Jason Fenske from Engineering Explained delves into the engineering behind GM's L3B engine, one of the largest gasoline four cylinders available. It features a dual volute turbocharger, advanced three-position camshaft, integrated exhaust manifold, and jumbo cylinders. You can find the 2.7L I4 engine variants in both the Chevy Colorado pickup (310 hp) and the Cadillac CT4-V four-door (325 hp). Very interesting. You always learn something from a Fenske video.
View the video.
---