| | |
| --- | --- |
| October 13, 2020 | Volume 16 Issue 39 |
---
---
---

Feature articles

What's up with the U.S. Space Force? DOD gives update

Why do we need a Space Force, and what does it aim to do? The Defense Secretary Dr. Mark T. Esper and the Chief of Space Operations Gen. John W. Raymond gave their updates in September at the Air Force Association's Virtual Air, Space & Cyber Conference. Is "Star Wars" just around the corner -- or is it already here?
Read the full article.

---


Researchers 3D print a type of Damascus steel
In ancient times, Damascus steel was the material of choice, especially for sword blades. The material is hard yet tough because it consists of layers of different iron alloys. Now, a team of researchers in Germany has developed a process that allows this type of steel to be produced layer by layer in a 3D printer.
Read the full article.


Jeep beast: Wrangler Rubicon 392 Concept has Hemi V8
While Ford was busy debuting its new Bronco in July, the crafty product engineers over at Jeep had their own impressive new creation to show off: a 450-hp Wrangler Rubicon Concept featuring a Hemi V8 and a load of enhancements for rugged outdoor fun. Word on the street is that this beast is really likely to be produced. Wait until you hear it roar.
Read the full article.


AI software checks 3D-printing quality in real time
Oak Ridge National Lab researchers have developed artificial intelligence software for powder bed 3D printers that assesses the quality of parts in real time, without the need for expensive characterization equipment. Their method for identifying surface-visible defects can work on multiple printer models -- and possibly could be used to fix problems as they happen.
Read the full article.


Eliminating latency in next-gen WiFi 6E devices
With WiFi 6 promising a reduction in latency of approximately 75%, many product developers are understandably excited. But overcoming traditional latency problems could still be a challenge, given the proximity of the original WiFi 6 frequencies to other active bands of the spectrum. How can these issues be resolved? Johanson Technology takes a look.
Read the full article.


Cool Tools: Easy-setup orbital sander for cobots launched by OnRobot
The new Sander package from OnRobot includes everything customers need to get their robotic sanding application started quickly and easily: a plug-and-play sanding tool, a variety of standard 3M sanding and polishing pads, easy-to-use programming software, an optional force/torque sensor, and a Grit Changer that enables automated switching between different sanding grits without operator intervention. All of the advanced features are supported on Universal Robots cobots, but the tool is easily integrated with any major robot brand.
Read the full article.


Brushless DC motor with integrated driver saves space and time
Portescap's newest addition to their Ultra EC mini brushless DC motor platform is the 16 ECP motor with integrated driver. These 16-mm diameter motors are available in two lengths (36 and 52 mm) and offer almost 50% more continuous torque over comparable motors, without compromising on smooth operation and long life. The integrated driver reduces many of the complexities associated with motor operation, cuts down installation time, lowers overall footprint, minimizes wiring, and offers cost-optimization benefits. These motors are a good fit for respiratory and ventilation devices, miniature pumps, medical hand tools, clinical diagnostics, and valve actuation, as well as many other applications.
Learn more.


Xometry: What does it mean to be the 'Uber of Manufacturing'?
Xometry consolidates supply chain by having a single storefront for multiple manufacturing options. When you place an order for CNC machining, injection molding, compression molding, 3D printing, sheet metal fabrication, or urethane casting, it is sent through Xometry's extensive Manufacturing Partner Network. This is a vetted network of professional manufacturers from job shops to serialized production facilities. Xometry uses its AI-driven technology to pair projects with those manufacturers best suited to produce the parts on time and to your requirements.
Learn answers to FAQs about Xometry.


IKO expands line of CFKR cam followers
IKO International has expanded its line of CFKR series of Double Hex Hole Cam Followers. The outside diameter of the outer ring is now available in 22 and 26 mm, with current models as high as 90 mm. These bearings are designed for outer-ring rotation and have superior rotational performance with a small coefficient of friction and high load capacity. Consider the CFKR 90 model, which features a dynamic load rating in excess of 45,000 N, compared to 40,500 N for similar cam followers on the market. Because the structure of the CFKR series features hexagon holes on both stud ends, it can be tightened from the roller or stud end. Other variations available.
Learn more.


Powder and e-coat-compatible seam sealant provides toughness and flexibility
Designed to prohibit liquids, solids, and gases from entering through gaps and voids in metal seams, Henkel's new Loctite EA 3501 HT is a one-part, heat-cure epoxy seam sealant that offers excellent adhesion to primed or bare oily metals. This grey sealant maintains its flexibility, adhesion, and color after exposure to paint bake processes up to 225 C, and is ideal for use on a range of outdoor power and heavy-equipment vehicles including agricultural, construction, utility, marine, and sports/leisure, as well as work trucks and trailers. This epoxy provides a tough, flexible bond on metal seams between welded or bonded joints, butt joints, and other visible seams to prevent rust and corrosion.
Learn more.
---
Most popular last issue


Tricked out: Ford shows off Bronco Adventure Concepts
When the reborn Ford Bronco made its debut in July, it left fans both excited and faced with a mountain of choices. Should you get two doors or four, and which special Bronco series -- like Big Bend, Wildtrak, or Badlands -- should you choose? Base setup or advanced 4x4? Seven-speed manual or 10-speed automatic? Now Ford has thrown five pulled-together aftermarket adventure packages into the mix, so you can take your customization options to the max.
Read the full article.
---
Videos+: Technologies and inspiration in action
Hevi-Rail Linear Bearings enable telescopic racking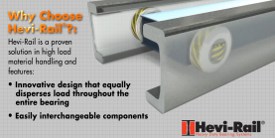 Shipping containers face a constant struggle to optimize storage space and accessibility within a confined area, as well as keep accurate inventory and streamline loading/unloading. A recent task was straightforward: Design a racking system that maximized organization and storage for cargo. In collaboration with a leading designer in storage containment, PBC Linear recommended implementing their high load-capacity Hevi-Rail linear bearing solution, which was installed in a specially designed assembly.
View the video.
World's first manned aerobatic drone does stunts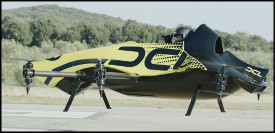 Drone Champions AG, creators of the Drone Champions League, has unveiled the first-ever manned drone capable of aerobatic maneuvers such as rolls and loops. Yup, you read that right -- someone can sit inside this thing while it's flown by a pilot on the ground. The "Big Drone" is the brainchild of Drone Champions founder Herbert Weirather, who personally assisted in the testing process by sitting in the single-seat machine during some of the testing (although a dummy was probably used for the really wild stunts) as it was piloted on the ground via RC controller. Nutty.
View the video.
---