| | |
| --- | --- |
| April 13, 2021 | Volume 17 Issue 14 |
---



THK World-Class KR Actuators -- Rigid, Accurate and Compact
The LM guide actuator model KR from THK provides high-rigidity, high-precision functionality and space saving. It is achieved by a nut block designed in a structure that integrates an LM rail having a highly rigid U-shaped cross-sectional form with the LM guide section.

The KR features a four-way equal load rating. The LM guide actuator can be operated in any position, which makes it ideal for loading in directions that are not fixed.
Learn more.
---
---


Refractory metal fasteners for extreme conditions
Goodfellow offers a range of high-performance refractory metal fasteners (nuts, bolts and washers) ranging in size from M3 to M6 for situations that involve high temperature, high voltage, magnetism, and harsh corrosive environments. All four metals currently offered -- tungsten, tantalum, niobium and molybdenum -- are chemically inert and have a melting point above 2400°C, high hardness at room temperature, relatively high density and stability against creep deformation at very high temperatures.
Learn more.


NASA refining lightweight crane for Moon's surface
NASA's Lightweight Surface Manipulation System (LSMS) is a robotic crane comprised of a structurally efficient truss frame with cable actuation. It is scalable to fit any sized lander, vehicle, or surface application and can use a toolbox of quick-interchange end-effectors to act as a hoist, forklift, regolith scoop, welder, and more.
Read the full article.


Researchers claim big advance in 'massless' structural battery tech
Researchers from Chalmers University of Technology in Sweden have produced a structural battery that performs 10 times better than all previous versions. It contains carbon fiber that serves simultaneously as an electrode, conductor, and load-bearing material. Their latest research breakthrough paves the way for essentially "massless" energy storage in vehicles and other technology, where the battery becomes part of the load-bearing structure.
Read the full article.


Mercedes electric 4x4 concept is up for anything
Don't you love it when you see a one-off automotive concept car and just start hoping it really makes it to the mass market? Such is the case with the Mercedes EQC 4x42, an all-electric concept built by Daimler engineers to mash luxury and extreme off-roading into one fun and exciting vehicle.
Read the full article.


Starts Today! Universal Robots Expo on Metal Fab Applications
Whether you're designing applications for welding, cutting, grinding, polishing, or machine tending, you already know the bad news: rampant skilled labor shortages exist across the nation. Collaborative automation is quickly emerging as a solution -- but where to start? Universal Robots' two-day Expo focused on Metal Fabrication, April 13-14, 10AM-5PM EST, is a vibrant virtual experience with live demos, interactive keynotes, and booths featuring a wide range of cobot-powered applications.
Sign up for free today:


Design Tips: Fasteners for printed circuit boards
When specifying hardware for printed circuit board applications, many designers may still turn either to loose fasteners or broaching fasteners. While both provide the necessary functionality, each carries potential risks that may impact the production process, the integrity of boards, and even disassembly if required. Leon M. Attarian of PennEngineering runs through profiles of the latest surface-mount fastener families.
Read the full article.


Liquid nozzle for cooling, washing, rinsing
EXAIR's new 1/2 NPT FullStream™ Liquid Atomizing Spray Nozzle provides a full cone spray pattern for pressurized liquids. This inexpensive and versatile nozzle offers the ideal solution for cooling, cleaning, washing, rinsing, and dust-suppression applications for industry. With a vaneless, tangential flow design, the FullStream has wide-open internal features to resist clogging. The compact right-angle design operates at up to 250 PSIG liquid pressure and functions seamlessly with liquids containing particulate.
Learn more.


Top Tech Tip: Stepper or servo motor -- Which should it be?
Bring out the full capacity of your machines through the most efficient mechatronic design. Hurley Gill, Senior Applications/Systems at Kollmorgen, outlines servo and stepper motor baseline capabilities for selection criteria like torque, speed, accuracy, and repeatability. Technical advantages and disadvantages are discussed, helping machine designers select the best motor drive system for their application.
Read "Servo or Stepper: Which Should It Be?"



Top Product: Alternative to traditional drive systems
Nexen Group has introduced a stainless steel version of its patented precision roller pinion system (RPS). The Nexen RPS engages two teeth simultaneously to achieve superior accuracy with zero backlash at any length. The system is also extremely quiet and 99% efficient. Stainless steel makes the system corrosion resistant, with a long life of up to 36 million meters. Nexen's RPS provides a low-maintenance, durable alternative to rack and pinion, ball screw, and belt drive technology. The RPS is used for a wide range of applications including laser cutting, plasma cutting, and gantry applications.
Learn more.


Servo-insert coupling with new hub design
RINGFEDER has recently released its GWE 5113 series of elastomer jaw servo-couplings featuring a new hub design. This design eliminates radial loads and achieves uniform power transmission with an even clamp force and symmetrical arrangement of clamp and screw positions. GWE 5113 couplings precisely transmit torques from 3 to 560 Nm. The hub is slit partially through and located directly under the jaws to minimize pressure on the shaft. Backlash-free units come with an elastomer spider with 98 Shore A hardness, minimizing movement and achieving longer life cycles. Seven sizes available.
Learn more.


Cool Tools: Three new CadMouse models
3Dconnexion has expanded its range of peripherals designed to meet the needs of professional users. The refined CadMouse range of products now includes a compact form factor, a compact wireless, and the ultimate Pro model for power users. These new introductions cater to specific and exacting user requirements, ranging from hand size and grip type preferences to special application functionality, extensive programmability, and mobility features for users on the move.
Learn more.
---
Most popular last issue


Autoloader for Army's Extended Range Cannon Artillery tested
Engineers at Picatinny Arsenal are testing an autoloader for the U.S. Army's Extended Range Cannon Artillery that is two to three times faster than a cannon crew. Autoloading could also enhance lethality and may set the stage for future "optionally manned" artillery battery configurations. It's a real engineering challenge, though, getting all the parts to work together.
Read the full article.
---
Videos+: Technologies and inspiration in action
High-performance vibratory feed system handles larger range of parts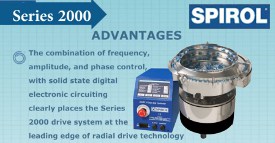 The SPIROL Series 2000 is a proven and reliable dual-axis feeding concept that is unlike anything else on the market. It can feed many parts that were once considered not suitable for vibrating feeders, including fuses, tablets, packets, soft rubber parts, fragile parts, and parts that are coated or have a film on them. It is tuned electronically rather than by re-springing, which makes setup and changeover for multiple bowls on one drive a snap. In automated assembly lines, this system offers maximum efficiency, reduced power consumption, and less noise.
View the video.
---