| | |
| --- | --- |
| April 20, 2021 | Volume 17 Issue 15 |
---
---


Zirconia -- The toughest of technical ceramics, also allows very fine features
Zirconia partially stabilized with yttria (PSZ) features a self-healing effect that fights micro cracks and therefore makes this material tough against impact. The extremely fine available grain size is also recommended where fabrication of very fine features and thin edges is required to hold up well in applications that include medical, aerospace, semiconductor, instrumentation, and industrial. Insaco has been a precision machining and polishing fabricator since 1947.
Learn more.


Boosting Productivity With OnRobot's All-Electric VGC10 Vacuum Gripper
OnRobot's versatile VGC10 vacuum gripper enabled Sydney, Australia-based injection molding experts Designed Mouldings to boost productivity and reduce cycle times through automation of key assembly processes. The low-cost, all-electric VGC10 easily completes 20,000 product runs in 24 hours -- three times faster than manual labor -- freeing workers to focus on higher value tasks. And with no external air supply to worry about, the VGC10 supported easy deployment with excellent results.
Learn how.


2024 HUMMER EV SUV: Ready to rumble
Get ready to rumble in outrageous, all-electric style. The 2024 GMC HUMMER EV SUV is packed with lots of go-big-or-go-home fun, including up to 830 hp and a 0 to 60 time of 3.5 sec, the ability to CrabWalk diagonally, Adaptive Air Suspension with Extract Mode, launch mode, and an optional Extreme Off-Road package that amps up the excitement even more.
Read the full article.


Optics & thermal imaging -- precise motion required
From scanning buildings for heating and cooling inefficiencies to scanning crowds of people during the pandemic, thermal imaging systems play a critical role in many industries. Thermal cameras rely on many of the same motorized components as standard cameras, since they also require focusing, zooming, aperture adjustments, and quick-moving shutters. Inside these advanced optics systems, micro brush DC motors from FAULHABER make it possible for cameras to capture precise images and temperature readings in a fraction of a second.
Read the full article.


Whitest paint ever is also the coolest -- literally
Engineers at Purdue University have created the whitest paint ever. Coating buildings with this paint may one day cool them off enough to reduce the need for air conditioning. The researchers say this white may be the closest equivalent of the blackest black, "Vantablack," which absorbs up to 99.9% of visible light.
Read the full article.


Retaining rings and wave springs solutions
Finding the best possible solution for your design challenge is no easy task. That's why we're here to help you find the right wave spring, retaining ring, or constant section ring for all of your applications. Choose from one of our 12 product types, 400 sizes, and 10,000+ standard parts in carbon and stainless steel, or challenge our team of engineers to tailor a custom part fit to your exact application requirements.
Request free samples today!


Top Tech Tip: Stepper or servo motor -- Which should it be?
Bring out the full capacity of your machines through the most efficient mechatronic design. Hurley Gill, Senior Applications/Systems at Kollmorgen, outlines servo and stepper motor baseline capabilities for selection criteria like torque, speed, accuracy, and repeatability. Technical advantages and disadvantages are discussed, helping machine designers select the best motor drive system for their application.
Read "Servo or Stepper: Which Should It Be?"


Top Product: Alternative to traditional drive systems
Nexen Group has introduced a stainless steel version of its patented precision roller pinion system (RPS). The Nexen RPS engages two teeth simultaneously to achieve superior accuracy with zero backlash at any length. The system is also extremely quiet and 99% efficient. Stainless steel makes the system corrosion resistant, with a long life of up to 36 million meters. Nexen's RPS provides a low-maintenance, durable alternative to rack and pinion, ball screw, and belt drive technology. The RPS is used for a wide range of applications including laser cutting, plasma cutting, and gantry applications.
Learn more.


Premium Hi-Temp ETX Series thermoelectric coolers
Laird Thermal Systems has developed a thermoelectric module series that is rated for high temperature in emerging optoelectronic applications, including LiDAR and CMOS sensors for autonomous systems in vehicles and drones, digital light processors (DLP) used in 3D machine vision and advanced lighting systems, and optical transceivers. The HiTemp ETX Series thermoelectric cooler has a robust construction that allows it to survive in temperatures up to 150 C, exceeding most outdoor applications. These solid-state heat pumps are assembled with advanced materials that boost cooling capacity by up to 10% compared to traditional thermoelectric coolers.
Learn more.


Pinpoint the leading cause of Industrial Ethernet failures
Fluke Networks introduces the LinkIQ-IE Cable+Network Industrial Ethernet Tester designed to troubleshoot network cabling, the leading cause of Industrial Ethernet failures. With Ethernet-based technologies increasingly the default for automation networks, the need for easy-to-use tools to troubleshoot these networks is growing rapidly. By combining Fluke Networks' state-of-the-art cable measurement technology and basic tests for Industrial Ethernet switches, LinkIQ-IE speeds and simplifies the discovery of network failures in a simple-to-use touchscreen interface akin to a smartphone.
Learn more.


New LEGO NASA Space Shuttle Discovery set with Hubble Telescope
LEGO has had several Space Shuttle kits over the years, but a new, larger set is aimed at adults. The LEGO NASA Space Shuttle Discovery, which was developed in collaboration with NASA, is a complex 2,354-piece build that marks the 40th anniversary since the first Space Shuttle flight on April 12, 1981. The almost 2-ft-long shuttle set features the Discovery orbiter with functional landing gear, payload bay doors, elevons, and rudder -- and the famous Hubble Space Telescope, which can either be folded and contained within the payload bay or expanded with solar array and displayed separately.
Learn more.
---
Most popular last issue


Mercedes electric 4x4 concept is up for anything
Don't you love it when you see a one-off automotive concept car and just start hoping it really makes it to the mass market? Such is the case with the Mercedes EQC 4x42, an all-electric concept built by Daimler engineers to mash luxury and extreme off-roading into one fun and exciting vehicle.
Read the full article.


Researchers claim big advance in 'massless' structural battery tech
Researchers from Chalmers University of Technology in Sweden have produced a structural battery that performs 10 times better than all previous versions. It contains carbon fiber that serves simultaneously as an electrode, conductor, and load-bearing material. Their latest research breakthrough paves the way for essentially "massless" energy storage in vehicles and other technology, where the battery becomes part of the load-bearing structure.
Read the full article.
---
Videos+: Technologies and inspiration in action
Modular and flexible multi-axis system from Festo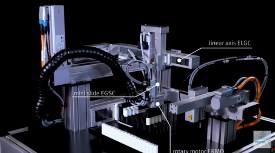 Festo offers a new, flexible mechanical system that consists of electric linear axes ELGC and the electric mini slide EGSC. The components can be used as individual axes or they can be combined quickly and easily to form multi-axis systems. The new system also meets the requirements for compact design and maximum modularity for a broad range of applications in electronics manufacturing and small part assembly such as manifold assembly, bonding processes, and pick-and-place applications.
Watch the new Festo system being used to make batteries.
---