| | |
| --- | --- |
| April 27, 2021 | Volume 17 Issue 16 |
---
---


PolyDrill® Multi-Spindle Heads
Multiple drill heads are available for a variety of machine OEMs. Two-spindle up to 10-spindle units, with fixed or flex shaft power, adjustable or fixed hole pitches and compact designs allow adaptability for the machine builder, integrator or assembly line designer. Holes in most material from 0.06"-1".
Contact Lee Coleman at Suhner for all the details.
706-314-2927
Learn more.


New Cobot Welder is programmable with smartphone app
The new Cobot Welder from Hirebotics is a major leap forward in easy-to-use welding automation that combines industrial-grade robot welding functionality with consumer-level ease-of-use and a phenomenal price point -- especially for small and medium-size businesses. The Cobot Welder's app programmability decreases the time required to teach a new part by 60%. A Hirebotics/Universal Robots launch event will be held April 28.
Read the full article.


Over 30,000 Stock Metric Gears
KHK USA Inc offers the largest selection of stock metric gears in North America. KHK now offers more than 30,000 configurations. KHK USA offers the broadest selection of Stock Metric Spur Gears, Helical Gears, Internal Ring Gears, Gear Racks, Bevel Gears, Worms and Wormwheels, and other Gear types.
See what KHK USA has in stock for you today.


Porsche Taycan Cross Turismo: Not your grandpa's wagon
If you like a high-end ride with some space and extra capability but you're not the SUV type, Porsche has a brand new option for you. The all-electric Cross Turismo is the latest offering in the brand's Taycan line, which has been wildly popular, especially in Europe. With an eye-catching design, options from 470 to 750 hp max, and room to stretch and store, it's not your grandpa's station wagon -- but grandpa sure would look sharp in it.
Read the full article.


Can the U.S. power grid handle electric cars?
If everyone had to drive electric vehicles, could the U.S. power grid handle it? Jason Fenske from Engineering Explained runs through the numbers while he takes a scenic drive, and his answer may surprise you. You almost always learn something new from a Fenske presentation. Now if the power goes out, well, that's a whole different story.
View the video.


Convert any CAD format file into any other CAD system
CAD/CAM Services is well known for its CAD Perfect conversions, and its engineers are capable of converting any CAD format file into any other CAD system. Its highly experienced CAD engineers can also convert hardcopy documents into any 3D CAD program such as Revit, SolidWorks, CATIA, and other 3D software. Consider CAD/CAM Services to be an extension of your in-house team. They have no restrictions on the size or quantity of drawings for their 3D CAD outsourcing services.
Learn more.


When should designers use crossed roller bearings?
Crossed rollers use a series of cylindrical bearings or rollers set at 90 degrees to one another to form a V that fits into a slot on the rail. Each roller provides an entire line of contact, as opposed to just the point or two of contact provided by liner actuators using ball bearings. The result is less deformation and the ability to carry heavier loads.
Read this informative ISOTECH blog.


Pre-Compensated Valve Platform for mobile machines
The Pre-Compensated Valve Platform from Bosch Rexroth makes it easier for mobile machine builders to selectively combine a range of hydraulic control valves into a single, integrated, multifunctional control solution -- with minimal need for adapter plates or custom fittings. All the valves in the platform support pre-compensated load-sensing capabilities that ensure the proper hydraulic flow is delivered to each function. The incorporated load-sensing capabilities improve efficiency, can help reduce hydraulic cooling system size and costs, and potentially lower engine horsepower requirements.
Learn more.


Design Tip: Mastering complex features on machined parts
CNC machine tools attain greater capabilities year over year, but that doesn't mean just anything goes when it comes to design. Mistakes can lead to expensive reworks and project delays. With this in mind, Protolabs has put together five elements to consider when designing complex parts to make your project a success, including tips on hole placement, deep features, better threads, and how to handle corners.
Read this informative Protolabs blog.


Structural adhesive offers 4x temp stability
Developed primarily for use in the automotive industry and mechanical engineering, DELO has launched an adhesive with exceptionally high temperature stability. DELO MONOPOX HT2999 achieves compression shear strength of 20 MPa at 180 C. This is four times greater than its predecessor and other products on the market. High-temperature-resistant adhesives are in demand for use with electric motors and power electronics. Many products that are currently on the market show a clear drop in performance at temperatures above 150 C. DELO's new structural adhesive can handle it.
Learn more.
---
Most popular last issue


2024 HUMMER EV SUV: Ready to rumble
Get ready to rumble in outrageous, all-electric style. The 2024 GMC HUMMER EV SUV is packed with lots of go-big-or-go-home fun, including up to 830 hp and a 0 to 60 time of 3.5 sec, the ability to CrabWalk diagonally, Adaptive Air Suspension with Extract Mode, and an optional Extreme Off-Road package that amps up the excitement even more.
Read the full article.


Whitest paint ever is also the coolest -- literally
Engineers at Purdue University have created the whitest paint ever. Coating buildings with this paint may one day cool them off enough to reduce the need for air conditioning. The researchers say this white may be the closest equivalent of the blackest black, "Vantablack," which absorbs up to 99.9% of visible light.
Read the full article.
---
Videos+: Technologies and inspiration in action
Improved low-backlash Slip-Ease clutches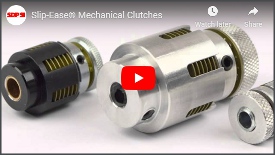 SDP/SI offers a new, low-backlash variant of its existing line of multi-plate in-line slip clutches. Both versions feature an all-mechanical design, which makes them considerably cheaper than electromechanical alternatives. These clutches are commonly used for overload protection to prevent injury and machine failure, but have a wide variety of other applications such as tension control and positioning retention hinges like the ones in reclining chairs. The slip plates are layered with friction pads in between, and an adjusting nut sets the slip torque by squeezing the plates together. The outer plates are tabbed to fit into the output housing and the inner plates are connected to the input hub, so the two ends disengage from one another upon slipping.
View the video.
---