| | |
| --- | --- |
| May 04, 2021 | Volume 17 Issue 17 |
---



An Engineer's Go-To Guide for Rings and Springs
Find your next wave spring, retaining ring, and constant section ring in Smalley's newest Catalog and Design Guide release. As the inventor of the edgewound wave spring with over 100 years of manufacturing excellence, Smalley has helped thousands of engineers and professionals create application-specific solutions across every industry. Print and Interactive Digital catalogs available!
Learn more.
---
---


Hollow Shaft, Solid Performance
FAULHABER has set a new standard for internal aperture motors with the new DM66200H stepper motor series. As a direct drive, the new hollow shaft motor operates backlash-free and can be integrated into different applications with minimal effort. This new stepper motor achieves impressive performance, for both speed and torque values. Its exceptionally wide internal aperture has a diameter of 40 mm.
Learn more.


Neat. Guide any major industrial robot easily with Robeye visual guidance system
Recognition Robotics offers its complete Robeye visual guidance system that includes all the components needed to guide any major industrial robot. This industry-proven technology with potential for hundreds of applications is currently running production in multiple automotive OEMs. Benefits include quick-and-easy setup, simplified line feeding (for things like pre-centering tooling, conveyors, high-precision racks and rack stands), reduced production time, increased flexibility, and no CAD data or calibration required for new tasks. Just connect, teach, and recognize -- all in less than five minutes. The Robeye Espresso Starter Kit includes everything you need to get underway.
Learn more about the system.
Learn about Robeye in De-racking Applications.


Boost productivity with OnRobot's all-electric VGC10 vacuum gripper
OnRobot's versatile VGC10 vacuum gripper enabled Sydney, Australia-based injection molding experts Designed Mouldings to boost productivity and reduce cycle times through automation of key assembly processes. The low-cost, all-electric VGC10 easily completes 20,000 product runs in 24 hours -- three times faster than manual labor -- freeing workers to focus on higher value tasks. And with no external air supply to worry about, the VGC10 supported easy deployment with excellent results.
Learn how.


Mini brushless DC motor with integrated driver
Portescap's new 22ECP miniature brushless DC motor includes an integrated driver to optimize motor performance and simplify installation. The 22-mm-diameter motor is just 35 mm in length and delivers 50% more continuous torque than comparable brushless slotless mini motors -- without compromising smoothness of operation or motor lifespan. It's a high-performance, economic two-pole motor designed to deliver a balance between speed and torque. Applications include respiratory and ventilation devices, infusion pumps, mini industrial pumps, medical hand tools, clinical diagnostics, and valve actuation.
Learn more.


Great Resources: ABCs of gears and more
KHK USA takes you on a journey through the history and applications of gears in two information-packed, no-cost volumes called "The ABCs of Gears." Part A is aimed at beginners, while part B moves on to intermediate fare, such as types of gears and tooth forms, heat treatment, surface treatment, production methods, etc. Another mid-level text called "Introduction to Gears" and an in-depth "Gear Technical Reference" are also available, chock full of materials information and calculation examples and tables. Best of all, there is no registration for any of these valuable PDF resources. Thanks, KHK USA!
Click here to learn more.


Automotive antenna-on-package mmWave sensors with Texas Instruments RFIC
D3 Engineering, a Texas Instruments platinum design partner, recently announced their DesignCore RS-1843AOP and RS-1843AOPU mini mmWave Radar Sensors. They feature a 1-in. cube form factor, heat-spreading metal body, and mounting tabs. They may be used with a PC or embedded platform to facilitate field testing, sensing evaluation, algorithm development, and application demonstrations. Automotive applications include parking assist and collision avoidance. Other applications include robotics, autonomous machines, industrial vehicle systems, and facility monitoring, as well as people counting and tracking.
Learn more.


Ultralight torque limiters handle overload
Proper torque overload protection is often omitted from machine design due to concerns over size, inertia, and performance -- not to mention long lead times. The R+W ULTRALIGHT SLE series helps to address all of these concerns with a compact, low-inertia design that runs with zero backlash and disengages in the shortest possible time at overload. It's also available for delivery in just a few days. Four sizes available with multiple torque adjustment ranges.
Learn more.


LEGO: New large Star Wars R2-D2 model
Just released and hard to find in the galaxy already, LEGO has created a new 2,314-piece R2-D2 set that would be a fun build for any Star Wars fan. This lovable droid is over a foot tall and includes a retractable mid-leg, rotating head, and a periscope. The model also has hidden tools tucked away, such as a lightsaber hilt in a secret compartment in the head. Some other neat sets are also being released as part of the "May the 4th Be With You" Star Wars Day LEGO event.
Learn more.
---
Most popular last issue


Can the U.S. power grid handle electric cars?
If everyone had to drive electric vehicles, could the U.S. power grid handle it? Jason Fenske from Engineering Explained runs through the numbers while he takes a scenic drive, and his answer may surprise you. You almost always learn something new from a Fenske presentation. Now if the power goes out, well, that's a whole different story.
View the video.
---
Videos+: Technologies and inspiration in action
Using generative design to reinvent the wheel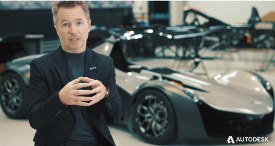 See how Liverpool-based Briggs Automotive Company (BAC) used generative design in Autodesk to create new wheels for its street-legal racecar that are 35% lighter than previous versions. Generative design is a form of artificial intelligence that leverages machine learning to accelerate the design process, often resulting in biomorphic shapes that optimize part qualities.
Read the Autodesk article and watch the video.
Spacesuit of the future could sport some slick features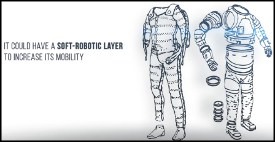 NASA is working on the spacesuit of tomorrow for astronauts to wear on Mars and in other planetary environs, and it could include some pretty neat features. The gas-pressurized SmartSuit boasts soft-robotics technology so astronauts can be highly mobile and a stretchable, self-healing skin that collects data using integrated, transparent sensors.
View the video.
---