| | |
| --- | --- |
| May 25, 2021 | Volume 17 Issue 20 |
---



Create compact machine concepts
Roller screws provide higher force and longer life in a smaller package compared to ball screws. Their unique design allows machine designers to create compact machine concepts. Learn more about the difference between roller screws and ball screws and how to select the correct screw choice for high-force linear actuators.
Read this informative Tolomatic article.
---
---
---
Feature articles


60 Years Ago: First American in space
In 1961, the United States and the Soviet Union found themselves in a race to put the first human being into space. The Soviets won the race in April 1961, but on May 5, 1961, Alan B. Shepard became the first American in space during a suborbital flight aboard his Mercury capsule named Freedom 7. Three weeks later, President John F. Kennedy committed the United States to achieving a lunar landing before the end of the decade.
Read the full article.


Enhanced UR10e cobot handles 25% more payload
Universal Robots has just released a new, enhanced version of its bestselling cobot, the UR10e, with 25% more payload capacity. That means this versatile unit can now handle 27.55 lb. The increased payload is a response to customers needing to move heavier items in applications like palletizing using the UR10e. Better yet, the robot's price is staying the same.
Read the full article.


Researchers create world's most power-efficient high-speed ADC microchip
To meet soaring demand for lightning-quick mobile technology, each year tech giants create faster, more powerful devices with longer-lasting battery power than previous models. To do that, they need better and better high-speed analog-to-digital converter (ADC) microchips. A new chip developed by researchers at BYU has the highest power efficiency currently available globally -- a record it holds by a substantial margin. In this article, the researchers explain how they did it.
Read the full article.


The Source for Metric Gears
KHK USA Inc offers the largest selection of stock metric gears in North America. We have over 30,000 configurations. KHK USA can supply your Metric Spur Gears, Helical Gears, Internal Ring Gears, Gear Racks, Bevel Gears, Worms and Wormwheels from stock in most cases. Free 3D CAD models and 24/7 quoting available.
See what KHK USA has in stock for you today!


Ford F-150 Lightning: Ready to electrify the mass market
Will the new all-electric Ford F-150 Lightning be the vehicle that makes real inroads into adoption of EVs by the American public? Sporting up to 563 hp and 775 lb-ft. of torque -- the most torque of any F-150 ever -- an exhilarating drive, a high-tech frunk, and the ability to power your home if needed, Lightning could be the one.
Read the full article.


Automation: ECONOmaster drilling units -- affordable, flexible, get the job done
Suhner's ECONOmaster® is a low-cost, high-output automated drilling unit that puts holes in light metal, composite, thermoplastic, and even wood substrates at high speed with excellent accuracy. It features low power and air consumption. On a recent project for Mid-State Engineering, Suhner custom ECONOmaster drill units -- featuring selectable drill heads that can be used in combination or individually -- were used to automatically drill holes into fiberglass panels for truck trailer bodies.
Read the full article.


Servo press vs. hydraulic press: Which is best for automotive stamping?
The subtle shift made by automotive metal stampers from mechanical to hydraulic to servo press may be largely imperceptible, but it is there. Stampers are attracted to the speed and versatility of the servo press, but the hydraulic press isn't going anywhere. It remains a budget-conscious stamper's top pick -- and possibly the only solution for jobs that require high-force demand early in the stroke. So how real is the stamping shift? And which technology is best suited for metal forming in the automotive industry?
Read this informative Parker Hannifin blog.


Voice coil stages and actuators for precise motion
Because of their small dimensions, voice coil motors are often integrated in compact stages, actuators, and fast tip/tilt mirror platforms. These devices are driven by an electromagnetic motor consisting of a moving coil winding and a fixed magnet (the opposite is also possible). By precisely controlling the electric current in the coil, the magnetic force (Lorenz force) -- and thus, acceleration, velocity, and position -- can be varied very accurately.
Learn all about voice coil stages and actuators from PI.


Sealing fasteners may optimize your designs
Highly specialized sealing fasteners include sealing screws, sealing nuts, sealing bolts, and sealing washers. Unlike ordinary fasteners, sealing fasteners are configured with a rubber O-ring (or a rubber element) that, when squeezed, permanently seals out a wide range of contaminants from entering and damaging equipment while preventing leakage of toxins into the environment. ZAGO sealing fasteners are designed to withstand harsh weather and extreme temperatures and are vibration and pressure resistant.
Learn all about ZAGO's wide selection of sealing fasteners.


Compact, low-noise gearboxes for high loads
With the GP56-N series, the Nanotec product line now also includes low-noise planetary gearboxes for brushless DC motors and stepper motors with flange size 56 and 60 mm. They are ideally suited for applications in medical devices and building automation. The helical toothing allows the teeth to mesh gradually, which results in a smoother transmission of forces so that vibrations and noise are reduced. Planetary gears and the ring gear consist of a high-quality, low-wear plastic, making the new gearboxes quieter than conventional, straight-geared metal gearboxes. Available in one- and two-stage versions in nine different reductions and varying output torques.
Learn more.


Gearless speed reducers with traction drive tech
Stock Drive Products/Sterling Instrument (SDP/SI) has introduced new speed reducers with traction drive technology. Featuring a gearless drive, these speed reducers are highly efficient and feature only six moving parts. They use engineered traction fluid to cool and lubricate, and they generate less heat than conventional drives. Years of development and testing have been invested in this new technology, resulting in a product featuring infinite ratios up to a ratio of 5:1, dramatic reduction of motor torque ripple, low vibration and noise level, and significantly less maintenance than a conventional gearbox.
Learn more.
---
Most popular last issue


Hyundai Santa Cruz: Car-truck mashup for a new generation
If you like that old-school Chevy El Camino vibe with a car-pickup mashup and lots of utility, Hyundai is feeling it too. The Santa Cruz Sport Adventure Vehicle is a totally new offering from Hyundai that aims to give drivers a lot more flexibility. Featuring a powerful and efficient 2.5L turbo option, all-wheel drive, four doors, and a lockable bed, it's a retro idea retooled for a new generation.
Read the full article.


NASA working on solid-state battery using 'holey graphene'
A NASA project called SABERS is researching how to create a safer battery by using brand-new materials and novel construction methods. The goal is to create a battery that has significantly higher energy than lithium-ion batteries. This battery also would not lose capacity over time, catch fire, or endanger passengers if something goes wrong.
Read the full article.
---
Videos+: Technologies and inspiration in action
Tech Tip: How do I 3D print from SOLIDWORKS?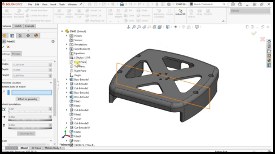 The SOLIDWORKS experts at Trimech are full of tips and tricks to help users maximize their time and broaden their overall design and software knowledge. This time around, they address additive manufacturing, noting that there are several 3D-printing visualization and analysis tools that can be used inside of SOLIDWORKS. All of them can be accessed through the Print3D tool. Check out Trimech's YouTube channel for more helpful insights.
View the Trimech video.
---