| | |
| --- | --- |
| June 08, 2021 | Volume 17 Issue 22 |
---
---


NASA: Ultrasonic welding + 3D printing + CNC milling = New device possibilities
NASA is using a novel 3D-printing technology to make more efficient heat exchangers that can be formed in a single piece for spacecraft. Fabrisonic's Ultrasonic Additive Manufacturing (UAM) is a 3D-printing process that uses sound to merge layers of metal drawn from foil stock -- even joining dissimilar metals. The technology uses ultrasonic welding to build up the part and CNC machining to form shapes and features, so it is both an additive and a subtractive process.
Read the full article.


World's smallest, best acoustic amplifier emerges from 50-year-old idea
Scientists at Sandia National Labs have built the world's smallest and best acoustic amplifier -- and they did it using a concept that was all but abandoned for half a century. They also created the first acoustic circulator, another crucial radio component. Together, the tiny parts represent an essentially uncharted path toward making all technologies that send and receive information with radio waves smaller and more sophisticated.
Read the full article.


8 Methods to Speed Up Production
Hot and dirty processes can be a major issue for manufacturing companies. You may be looking to cool, clean, spray, blowoff, eject parts, keep your production line running or a myriad of other problems. EXAIR offers products to solve those issues.
Learn More Now.


0 to 60 in 1.85 sec: All-electric Rimac Nevera
The hottest car company that you've probably never heard of has just released details of its production-ready hypercar that can do 0-to-60 mph in 1.85 sec. Croatia-based Rimac Automobili's all-electric Nevera boasts 1,914 hp, four motors, a super-strong carbon fiber monocoque with integrated battery pack, and cutting-edge braking system. The tech is so promising that Porsche has bought a 24% stake in the company. Hyundai Motor Group is a major investor too.
Read the full article.


Replace metals with hard materials -- and save in the long run
When a low-cost part must be frequently replaced because of a harsh environment, looking to hard materials may be the key to lowering overall cost. The use of sapphire, ceramics, and other hard materials has significant advantages over metal, depending on the application. The materials machined at Insaco are harder and stronger in compression than most metals. They can be electrically or thermally insulating or conducting, and in the case of sapphire, can be polished optically clear to a surface finish less than 1 micro inch. This allows for selecting a material based on the most important material property required.
Learn more in this informative Insaco article.


Master CNC machining tolerances eBook
Need a refresher on the basics of applying tolerances to custom machined metal and plastic parts? In this ebook, Xometry provides some pointers on designing mating parts and parts for specific functions. Chapters include: general machining tolerances, clearance and interference fit, how to avoid over-tolerancing, CAD drawing prep and specs, and an inspection report cheat sheet.
Get this valuable resource from Xometry.


Customizable frameless DC torque motors handle a wide range of applications
Kollmorgen's compact and adaptable Frameless DC Torque Motors are ideal for positioning or speed control systems that require high stall torque, high torque at low speed, or optimum torque at high speed. Applications include: Forward-Looking Infrared Radar (FLIR), missile fin actuators, medical pumps, gimbal systems, and other critical applications requiring high reliability. These Frameless DC Torque Motors can be easily integrated into custom-designed housings, including DC tachometers, resolvers, encoders, and customized shafts.
Learn more, including sizes and peak torque ratings.


Cross roller ring can swing the loads
Because it has orthogonally arranged cylindrical rollers, the cross roller ring from THK is a roller bearing with high rotation accuracy capable of bearing loads in every direction. Cylindrical rollers are arranged with each roller perpendicular to the adjacent roller, in a 90-deg V groove, separated from each other by a spacer retainer. This design allows just one bearing to receive loads in all directions. This component is optimal for applications such as joints and swiveling units of industrial robots, swiveling tables of machining centers, precision rotary tables, and medical equipment. Rotation configurations include inner/outer ring, inner ring only, and outer ring only. A new micro cross roller ring is perfect to handle smaller applications.
Learn more about THK cross roller rings.
Learn about the new Micro Cross Roller Ring RAU.


Pick, measure, and sort small parts with one robotic workstation
New Scale Robotics has introduced its Q-Span Automated Small-Part Measurement Systems for quality control (QC) teams in high-mix, small-batch manufacturing environments. Q-Span Systems combine robotic pick-and-place with automated measurement of small parts. They easily integrate into existing workflows in the QC lab or on the production floor, and automate the tedious manual process of measuring parts with digital calipers.
Learn more.


Raspberry Pi: Pico microcontroller
The Raspberry Pi Pico is built around the brand-new Raspberry Pi RP2040 microcontroller, delivering a flexible, highly affordable development platform that can also be directly deployed into end products -- all for 4 bucks. At the heart of the Raspberry Pi Pico is RP2040, which features two ARM Cortex-M0+ cores clocked at 133 MHz; 264 kB of on-chip SRAM; 30 multifunction GPIO pins; dedicated hardware for commonly used peripherals alongside a programmable I/O subsystem for extended peripheral support; a four-channel ADC with internal temperature sensor; and built-in USB 1.1 with host and device support. Also look for the RP2040 chip to be sold as a standalone product very, very soon.
Learn more from Newark.
Watch a short video intro for this product.
---
Most popular last issue


Can hydrogen paste power motorcycles and scooters?
High-pressure hydrogen fuel tanks are not a viable alternative-fuel option for motorcycles and scooters, but researchers in Germany have another plan: POWERPASTE. This experimental material -- which sports a huge energy density -- stores hydrogen in a chemical form at atmospheric pressure and is activated simply by adding water.
Read the full article.
---
Videos+: Technologies and inspiration in action
Maintenance tips and assembly procedures for automated tools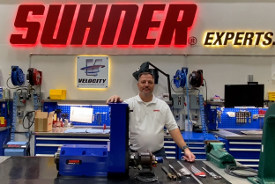 Suhner is offering new maintenance and assembly videos for their SPINDLEmaster automated tools on YouTube. The first four videos cover General Unit Maintenance, Flag Nut Adjustment, Proximity Switch Adjustment, and Spring Adjustment on the SPINDLEmaster Max 100 precision machining unit. Division Manager and longtime Suhner team leader Lee Coleman is the video presenter. The goal is to help customers and trainers impart the proper procedures for maintenance and assembly of Suhner's automated drills, taps, and other tools that are used extensively in automotive and other high-volume production facilities.
Questions? Contact Lee Coleman directly at 706-235-8046.
View the videos.
---