| | |
| --- | --- |
| June 15, 2021 | Volume 17 Issue 23 |
---



LM Guide Actuator with Right/Left Ball Screw for Symmetrical Movement
THK's innovative Type KR-RL Actuator features a driving element that uses right/left threads and enables symmetrical movements with a single motor. Two drive systems are combined into a single package, resulting in a compact overall design. This electric actuator outperforms pneumatic versions by offering precise force control, speed control, a longer life, and energy savings. Applications include gripping, measuring, and positioning for robot hands, screw-tightening machines, cutting equipment, and dispensers.
Learn more.
---
---


Graphene hard drives could store 10x more data
Researchers in the U.K. have demonstrated that graphene -- a material made of a single layer of carbon atoms arranged in a two-dimensional honeycomb lattice -- can be used for ultra-high-density hard disk drives (HDD) as both a core storage medium and as a carbon-based protective overcoat.
Read the full article.


Ford Maverick reborn as hybrid compact 4-door truck
Ford has relaunched the Maverick nameplate as a standard-hybrid light-duty truck that's smaller than a Ranger. With four doors, better fuel economy than a Honda Civic (40 mpg in the city), a configurable FLEXBED, and upgradable towing capacity, the Maverick shows some real appeal for light-duty buyers in the market for a pickup that starts at under 20K.
Read the full article.


Critical medical applications demand top-quality motion
Surgical robotics systems offer an overwhelming advantage over traditional methods: improved precision and speed, faster patient healing, and a reduced margin of error. For minimally invasive procedures requiring this level of precision, performance, and reliability, the engineers of surgical robotics systems depend on FAULHABER motion systems.
Read the full article.


Why precision metrology is critical for electric vehicle gearing
As the shift from internal combustion engines to electric motors in vehicles continues, the number of drivetrain components will dramatically lessen too. The remaining components will be even more critical to a vehicle's operation and longevity. One such area is the gear components necessary to convert the high-force torque from electric motors to the RPMs at the wheel.
By Michael Schmidt, ZYGO Corporation
Read the full article.


Customizable frameless DC torque motors handle a wide range of applications
Kollmorgen's compact and adaptable Frameless DC Torque Motors are ideal for positioning or speed control systems that require high stall torque, high torque at low speed, or optimum torque at high speed. Applications include: Forward-Looking Infrared Radar (FLIR), missile fin actuators, medical pumps, gimbal systems, and other critical applications requiring high reliability. These Frameless DC Torque Motors can be easily integrated into custom-designed housings, including DC tachometers, resolvers, encoders, and customized shafts.
Learn more, including sizes and peak torque ratings.


What's a strain wave harmonic gearing torque sensor?
Strain wave harmonic gearing sensors from FUTEK are an alternative to six-degrees-of-freedom (DOF) sensors used in applications such as robotic arms that are used in surgery. For example, during some laparoscopic surgery procedures, surgeons must hold the position of the end effector (the instrument inside the abdominal cavity) while the robot arm is moving. This maneuver is difficult to perform with 6-DOF sensors only, because it requires torque measurement on each joint. Strain wave harmonic gearing sensors can handle it, and they are less expensive to implement because torque measurement can be obtained for selected joints only if necessary.
Learn more.


Aerospace fastener hole drilling and countersinking all in one step
Kennametal has introduced the HiPACS drilling and countersinking system for aerospace fastener holes. Designed to drill and chamfer holes in one operation, the high-precision tool meets the aerospace industry's stringent accuracy requirements while delivering increased tool life in machining composite, titanium, and aluminum aircraft skins. With an industry-standard interface, HiPACS can be utilized on any CNC machine. Three components eliminate the need for custom tooling: a reducer sleeve with a built-in high-precision pocket seat, a PCD countersinking insert, and two series of solid carbide drills.
Learn more.


New bearings reduce wear in heavy-duty applications
igus has introduced a new bearing with an improved iglide material, called TX2, that offers self-lubricating and maintenance-free properties for heavy-duty applications. TX2 increases wear resistance by a factor of 3.5 in load ranges with more than 100-MPa surface pressure. The material is ideal for components in machines that serve construction and agriculture, which can require more than 50 liters of lubricant annually. The material is also very resistant to temperature, chemicals, moisture, corrosion, and seawater, which opens up the applications base for its use substantially.
Learn more.
---
Most popular last issue


0 to 60 in 1.85 sec: All-electric Rimac Nevera
The hottest car company that you've probably never heard of has just released details of its production-ready hypercar that can do 0-to-60 mph in 1.85 sec. Croatia-based Rimac Automobili's all-electric Nevera boasts 1,914 hp, four motors, a super-strong carbon fiber monocoque with integrated battery pack, and cutting-edge braking system. The tech is so promising that Porsche has bought a 24% stake in the company. Hyundai Motor Group is a major investor too.
Read the full article.
---
Videos+: Technologies and inspiration in action
Self-clinching fasteners for composites, plastics, and other rigid materials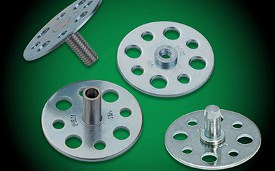 The PEM® VariMount® fastening system from PennEngineering® enables the use of PEM self-clinching fasteners for attachment applications in composites, plastics, metal, and any rigid material or panel. The system integrates a self-clinching nut, stud, or standoff pre-installed permanently into a steel or stainless steel base plate. The base plate with multiple radial holes effectively becomes a mounting platform that can be bonded or mechanically attached to virtually any rigid material. Once mounted, the pre-installed PEM self-clinching fastener ultimately is positioned where designed to accept mating hardware. So many possibilities.
View the video.
---