| | |
| --- | --- |
| August 17, 2021 | Volume 17 Issue 31 |
---



Cool Electronic Cabinets
Prevent hot weather failures that can affect production. UL Listed Cabinet Coolers produce 20 degree Fahrenheit air from an ordinary supply of compressed air to cool electrical controls. Thermostat control minimizes air usage. Maintains the NEMA 4, 4X (stainless steel) and 12 rating of the enclosure.
Website offers video, CADs and more.
---
---


What is the C-Flex Pivot Bearing?
It's a flexure-based bearing utilizing internal flat crossed springs, capsuled in a cylindrical housing, to provide precise rotation with low hysteresis and no frictional losses. The C-Flex bearing will offer indefinite life when used within its rated load and rotation values. Applications include Medical, Industrial, and Aerospace.

Advantages include: Frictionless, Backlash-free, Self-centering, Simple installation, Low hysteresis, Vacuum applications, Stock items, No lubrication, No maintenance, and Indefinite life.
Learn more from C-Flex, The Leader in Flexing Metal Technology.
View the C-Flex Pivot Bearing training page.


NIST examines one of metal 3D printing's biggest problems
Residual stress, a byproduct of the repeated heating and cooling inherent to metal printing processes, can introduce defects into parts and, in some cases, damage printers. It is one of 3D printing's biggest problems. A research team has found that a method commonly used to skirt residual stress can produce results that are "far from successful." They tested titanium alloy parts made with a common laser-based method.
Read the full article.


Ferrari 296 GTB aims to define 'fun to drive'
If expensive, sporty little coupes get your motor running, Ferrari has an exciting new entry for your wish list. The 296 GTB is the company's first mid-rear-engine berlinetta that boasts a turbo V6 coupled with an electric motor to crank out 819 hp total for an exhilarating, high-end ride.
Read the full article.


New! Revolutionary Revolox™ Self-Locking Retaining Ring
Rotational capacity requirements for modern applications are higher than ever, especially in electric motors, gearboxes, and automotive transmissions. Smalley's latest retaining ring innovation, the Revolox Self-Locking Ring, features a "dimple and slot" design that safely and efficiently secures your application at high speeds.
Read the full article.


Tech Tip: Micro molding material selection and design concerns
Design engineers can create the most incredible parts using the micro molding process, but any design at the micro scale (ranging in size from just microns to a half inch) requires careful attention to things that might not be a big deal for larger parts. This article by Aaron Johnson from Accumold focuses on important issues concerning material choice.
Read the full article.


Reliable automated testing of cultured cells in the lab
What dosage achieves the desired result without side effects? Above what limit does the beneficial medication turn toxic? Today, such questions are answered in test series performed with cell cultures. With the CYRIS®FLOX automated test system, work in the laboratories is made much easier. Here, motors from FAULHABER ensure that the cultures are supplied with nutrients and medications for the duration of the trial and the development of the cells is closely monitored -- without human intervention.
Read the full article.


Desktop Metal qualifies titanium for its Studio System 2
Desktop Metal has qualified the use of titanium alloy Ti-6Al-4V (Ti64) for its Studio System 2, a metal 3D-printing platform that offers customers an easy way to print high-performance metal parts in low volumes for pre-production and end-use applications. Desktop Metal is the first and only company to make the material commercially available for extrusion-based bound metal additive manufacturing technologies. Ti64 is the most widely used titanium alloy and is characterized by its high tensile strength, corrosion resistance, and biocompatibility.
Learn more about the Ti64 offering.
Learn about the Studio System 2.


More compact and adaptable side thrust pins
Side thrust pins for part holding are practically indispensable elements of jig construction and are available in a wide range of variants. Nevertheless, there are applications that demand particularly compact designs that should also be easy to adapt to different requirements. These are exactly the situations JW Winco had in mind with the new standard parts family GN 415. GN 415 is available in three sizes between 0.87 and 1.54 in. (22 to 39 mm) wide, each with two spring strengths. The two available slide types and the wedge-shaped or cylindrical, rounded thrust pad not only hold parts with side pressure but also exert an additional downward force.
Learn more.


Electromechanical linear actuators: High power in small packages
Packing higher motion control capability into a more compact envelope has given rise to a new generation of high power-density actuators. Machine designers for mobile-off-highway, material handling, factory automation, and other power-hungry applications can now get electrical actuators from Thomson that provide up to 2 kN/450 lbf with advanced onboard electronics ̶-- all in a component that requires less space and is more cost efficient than hydraulic or heavier-duty electromechanical actuators that might previously have been deployed for such applications.
Read the full Thomson article.


igus unveils new sensor for smart plastics predictive maintenance
igus has developed a sensor for its smart plastics software that calculates the remaining service life of energy chains, cables, linear guides, and plain bearings during operation. The i.cee:local sensor optimizes the life of the system, detects faults, allows them to be fixed at an early stage, and allows for maintenance to be planned in advance. This sensor can be integrated via the internet or without IoT connectivity via the local network, depending on customer requirements. Smart plastics sensors monitor abrasion, measure the pull/push force, and provide information about an imminent overload.
Learn more.


Raspberry Pi Pico microcontroller
The Raspberry Pi Pico is built around the brand-new Raspberry Pi RP2040 microcontroller, delivering a flexible, highly affordable development platform that can also be directly deployed into end products -- all for 4 bucks. At the heart of the Raspberry Pi Pico is the RP2040, which features two ARM Cortex-M0+ cores clocked at 133 MHz; 264 kB of on-chip SRAM; 30 multifunction GPIO pins; dedicated hardware for commonly used peripherals alongside a programmable I/O subsystem for extended peripheral support; a four-channel ADC with internal temperature sensor; and built-in USB 1.1 with host and device support. Also look for the RP2040 chip to be sold as a standalone product very soon.
Learn more from Newark.
Watch a short video intro for this product.
---
Videos+: Technologies and inspiration in action
Lockheed's new ultra-portable vertical-takeoff drone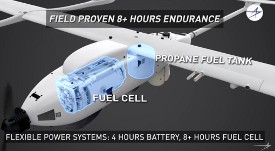 Lockheed Martin's Stalker eXtended Endurance (XE) unmanned aerial system has been upgraded with a vertical take-off and landing (VTOL) capability. With a 12-ft wingspan and weighing just 24 lb with standard payloads, Stalker XE provides long-endurance imaging capability through image-stabilized pan, tilt, and zoom on electro-optical, infrared, low-light, and high-def imagers, along with an image tracker. It features a digital backbone that allows for rapid plug-and-play of the latest technology, meaning better pictures and more capabilities. Requiring only a single person for quick assembly, it can fly up to eight hours with a propane fuel cell or up to four hours with a battery option at a cruise speed of 35 mph.
View the video.
---