| | |
| --- | --- |
| September 07, 2021 | Volume 17 Issue 33 |
---



New Revolutionary Revolox™ Self-Locking Ring for High RPM
The revolutionary Revolox Self-Locking Retaining Ring from Smalley. Secure and easy locking for your high-speed rotational needs. The "dimple and slot" design prevents ring expansion, safely securing your application at high RPM. This makes it possible to operate at higher speeds, withstand vibration, function under rapid acceleration, and absorb a degree of impact loading. The Revolox self-locking ring enables engineers to cost-effectively design for high RPM requirements and with ease of assembly for high-volume applications.
Learn more.
---
---


High-Power Brushless DC Motor Designed for Handheld Devices
Discover the FAULHABER 1660 BHx series: a high-power, slot-less brushless DC motor based on 2-pole technology that delivers optimized performance. 16mm in diameter and 60mm in length, the 1660 BHx motor is ideal for handheld tools and devices requiring impressive power, while also featuring low vibration for reduced user fatigue. Offered in two motor design options: one is optimized for high-speed (BHS version) applications, and the other is designed for high-torque (BHT version) performance.
Learn more.
---
Feature articles


50 years ago: Apollo 15 first lunar rover drive and the Genesis Rock
The fourth Moon landing mission began on July 26, 1971, with the launch of Apollo 15. Astronauts David R. Scott and James B. Irwin went to the surface, while Alfred M. Worden remained in orbit aboard the Command Module Endeavour. Scott and Irwin conducted four spacewalks, including three excursions using the Lunar Roving Vehicle for the first time, deployed experiments, and collected 170 pounds of rock and soil samples to return to scientists on Earth.
Read the full article.


Neat: 3D-printed copper windings for electric motors
3D-printing experts ExOne and startup Maxxwell Motors have successfully proved out a new concept for 3D printing a high-efficiency copper e-winding design using a binder jet system. The new process eliminates many of the challenges that come with traditional manufacturing of copper coils for electric motors.
Read the full article.


Lamborghini Countach: Supercar wedge with a new edge
The Lamborghini Countach, known for its literal cutting "edge" design, debuted as the LP500 concept car 50 years ago. Now it's been reborn for the 21st Century as the LPI 800-4 -- a bigger and badder mid-engine supercar that sports both a naturally aspirated V12 and an electric motor to deliver a 0-to-62 time of 2.8 sec and a top speed of 220 mph.
Read the full article.


Great Resources: ABCs of gears and more
KHK USA takes you on a journey through the history and applications of gears in two information-packed, no-cost volumes called "The ABCs of Gears." Part A is aimed at beginners, while part B moves on to intermediate fare, such as types of gears and tooth forms, heat treatment, surface treatment, production methods, etc. Another mid-level text called "Introduction to Gears" and an in-depth "Gear Technical Reference" are also available, chock full of materials information and calculation examples and tables. Best of all, there is no registration for any of these valuable PDF resources. Thanks, KHK USA!
Click here to learn more.


Reversible-flow fans: Directional flow and speed control in one unit
Orion Fans has launched a series of microcontroller-based, up to IP68-rated, reversible-flow fans. By utilizing PWM signals to control fan speed, the fans provide engineers an innovative solution to some of their most challenging cooling requirements: speed and airflow direction controlled by one fan without supplementing excess wires or circuitry. Reversible-flow fans are a specialty design that enables unique applications. You may be surprised at their versatility.
Learn more.


Micro Brakes for precision equipment applications
Fast braking response in small, precision torque applications -- that's the primary benefit of Miki Pulley Micro Brakes. The ultra-compact brake design features a stator with integrated mounting flange, proprietary composite friction liner, and armature complete with ring plate spring and hub. It halts rotation mechanically by using an electromagnetic field to connect friction surfaces. Features include quiet operation, high holding torque for its size, a space-saving design configuration, long service life, and stable and reliable braking power. Applications include ATMs, office copiers, weighing and packaging equipment, optical mechanisms, paper binding mechanisms, and more.
Learn more.


Spindle drive motor with integrated multi-turn encoder
JVL has a new addition to its ServoStep motor lineup: a directly mountable motor for driving spindles. It's perfect for replacing hand wheels in format-change applications. ServoStep has everything built in, including motor, encoder, drive electronics, control electronics with ePLC, and optional Ethernet or CAN bus integrated into one compact unit. All major industrial Ethernet protocols are available. Features include: double ball bearings enabling up to 7,100 N axial load, closed-loop control, and energy efficiency due to automatic current control. Available through Electromate.
Learn more.


Miniature MGX gearheads for precision devices
The SDP/SI compact gear train provides excellent accuracy with optional torsional spring anti-backlash design. Ratios available from 5:1 to 1,521:1. Miniature sizes from 0.5 in. O.D. to 1.75 in. O.D. Stock sizes and customized solutions with special gear ratios and near-zero backlash gearing also available. MGX gearheads are designed, precision manufactured, and assembled with world-class quality by SDP/SI.
Learn more.
---
Most popular last issue


Secret of Stradivarius violin sound solved? Surprising finding
The violins crafted by Antonio Stradivari in the late 1600s and early 1700s produce a sound so pure that some are valued at $10 million or more. But what's the secret sauce behind the instruments' acoustical superiority? A Texas A&M University scientist has been working on an explanation for years -- and we bet you can't guess it before you read on.
Read the full article.


New Porsche Macan: Sportier with even more appeal
About 80% of all Macan buyers are new Porsche customers, and the Macan is Porsche's best overall-selling model, so making this racecar-inspired compact SUV even more appealing was a no-brainer. With increased performance, a sharper design, and a V6 biturbo GTS version that does 0 to 62 in 4.3 sec, you'll be commanding some fast and fine wheels on the highway or on those runs into town.
Read the full article.


Diamond vs. a hydraulic press -- which will win?
The fun folks over at the Hydraulic Press Channel are at it again. This time, they take a look at crushing raw diamonds. Will the steel press win out, or will the diamond hold its own? Some great slo-mo, close-up photography helps with the judging -- especially with the man-made diamond material, which is the second sample tested. It's a pretty interesting match-up.
View the video.
---
Videos+: Technologies and inspiration in action
How a Formula 1 team uses Volume Graphics for non-destructive part testing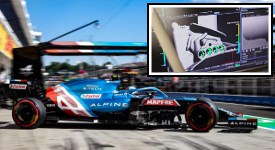 Because Formula 1 racecars are among the fastest vehicles on earth, ensuring that every part of these speed machines is perfect is critical for safety as well as performance. Watch how the Alpine F1 Team's non-destructive test (NDT) laboratory in Enstone, England, uses Volume Graphics to validate car parts quickly and accurately. In some cases, it takes just 20 minutes instead of the usual full day needed to inspect the parts with conventional ultrasound. Neat stuff.
View the video.
---