| | |
| --- | --- |
| October 05, 2021 | Volume 17 Issue 37 |
---



Compact Wave Spring = Big Impact
What will you do with a more compact design? Using Smalley Wave Springs has been the trusted solution in every industry, from robotic surgical instruments to bearing preload for over 100 years. In applications with tight space constraints, Smalley wave springs are ideal for optimizing space. They offer the same force as an ordinary coil spring but at up to 50% of the height, leading to an overall decrease in assembly size, weight, and cost.
Learn more.
---
---


Smallest motion controller on the market
Meet the new MC3001, designed for precise control and positioning tasks of small FAULHABER motors. The thumb-sized motion controllers feature the same functionality and interfaces as the large MC3 controllers. Ideal applications include robotics, automation, medical and laboratory tech, and more.
Learn more.
---
Feature articles


U.S. Army to field laser-equipped Stryker prototypes next year
The U.S. Army recently conducted a successful evaluation of a new directed-energy capability, moving the service one step closer to fielding a platoon of four laser-equipped Stryker combat vehicle prototypes next fiscal year. The directed-energy systems are an especially strategic tool to take out low-cost threats like unmanned aerial systems.
Read the full article.


Holographic signs provide no-touch 3D mid-air controls
An Oregon company called Holo Industries is trying to shake up the signage and controls space in North America. What's so cool about their technology? It incorporates 3D holograms that users can interact with. Already popular in Asia, these next-level display solutions may be coming soon to a venue or machine near you.
Read the full article.


Czinger 21C: 1,250-hp American hypercar finalized for production
Los Angeles-based Czinger, a company making waves for using an in-house invented Human-AI production system and 3D printing to build state-of-the-art high-performance vehicles, has finalized production specs for its 1,250-hp tandem-seater 21C hypercar. It boasts a 0-to-60 time of under 2 sec, a flat crank V8 with twin turbos, two high-output electric motors, and a wild, often organic design optimized for weight, aerodynamics, and speed.
Read the full article.


Great Resources: The Complete 3D Printing Guide from Xometry
From soup to nuts and then some, Xometry's online Complete 3D Printing Guide covers everything you need to know about additive manufacturing. Learn how to get started, common process types (including material extrusion, material jetting, powder bed fusion, vat photopolymerization, and others), post-processing options, and more. Sections on "3D Printing Versus CNC Machining" and "3D Printing Versus Injection Molding" may be especially helpful for designers, manufacturers, and decision-makers. A solid bookmarking choice.
Read the Complete 3D Printing Guide.


Top Tech Tip: Stepper or servo motor -- Which should it be?
Bring out the full capacity of your machines through the most efficient mechatronic design. Hurley Gill, Senior Applications/Systems at Kollmorgen, outlines servo and stepper motor baseline capabilities for selection criteria like torque, speed, accuracy, and repeatability. Technical advantages and disadvantages are discussed, helping machine designers select the best motor drive system for their application.
Read "Servo or Stepper: Which Should It Be?"


Alternative to traditional drive systems
Nexen Group has introduced a stainless steel version of its patented precision roller pinion system (RPS). The Nexen RPS engages two teeth simultaneously to achieve superior accuracy with zero backlash at any length. The system is also extremely quiet and 99% efficient. Stainless steel makes the system corrosion resistant, with a long life of up to 36 million meters. Nexen's RPS provides a low-maintenance, durable alternative to rack and pinion, ball screw, and belt drive technology. The RPS is used for a wide range of applications including laser cutting, plasma cutting, and gantry applications.
Learn more.


How to avoid premature linear screw actuator failure
At their core, electric linear screw actuators deploy mechanical technology such as ball bearings, ball screws, and roller screws that have a finite life. These components do not last forever -- even though that is the expectation of some customers. But how long will an actuator really last? Tolomatic engineers provide a way to calculate, estimate, and size the electric linear screw actuator to achieve the desired life for your application.
Read this informative Tolomatic blog.


Boker's adds 369 new washer sizes
Boker's has added tooling for 369 new non-standard flat washer sizes to its industry-leading selection. With the addition of the new sizes, Boker's continues to offer an expansive line of more than 32,000 non-standard washer, spacer, and shim sizes that are available to customers worldwide with no tooling charges. Custom manufacturing with stock tooling is available for customers and OEMs in industries from aerospace and aviation to electronic measurement and testing, renewable energy, medical, outdoor recreation, and more. Additionally, Boker's non-standard precision washers are manufactured in over 2,000 commonly specified and difficult-to-find material options.
Learn more.


Good Reads: Inside Skunk Works
Politico has scored a real juicy scoop. One of its reporters got an insider look at the new advanced manufacturing facility used by Skunk Works, the storied Lockheed Martin division that works on super-secret aero and weapons projects. Learn about the company's new factory in Palmdale, CA, and some of the projects it's working on, including supersonic and hypersonic vehicles. [Skunk Works factory image courtesy: Lockheed Martin]
Read the Politico article.
---
Most popular last issue


It's a GO for electric flying car racing
If you love fast and furious racing with a twist, hold on to your helmet. Full-size flying drone racers are coming -- and they aim to have human pilots soon. Welcome to the world of Airspeeder, where "Speeders" will zip from 0 to 60 in less than 3 sec and fly hundreds of meters in the air. The vehicles are being perfected in South Australia and have already flown.
Read the full article.


Mini motors drive largest model railway in the world -- and model planes and cars too
The Miniatur Wunderland in Hamburg houses the world's largest model railway, where 1,040 trains and more than 10,000 rail cars travel several hundred kilometers each day through nine themed worlds. There's also a model airport with 52 planes and 250 flights daily, 9,250 cars, a volcano, spaceships, and much much more. Mini motors, including from FAULHABER, help make it all come alive.
Read the full article.
---
Videos+: Technologies and inspiration in action
Ball screw options and types -- with bonus tips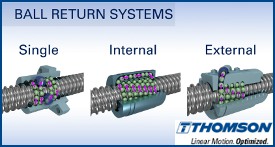 With Thomson offering one of the largest selections of precision ball screws in the market, it can be difficult to know all of your options -- and which style may be the best fit for your design or application. With that in mind, the company has created a new overview video to familiarize customers with the great breadth of its ball screw capabilities, helping to point them toward optimal solutions for their applications. Learn how the unique features of Thomson ball screws can improve your next motion design -- and get some useful tips along the way.
View the video.
---