| | |
| --- | --- |
| October 12, 2021 | Volume 17 Issue 38 |
---



Xometry: Get CNC Machining Quotes Within Seconds
You won't believe how fast Xometry's Instant Quoting Engine gives you quotes on CNC machining. Just upload your part and get back pricing and lead time in just seconds. Instant pricing on 3D printing and sheet metal is also available, and parts ship free in the US. Xometry is AS9100D and ISO 9001:2015 certified.
Get your instant quote today.
---
---


Polymers: The Goodfellow Performance Pyramid
Goodfellow has created this quick graphic guide to help engineers and researchers identify suitable materials for a given application, based on physical properties, operating temperature range, and cost. The pyramid is organized into three tiers: commodity materials, engineering materials, and high-performance materials. Two additional categories regarding the polymers' crystallinity are included; one face shows semi-crystalline products, and the other shows amorphous products. This is a really useful resource.
Get the complete information. No registration required.


2022 Toyota Tundra: Feature-rich full-size workhouse
If you're looking for a totally capable full-size truck with lots of neat features, the all-new 2022 Toyota Tundra is a solid choice. With two powerful engine options (a 389-hp twin-turbo V6 and a 437-hp hybrid twin-turbo V6), a towing capacity of 12,000 lb, a well-equipped interior, and an air-suspension system that lowers the back to line you up with your trailer, this third-gen powerhouse has most everything you need to get the job done.
Read the full article.


Desktop Metal launches 316L stainless steel for manufacturing using its Shop System
Desktop Metal has qualified the use of 316L stainless steel for its Shop System, the world's first metal binder jetting system designed specifically for machine shops and manufacturing environments. With an expanded materials portfolio, users can now leverage affordable, high-quality binder jetting technology to print end-use parts in 316L stainless steel with throughput, print quality, and productivity unattainable via legacy additive manufacturing processes. Real-world application use cases and performance figures are provided.
Learn more.


Autonomous mobile robots do heavier lifting
ROEQ has launched two new top modules and accompanying accessories designed to boost the payload and lifting capabilities of autonomous mobile robots (AMRs) from industry leader Mobile Industrial Robots (MiR). Capable of handling total payloads of up to 1,500 kg (3,307 lb), the new ROEQ top module TMS-C1500 combined with the new S-Cart1500W shelf cart greatly increases the payload capabilities of MiR's MiR500, MiR600, MiR1000, and MiR1350 AMRs. Eliminating the need for a docking station, the TMS-C1500 can pick up and drop off the shelf cart in free space and with precision. The AMR is never left idling, and it can simply drop off the cart and immediately go and pick up a new one. ROEQ has also launched the top module TML200 with a stroke of 40 mm that can lift and transport crates, pallets, racks, and ROEQ shelf carts.
Learn more and see these units work.


Inductive vs. optical vs. magnetic encoders: How to choose
It makes sense that when there isn't a need to spend on a high-end optical encoder, the most common thought is to look directly to magnetic encoders. According to HEIDENHAIN, sometimes that's the right move, but when using an inductive encoder is an available option, your search shouldn't be limited to magnetic or optical. Confused? You won't be after reading this informative HEIDENHAIN blog.
Read the full article.


Antimicrobial switches disinfect themselves
Are switches that disinfect themselves too good to be true? It is possible. Antimicrobial coatings inhibit the growth of microorganisms and even kill them. When applied to switches, this technology is perfectly suited for medical technology, sanitation areas, and the food service industry. All completely sealed switches from SCHURTER (piezoelectric, capacitive, or ToF) are perfectly suited for this coating upgrade, which kills microorganisms effectively by oxidation using photodynamic self-purification technology.
Learn more.


Next-generation vibration testing
The LDS V8750 shaker + XPAK shaker system from test and measurement expert HBK is a medium-force, air-cooled shock tester that reduces overall costs while ensuring a reliable and futureproof system. The Inductive Centering System enables accurate guiding of the built-in armature with minimal maintenance and uninterrupted operation. Uninterrupted operation is also guaranteed through remote services to aid predictive maintenance and fault detection. Also features COOL and QUIET modes.
Learn more.


Flexible low-viscosity LED-curable adhesive with a fluorescent dye
Master Bond LED405FL3 is a one-component LED-curing adhesive system with excellent optical clarity. This low-viscosity system is good for small potting and encapsulation applications. Its flexibility allows for stress minimization -- especially when bonding substrates with different coefficients of thermal expansion. It also utilizes a fluorescent dye for easy visual inspection. It cures fully tack-free in as fast as 30 sec with a hardness of around 5-15 Shore D at room temp. Additional performance properties available.
Learn more.


Bonus Fun: Titanic is LEGO's new mega-build set
The new LEGO RMS Titanic is one of the biggest LEGO models to date at almost 4.5 ft long. The massive kit contains 9,090 pieces, making it a truly monumental building challenge. It features a replica of the engine room and several interior rooms, including the First-Class grand staircase that spans six decks and the Jacobean-style dining saloon on D deck. Iceberg not included. Pre-order available. Sale date is Nov. 1. The price may sink you.
Learn more.
---
Most popular last issue


Czinger 21C: 1,250-hp American hypercar finalized for production
Los Angeles-based Czinger, a company making waves for using an in-house invented Human-AI production system and 3D printing to build state-of-the-art high-performance vehicles, has finalized production specs for its 1,250-hp tandem-seater 21C hypercar. It boasts a 0-to-60 time of under 2 sec, a flat crank V8 with twin turbos, two high-output electric motors, and a wild, often organic design optimized for weight, aerodynamics, and speed.
Read the full article.


Good Reads: Inside Skunk Works
Politico has scored a real juicy scoop. One of its reporters got an insider look at the new advanced manufacturing facility used by Skunk Works, the storied Lockheed Martin division that works on super-secret aero and weapons projects. [Skunk Works factory image courtesy: Lockheed Martin]
Read the Politico article.
---
Videos+: Technologies and inspiration in action
What can you do with touchless magnetic angle sensors?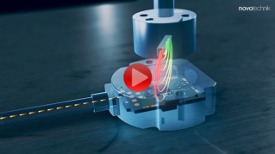 Novotechnik has put together a really informative video highlighting real-world applications for their RFC, RFE, and RSA Series touchless magnetic angle sensors. You may be surprised at the variety of off-highway, marine, material handling, and industrial uses. You'll learn how they work (using a Hall effect microprocessor to detect position) and their key advantages, including eliminated wear and tear on these non-mechanical components. We love when manufacturers provide such useful examples.
View the video.
---