| | |
| --- | --- |
| October 19, 2021 | Volume 17 Issue 39 |
---



PolyDrill® Multi-Spindle Heads
Multiple drill heads are available for a variety of machine OEMs. Two-spindle up to 10-spindle units, with fixed or flex shaft power, adjustable or fixed hole pitches and compact designs allow adaptability for the machine builder, integrator or assembly line designer. Holes in most material from 0.06"-1".
Contact Lee Coleman at Suhner for all the details.
706-314-2927
Learn more.
---
---


Exploring Mars with miniature motors
When developing the high-resolution Panoramic Camera on the ExoMars Rover, engineers looked for motors that were extremely compact and could also deliver reliable and precise positioning for the camera-focusing mechanism. FAULHABER stepper motors were selected for the job, as they precisely position objects with a resolution of 1,280 steps per revolution without the need for a separate feedback system, and are more rugged and sturdy than conventional servo motors.
Read the full article.


You asked. We answered. Wave Spring FAQ E-book
Finding the best possible solution for your design challenge is no easy task. Smalley engineers have created a brand new Ask the Expert -- Wave Spring FAQ E-book that answers all of your wave spring questions in one simple guide. In this E-book, you will learn about wave spring performance, the design process, materials, and common applications.
Download Now!


New Ground Fault Detection Tech Guide
The Ground Fault Considerations Tech Guide from NK Technologies covers a wide range of topics and includes an easy-to-use selection guide, as well as a variety of case studies and application examples -- all in 22 pages. Highlights include: ground fault detection basics, ground fault sensing basics, consolidated ground fault sensors selection guide, and design considerations for earth fault protection.
Get this informative guide today.


Stepper or servo motor -- Which should it be?
Bring out the full capacity of your machines through the most efficient mechatronic design. Hurley Gill, Senior Applications/Systems at Kollmorgen, outlines servo and stepper motor baseline capabilities for selection criteria like torque, speed, accuracy, and repeatability. Technical advantages and disadvantages are discussed, helping machine designers select the best motor drive system for their application.
Read "Servo or Stepper: Which Should It Be?"


Alternative to traditional drive systems
Nexen Group has introduced a stainless steel version of its patented precision roller pinion system (RPS). The Nexen RPS engages two teeth simultaneously to achieve superior accuracy with zero backlash at any length. The system is also extremely quiet and 99% efficient. Stainless steel makes the system corrosion resistant, with a long life of up to 36 million meters. Nexen's RPS provides a low-maintenance, durable alternative to rack and pinion, ball screw, and belt drive technology. The RPS is used for a wide range of applications including laser cutting, plasma cutting, and gantry applications.
Learn more.


Wear-resistant bearings for the food industry
igus has developed a new wear-resistant material for high-temperature applications that will help ensure ongoing operation. iglide AX500 is a long-lasting bearing that can stand up to friction, heat, and electrostatic charges. Bearing points in food and packaging industry applications frequently experience high temperatures and speeds, and the new AX500 material functions reliably in these situations.
Learn more.


Master CNC machining tolerances: E-book
Need a refresher on the basics of applying tolerances to custom machined metal and plastic parts? In this E-book, Xometry provides some pointers on designing mating parts and parts for specific functions. Chapters include: general machining tolerances, clearance and interference fit, how to avoid over-tolerancing, CAD drawing prep and specs, and an inspection report cheat sheet.
Get this valuable resource from Xometry.
---
Most popular last issue


2022 Toyota Tundra: Feature-rich full-size workhouse
If you're looking for a totally capable full-size truck with lots of neat features, the all-new 2022 Toyota Tundra is a solid choice. With two powerful engine options, a towing capacity of 12,000 lb, a well-equipped interior, and an air-suspension system that lowers the back to line you up with your trailer, this third-gen powerhouse has most everything you need to get the job done.
Read the full article.
---
Videos+: Technologies and inspiration in action
What's new in AutoCAD 2022?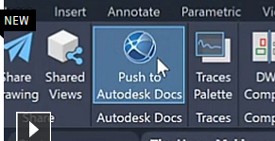 AutoCAD 2022 from Autodesk includes new industry-specific toolsets, an improved connected experience across platforms, and new automation features. There are also updates/enhancements to sharing features, the user interface, drawing history and measurement capabilities, the AutoCAD web and mobile apps, and much more. Pick and choose what you're interested in learning about on the AutoCAD updates site.
View the AutoCAD 2022 videos page.
---