| | |
| --- | --- |
| November 02, 2021 | Volume 17 Issue 41 |
---



New Revolutionary Revolox™ Self-Locking Ring for High RPM
The revolutionary Revolox Self-Locking Retaining Ring from Smalley. Secure and easy locking for your high-speed rotational needs. The "dimple and slot" design prevents ring expansion, safely securing your application at high RPM. This makes it possible to operate at higher speeds, withstand vibration, function under rapid acceleration, and absorb a degree of impact loading. The Revolox self-locking ring enables engineers to cost-effectively design for high RPM requirements and with ease of assembly for high-volume applications.
Learn more.
---
---


High-Power Brushless DC Motor Designed for Handheld Devices
Discover the FAULHABER 1660 BHx series: a high-power, slot-less brushless DC motor based on 2-pole technology that delivers optimized performance. 16mm in diameter and 60mm in length, the 1660 BHx motor is ideal for handheld tools and devices requiring impressive power, while also featuring low vibration for reduced user fatigue. Offered in two motor design options: one is optimized for high-speed (BHS version) applications, and the other is designed for high-torque (BHT version) performance.
Learn more.


Advanced circulators overcome mmWave design challenges
As communications providers race to deliver on the potential of 5G, research and design projects are already looking toward 6G and beyond. However, a major hurdle awaits the impending move up the millimeter wave (mmWave) spectrum: a lack of acceptable mmWave components that can offer a wide bandwidth. Micro Harmonics has an answer.
Read the full article.


Turn any pipe into a powerful conveyor
EXAIR's new 3 NPT Heavy Duty Threaded Line Vac is a powerful in-line conveyor that transports high volumes of material through ordinary pipe. Designed for rugged, industrial applications, it is made of a hardened alloy to prevent premature wear when transporting abrasive or heavy materials like garnet, glass, sand, shot blast, tumbling media, or metal fittings. These units feature large throat diameters that make it possible to convey more material over long vertical and horizontal lengths. The conveying rate is typically twice that of ordinary air-powered conveyors.
Learn more.


Is this the world's most precise small six-axis robot?
Mecademic, a Canadian robotics manufacturer, says it builds the world's smallest, most precise, and easy-to-use industrial robotic arm -- the Meca500. This six-axis robot can handle payloads up to 500 g with an unmatched accuracy of 0.005 mm. It excels in the precise and repetitive manipulation of small parts and tools in a variety of industries. It's a plug-and-work automation component that integrates with any PC or PLC, doesn't require a proprietary language to learn, and is affordable and easy to use. Plus, it features a unique integrated controller in its base.
Learn more.


3D print full-color models directly from Adobe Substance 3D Painter
3D-printing powerhouse Stratasys has teamed with Adobe to give artists and engineers using Adobe Substance 3D Painter a workflow that allows them to easily turn digital 3D renderings into 3D-printed models using Stratasys PolyJet 3D-printing tech -- all without the need to employ additional software or outside processes. When combined with 3D printing, Substance software can be used to create product prototypes and package designs that can then be translated to 3D-printed objects on Stratasys PolyJet printers.
Learn more.


Advanced graphenes for composites and thermoplastic applications
NeoGraf Solutions has extended its range of next-gen graphite materials with the launch of Graf-X graphene nanoplatelets (GNP) and graphene precursors (GP). Both high-performance additive materials deliver enhanced strength, performance, and reliability in a broad range of thermoset and thermoplastic applications. The new graphene materials can increase the toughness of plastics by up to 2.5 times without a significant weight increase. They can also double thermal conductivity and push the electrical conductivity of plastics into the anti-static and static-dissipative ranges.
Learn more.
---
Most popular last issue


All-new 2022 Lexus LX 600: Luxury to the max
Be a VIP or just look like one in the all-new 2022 Lexus LX 600. Totally redesigned from the ground up, this flagship ultra-luxury, full-size SUV blends athletic performance, functionality, and solid design for a sophisticated work-play vehicle that impresses both on- and off-road.
Read the full article.


Researchers improve tractor hydraulics efficiency by 25%
Purdue University researchers have undertaken a $3.2 million DOE project to optimize the hydraulic systems that connect tractors and implements, which can show an efficiency rate as low as 20%. With the help of Bosch Rexroth, the team has, so far, designed hydraulic control systems that translated into significant efficiency increases.
Read the full article.
---
Videos+: Technologies and inspiration in action
FANUC automated system for part deburring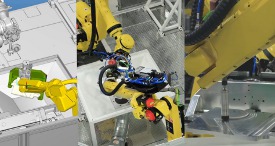 Reko Automation, a FANUC Authorized Integrator, has designed and built an automated system for part deburring and tool management. Watch it in action as it loads parts, scans them, and then gets to work. The FANUC robot performs automatic tool changes during the deburring process, while maintaining a high degree of accuracy through force feedback control. This also allows the robot to follow complex geometric cutting paths. After the cutting and deburring process is complete, an AGV unloads the finished part. Slick.
View the video.
---