| | |
| --- | --- |
| December 14, 2021 | Volume 17 Issue 46 |
---



Clean up your actuator
It's not a matter of if hydraulics will leak, but when. Leaks are messy, potentially dangerous and can contaminate processes. In comparison, electric actuator systems are clean, flexible, precise and maintenance-free.

Compare the factors affecting the performance and cost of each technology. Learn recommended methods for converting your application from hydraulic to electric actuation (Hint: Don't oversize the actuator.)
Read the Tolomatic white paper and save a downloadable copy.
---
---


Ford turns 1978 F-100 pickup into all-electric showpiece
We've seen some pretty impressive restomods in the past couple of years, where vintage gasoline vehicles are outfitted with state-of-the-art all-electric propulsion systems. Ford showed off its latest conversion at the 2021 SEMA show: the 480-hp 1978 all-electric F-100 Eluminator concept truck that features twin front and rear electric traction motors from the Mustang Mach-E.
Read the full article.


ActiNav drives savings and productivity on 24/7 manufacturing line
Dump the parts in a bin, and move on to other tasks. That's what's happening on a Schaeffler Group USA assembly line for precision automotive components. Universal Robots' ActiNav system picks complex parts from randomized bins and accurately places them for assembly, reducing labor needs and improving output. The UR5e cobot-powered system runs on its own -- even autonomously triggering a new bin to move into place as needed to keep the line running.
Watch how:


Engineer's Toolbox: 9 considerations for specifying a slewing ring bearing
In applications that require a bearing to support a structure while it rotates (e.g., cranes, radar, tank turrets), premature bearing failure can put people and equipment at risk. While slewing ring bearings have proven themselves countless times in such applications, designers must consider many factors when specifying them. The bearing's support structure, mounting (including bolt strength, tensioning, and hole patterns), installation, and even storage are all factors in a bearing's success or failure.
Read the full article by Kaydon Bearings.


Xometry acquiring Thomas in move to dominate on-demand manufacturing marketplace
Xometry, a leading AI-enabled marketplace for on-demand manufacturing, has announced a $300 million deal to acquire Thomas, a leader in product sourcing, supplier selection, and digital marketing solutions. The acquisition is expected to expand Xometry's buyer and seller base rapidly, significantly enhancing Xometry's global digital marketplace for manufacturers. The Xometry marketplace provides immediate pricing, delivery lead times, and quality assurance to customers in a highly fragmented manufacturing environment.
Learn more.


New GSL strain wave robotic gearboxes
GAM has released the new GSL series of strain wave gearboxes, which provide zero backlash and high torque in a small gearbox for robotic and motion control applications. The GSL gearbox uses harmonic gearing for a very compact design that easily integrates into applications requiring high ratios and high precision in a small form factor. The GSL series is available in frame sizes 14 to 40 and reduction ratios 50:1 to 160:1.
Learn more.


Live tooling for popular turning center lines
Heimatec, a world leader in live tools and multi-spindle drill heads, announces the immediate availability of live tooling for all popular models in the Hyundai, Miyano, and Nakamura turning center lines. According to Preben Hansen, president of Platinum Tooling Technologies and master North American importer for Heimatec, "We're carrying a substantial inventory of live tools for our customers' machines now, and it represents a substantial financial and warehouse-space commitment we've made to support them in the North American market."
Learn more.


App Note: Mini linear actuator with Linfinity nut
When a customer was trying to fit a motorized linear actuator that needed to move a couple pounds into a small space that could not accommodate a conventional off-the-shelf-type solution, Lin Engineering's team got to work. The novel solution included an actuator system using a 106 motor, a lead screw, a self-lubricating LinFinity nut to remove backlash and provide maintenance-free performance, and a right-size encoder to provide the feedback the system needed.
Read the Lin Engineering application story.
---
Most popular last issue


Ferrari Daytona SP3: A beauty and a beast
Inspired by the Prancing Horse's legendary 1960s racing prototypes, Ferrari's new limited-edition Daytona SP3 boasts the brand's most powerful mid-rear-mounted naturally-aspirated V12 ever, Formula 1 racing technologies, and a design that is so slick and pure that it's a joy to behold.
Read the full article.
---
Videos+: Technologies and inspiration in action
Tech Tip: Converting legacy sheet metal parts in Onshape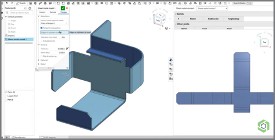 Converting legacy sheet metal into Sheet Metal parts that users can unfold in Onshape is a straightforward process. Learn how in this short Tech Tip. Onshape is a Software-as-a-Service (SaaS) product development platform that combines CAD, built-in data management, real-time collaboration tools, and business analytics.
View the video.
---