| | |
| --- | --- |
| December 21, 2021 | Volume 17 Issue 47 |
---
---


Worldwide Exclusive Range of Ultrafine Wires
Goodfellow has introduced a range of ultrafine wires (gold, silver, platinum, copper, nickel, etc.) with a diameter less than 1µ and a continuous, chemically inert glass insulation coating that provides high electrical strength, wide temperature range, and radiation and pressure resistance. The full range, which meets the demand for miniaturization across a variety of industries, can be used in a vast array of applications including sensors, medical devices, smart devices, and aerospace and aviation components.
Learn more.


Apollo 8: A story of Christmas around the Moon
Christmas Eve, 1968. As one of the most turbulent, tragic years in American history drew to a close, millions around the world were watching and listening as the Apollo 8 astronauts -- Frank Borman, Jim Lovell, and Bill Anders -- became the first humans to orbit another world.
Read the full article.


Merry Christmas and Happy Holidays from Designfax!
2021 was a big challenge, but we made it and are filled with gratitude. Thanks to all of our readers, sponsors, writers, and article contributors. We wish all of you a healthy and happy holiday season!

Don't forget to pass along your issue of Designfax to an engineering colleague.


Please check out our sponsors every week. They make our publication possible. And if you're looking to advertise, we can help you out with that too.
Go to the Designfax advertise page.



Toyota and Lexus unveil 15 new all-electric concepts in a single shot
In a real Oprah you-get-a-car moment, Toyota and Lexus took the wraps off 15 all-new all-electric vehicle concepts at once at a press briefing Dec. 14 -- everything from a high-end Electrified Sport prowler to a Bronco-like Compact Cruiser and even a Smart-car-like Micro Box. There was a vehicle for everyone. It was a slick, surprising, and economical mass-release event that put the world on notice: Toyota plans to roll out 30 battery EV models by 2030.
Read the full article.


You gotta see this: Robot hive packs orders
Watch as Tom Scott, science and technology reporter, tours Ocado's seven-football-fields-long grocery-packing warehouse southeast of London where about 2,300 bots controlled by The Hive Mind artificial intelligence move more than 1 million items per day. A single bot (top speed 14 km/h) can transfer items in three dimensions, often working with only a 5-mm gap between robo units. A Designfax reader tipped us off to this incredible video -- one of our favorites of the year -- and we are really glad he did.
View the video.


Getting a grip on the future, with robotics
Today, a world without robots is inconceivable. The areas of application that require process safety, reliability, and economic efficiency from these robots are equally manifold. FAULHABER drive systems play a major role in fulfilling these requirements, and they continue to impress with their durability and performance in a robust and compact design. Whether a robotics application requires high dynamics or precise positioning, FAULHABER has a micro motion solution available -- from gripping without compressed air to robots used in inspection, delivery, and more.
Learn more.


SureFrame cut-to-length T-slotted rails
AutomationDirect has added SureFrame cut-to-length T-slotted extruded aluminum rails to its offerings. These structures are lightweight, economical, versatile, and easy to construct. This system has many uses, from stands that hold barcode scanners and label applicators to OEM machines made entirely of T-slotted aluminum rail. The rails are available in the most popular profiles and dimensions, are compatible with many other brands, and can be cut to your specified lengths in increments of 0.001 in. with no cutting fees.
Learn more.


Mini load button sensor: Small but mighty
The LLB250 from FUTEK is a miniature load button sensor in a class of its own. Capable of measuring compression forces up to 250 lb with a footprint of just 0.5-in. diameter and 0.15-in. high, it is an extraordinarily powerful and precise tiny sensor. It features a custom single-gauge design for integration with the sensor case and very high accuracy and reliability. It is designed for press or inline compression applications, such as measuring loads on a turbine shaft or gauging forces on a CNC workpiece.
Learn more.
---
Most popular last issue


Ford turns 1978 F-100 pickup into all-electric showpiece
We've seen some pretty impressive restomods in the past couple of years, where vintage gasoline vehicles are outfitted with state-of-the-art all-electric propulsion systems. Ford showed off its latest conversion at the 2021 SEMA show: the 480-hp 1978 all-electric F-100 Eluminator concept truck that features twin front and rear electric traction motors from the Mustang Mach-E.
Read the full article.
---
Videos+: Technologies and inspiration in action
Gear motor basics: Introduction to gear motors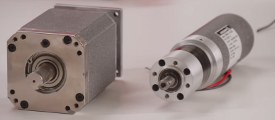 Groschopp USA gives a nice overview of motors and explains the rationale for using gear motors -- why using a reducer (gearbox) with a motor enables the use of a smaller motor and increased torque and/or speed. Other videos in this series address common reducer types and advantages and disadvantages.
View the video.
---