| | |
| --- | --- |
| February 01, 2022 | Volume 18 Issue 05 |
---



Stuck on Coil Springs?
Smalley Wave Springs can replace conventional coil springs while occupying only 50% of the space and providing the same force and deflection. Over 4,000 springs are available from stock in carbon and stainless steel or utilize Smalley's No-Tooling-Cost™ manufacturing process on custom designs, available from .118" to 120". Free samples are available for testing.
Learn more.
---
---


Small installation space? Don't compromise on performance.
Optimal application design or maximum torque? With FAULHABER's BXT series of flat motors, developers get both. The series is designed as an ultra-compact system solution. With coordinated stainless steel planetary gearheads and integrated encoder and speed controller, it offers exceptional torque and high positioning accuracy in the tightest spaces.
Learn more.
---
Feature articles


55 Years Ago: Tragedy on the Apollo 1 launch pad
On Jan. 27, 1967, with the planned launch of the first Apollo mission to carry a crew just 25 days away, Apollo 1 astronauts Virgil I. "Gus" Grissom, Edward H. White, and Roger B. Chaffee were conducting a key test with their spacecraft on the launch pad. The test involved a mock countdown with the astronauts wearing spacesuits inside their capsule, sealed and pressurized with oxygen.
Read the full article.


maxon launches light and invisible e-bike drive system
First, maxon's drives flew on Mars in the NASA helicopter; now they're letting bike riders lift off. After several years of development, the company has unveiled the BIKEDRIVE Air -- a total e-bike drive system that fits inside the frame. It can be used to build extremely lightweight racing, urban, and mountain bikes.
Read the full article.


Ford Bronco Raptor: Off-roading to the max
Potential buyers of the wildly popular Ford Bronco have a new high-end option to consider if they want to take it up a notch or 10. The Bronco Raptor provides off-roaders with next-level performance in the form of the world's first Ultra4 Racing-inspired SUV.
Read the full article.


Zirconia gearing solves contamination problems
When a semiconductor processor was having contamination problems from metal and plastic gears due to intense chemical, thermal, and high vacuum conditions, they considered gears made of technical ceramics, but that material created its own problems. They needed hardy precision pinion gear teeth that were not only uniform, but also strong enough to survive the load. The hard-materials experts at Insaco had the answer.
Read this short application story.


Spherical joint with patented positioning technology
Reell's SJ200 Spherical Joint extends the company's patented SphericalTorq clip technology to more precise applications. It has the ability to adjust up/down, left/right, and a full 360 degrees of rotation, which allows a single device to replace multiple positioning components, conserving space and lowering cost. The SJ200 is ideal for applications requiring precise, low-torque positioning like mobile device docks, tablet stands, small screen positioning, and more.
Learn more.


Sealing fasteners can optimize your designs
Highly specialized sealing fasteners include sealing screws, sealing nuts, sealing bolts, and sealing washers. Unlike ordinary fasteners, sealing fasteners are configured with a rubber O-ring (or a rubber element) that, when squeezed, permanently seals out a wide range of contaminants from entering and damaging equipment while preventing leakage of toxins into the environment. ZAGO sealing fasteners are designed to withstand harsh weather and extreme temperatures and are vibration and pressure resistant.
Learn all about ZAGO's wide selection of sealing fasteners.


Totally matched motion system
Kollmorgen's 2G Motion System is a servo solution designed specifically to harness the performance capabilities of the company's AKD2G servo drive and AKM2G servo motor. Motor and drive are precisely matched in every element (e.g., drive switching frequency, commutation algorithms, motor magnetics), avoiding micro-incompatibilities that can occur when engineers select components from various manufacturers. Applications include: industrial printing, laser cutting, packaging, robotics, inspection and measurement, machine tools, winding machines, and food processing. The AKM2G can also be dropped into existing machines to increase performance without increasing the size of the motor.
Learn more.


NexSafe: Emergency stopping and holding
NexSafe Functional Safety certified Rod Locks, Rail Brakes, and Servomotor Brakes from Nexen provide a verified, reliable solution that machine builders can depend on. With ISO 13849-1 Functional Safety Certification by Intertek, these brakes are capable of Categories B through 4 and Performance Levels PLa through PLe. With spring-engaged, air-released functionality, these products are default-to-lock and are ideal for emergency stopping and holding applications.
Learn more.


Stability perfected: Machine feet from JW Winco
JW Winco has added two newly designed machine feet families (GN 36 and 37) that are particularly well suited for large and heavy systems and machines. The machine foot GN 36 uses the weight of the machine to create a very stable and robust connection between the threaded stud and the foot. The threaded stud is not connected to the foot plate. Rather, the stud centers itself automatically at the contact point via the radius. The GN 37 has a central fastening hole running clear through. This allows use of an anchor bolt.
Learn more.


3M debuts virtually dust-free sanding
Great for home and shop alike, 3M's innovative Xtract Cubitron II 710W Net Abrasive Disc uses a specially designed mesh that extracts dust at every location on the disc while enhancing the cutting power of the tool. 3M says it "provides twice the life and cut rate, while removing up to 97% of dust particles as it sands metal, wood, and composite surfaces." Available in a range of grades.
Learn more.
---
Most popular last issue


Bentley Flying Spur Mulliner: Ultimate four-door luxury
If your tastes are running a little more top shelf these days, Bentley's latest Flying Spur Mulliner offers the pinnacle of luxury and refinement -- and a lot of real power under the hood. Available with a V6 Hybrid, V8, or W12 powertrain, you'll be hitting 0 to 60 in your crystal palace on wheels in as little as 3.7 sec, and you'll look and feel fabulous while doing it.
Read the full article.
---
Videos+: Technologies and inspiration in action
Electronics thermal management training on the house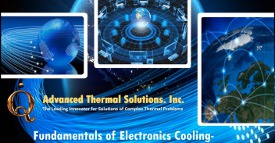 Advanced Thermal Solutions (ATS) is providing monthly no-cost webinars to train design engineers on electronics thermal management issues, from the basics of thermal transfer to the use of heat pipes and exchangers. Each live webinar includes detailed visuals and instruction from one or more ATS thermal management experts. Sessions include theory and calculative classes, as well as how-to instructions on a range of common cooling applications.
Learn more. Tons of useful info here.
---