| | |
| --- | --- |
| February 08, 2022 | Volume 18 Issue 06 |
---
---


Alternative to traditional drive systems
Nexen Group has introduced a stainless steel version of its patented precision roller pinion system (RPS). The Nexen RPS engages two teeth simultaneously to achieve superior accuracy with zero backlash at any length. The system is also extremely quiet and 99% efficient. Stainless steel makes the system corrosion resistant, with a long life of up to 36 million meters. Nexen's RPS provides a low-maintenance, durable alternative to rack and pinion, ball screw, and belt drive technology. Applications include laser cutting, plasma cutting, and gantries.
Learn more.
---
Feature articles


Spark Tank: 6 projects the U.S. Air Force is hot to advance
The U.S. Air Force's "Spark Tank" program is a take on the TV show "Shark Tank," where entrepreneurs pitch their ideas to possible investors. Spark Tank highlights the creative spirit of our Airmen and Guardians and gives them a chance to pitch technology and process innovations to a panel of top Air and Space Force senior leaders. Six competition finalists have been chosen.
Read the full article.


Machine Building: Frames feature internal cable guide
When machine frames are designed, cabling is often an afterthought. Not anymore. Bosch Rexroth's new function-integrated profiles (FIPs) feature a fully internal cable guide that can run through and out of profile junctions. The FIP range comprises four profile cross-sections, with a catalog of accessories that also complements the modular system.
Read the full article.


Great Resources: ABCs of gears and more
KHK USA takes you on a journey through the history and applications of gears in two information-packed, no-cost volumes called "The ABCs of Gears." Part A is aimed at beginners, while part B moves on to intermediate fare, such as types of gears and tooth forms, heat treatment, surface treatment, production methods, etc. Another mid-level text called "Introduction to Gears" and an in-depth "Gear Technical Reference" are also available, chock full of materials information and calculation examples and tables. Thanks, KHK USA!
Click here to learn more.


How GE workers are using Lean to improve ergonomics in factories
Learn how GE is using Lean principles in its manufacturing facilities throughout the world, including at its Lafayette factory in Indiana, in South Korea, and in India. From building fuel-efficient LEAP engines to making motorized tables used in healthcare imaging, see how efforts to work smarter are improving production lines and keeping assemblers healthy.
Read the GE article.


New FANUC robot handles 1,000-kg loads
FANUC has introduced the new M-1000iA robot, which is capable of handling very heavy products up to 1,000 kg (2,205 lb) including automotive components, construction materials, and battery packs for electric vehicles. The M-1000iA's serial-link construction gives the robot a wider range of motion in every direction. It can extend its arm upright or rotate it backward, which is not possible for typical heavy-payload robots with a parallel-link mechanism. With long horizontal and vertical reaches, the M-1000iA is ready to help increase output and maximize production line efficiency.
Learn more.


Drop-in motor solutions for robotics, automation, medical
SDP/SI now offers the NH1-D Frameless Brushless Motor series for smaller machines that require precision and high efficiency. Rated for continuous operation, they are an ideal solution for many applications including the replacement of heavier, traditional motors by eliminating components, reducing torsional losses, and decreasing weight, system inertia, and size envelope -- all while providing maximum speed control.
Learn more.


Springs made of high-performance engineered plastic provide tons of options
Lee Spring's LeeP plastic composite compression springs molded from Ultem resins provide critical advantages over traditional metal alloy springs. They feature high strength-to-weight ratio, no magnetic interference, high corrosion resistance, and dielectric insulation for non-conductive applications. They are stocked in a variety of standard sizes, each available in a "rainbow" of strengths formulated from different Ultem resins. They were designed to meet a wide range of spring applications where non-corroding, non-metallic, inert materials are preferred. These include medical, aerospace, marine, food prep, pharmaceutical, communications, and more.
Learn more.


Quick-clamping shaft collars for packaging applications
Ruland quick-clamping shaft collars require no tools for installation, adjustment, or removal, which makes them a convenient and efficient choice for a variety of packaging equipment and applications. Two types are available: collars with cam levers and collars with clamping levers. Designers and operators of packaging machines such as wrappers, bundlers, and cartoners benefit from the faster, tool-less adjustment of quick-clamping shaft collars.
Learn more.
---
Most popular last issue


55 Years Ago: Tragedy on the Apollo 1 launch pad
On Jan. 27, 1967, with the planned launch of the first Apollo mission to carry a crew just 25 days away, Apollo 1 astronauts Virgil I. "Gus" Grissom, Edward H. White, and Roger B. Chaffee were conducting a key test with their spacecraft on the launch pad. The test involved a mock countdown with the astronauts wearing spacesuits inside their capsule, sealed and pressurized with oxygen.
Read the full article.


Ford Bronco Raptor: Off-roading to the max
Potential buyers of the wildly popular Ford Bronco have a new high-end option to consider if they want to take it up a notch or 10. The Bronco Raptor provides off-roaders with next-level performance in the form of the world's first Ultra4 Racing-inspired SUV.
Read the full article.


maxon launches light and invisible e-bike drive system
First, maxon's drives flew on Mars in the NASA helicopter; now they're letting bike riders lift off. After several years of development, the company has unveiled the BIKEDRIVE Air -- a total e-bike drive system that fits inside the frame. It can be used to build extremely lightweight racing, urban, and mountain bikes.
Read the full article.
---
Videos+: Technologies and inspiration in action
Neat. Highly dynamic product sorting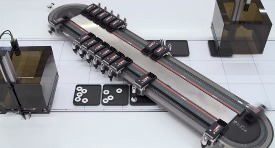 Beckhoff's NCT (No Cable Technology) enables contactless power and data transmission to the company's XTS linear transport system mover. Products can be picked up dynamically from an unsorted and irregular product inflow and then stored in an orderly manner. A wide variety of movers turns XTS into a flexible multi-robot system that increases sorting performance while reducing the required installation space to a minimum.
See how it works.
---