| | |
| --- | --- |
| February 15, 2022 | Volume 18 Issue 07 |
---
---


Motion Control: How robots learn to hike
Researchers at public research university ETH Zurich in Switzerland have developed a new control approach that enables a four-legged robot, called ANYmal, to move quickly and robustly over difficult terrain. For the first time, the robot can combine its visual perception of the environment with its sense of touch.
Read the full article.


2023 Toyota Sequoia SUV: Big and brawny redesign
The full-size, three-row 2023 Toyota Sequoia is all new from the ground up and showcases a beefy redesign with plenty of power behind it. Available in five trims, it boasts a powerful twin-turbo V6 hybrid powertrain that produces 437 hp and 583 lb-ft of torque, heavy-duty performance features, loads of space, and a solid offering of tech features.
Read the full article.


FAULHABER AM3248 Stepper Motor: Exceptionally high speed and dynamics
With a maximum of 10,000 rpm, FAULHABER stepper motor AM3248 achieves a speed five times higher than comparable stepper motors and, combined with a gearhead reduction of 100:1, it delivers a torque of 5 Nm. It has a diameter of just 32 mm and is ideally suited for a wide range of applications including aerospace, lab automation, large optical systems, the semiconductor industry, robotics, and 3D printing.
Learn more.


Retaining rings and wave springs solutions
Finding the best possible solution for your design challenge is no easy task. That's why Smalley is here to help you find the right wave spring, retaining ring, or constant section ring for all of your applications. Choose from one of our 12 product types, 400 sizes, and 10,000+ standard parts in carbon and stainless steel, or challenge our team of engineers to tailor a custom part fit to your exact application requirements.
Request free samples today!


Servo actuators: Precision at a great price
BHA Servo Actuators from Harmonic Drive form the perfect combination of highly dynamic, compact synchronous servo motors and zero-backlash gears with output bearings. The servo actuators with hollow shaft boast a low weight, small volume, outstanding torque density, long lifetime, and reliability. These servo actuators are compatible with virtually every servo controller available on the market. Applications include gantry, mobile, and service robots; antenna and camera positioning; additive manufacturing; automation; and more.
Learn more.


Thermoelectric coolers speed up PCR testing
To improve temperature precision control in PCR (Polymerase chain reaction) devices like those that can test for COVID-19, Laird Thermal Systems has developed an elongated series of PowerCycling PCX thermoelectric coolers. PCR requires a high number of thermal cycles to create millions of DNA strands used for medical diagnosis. The PCX Elongated Series provides high reliability and a minimal temperature gradient for PCR applications, resulting in greater throughput and faster test results.
Learn more.


Great Resources: Flexible circuit design guide
Tech-Etch uses advanced techniques to manufacture flex and rigid-flex circuits to exacting customer specifications. Special processes include selective plating a single circuit with two different finishes, contoured circuits with variable metal thickness, semi-additive and subtractive techniques, open window or cantilevered contact leads, plus SMT for component assembly. Tech-Etch specializes in flexible circuits for medical device, medical implant, diagnostic ultrasound, and patient monitoring applications, in addition to telecommunications, aerospace, semiconductor, and other high-reliability electronic applications.
Learn about flex circuits and download the guide (no registration required).


Strain sensors with IO-Link
Screw-on strain sensors are significantly more cost efficient than force sensors, particularly for large forces. They allow different force ranges to be covered by just one sensor and can be integrated quickly and easily into existing machines and systems. With the new DST53 and DST76 strain sensors for industrial indoor applications, Baumer is using intelligent force measurement with IO-Link as the new standard. These sensors offer a customizable measurement range for a wide range of force measurement applications such as in sheet metal bending and processing machines, thermoforming machines, and sheet metal joining.
Learn more.
---
Most popular last issue


Spark Tank: 6 projects the U.S. Air Force is hot to advance
The U.S. Air Force's "Spark Tank" program is a take on the TV show "Shark Tank," where entrepreneurs pitch their ideas to possible investors. Spark Tank highlights the creative spirit of our Airmen and Guardians and gives them a chance to pitch technology and process innovations to a panel of top Air and Space Force senior leaders. Six competition finalists have been chosen.
Read the full article.
---
Videos+: Technologies and inspiration in action
Hevi-Rail Linear Bearings enable telescopic racking for heavy loads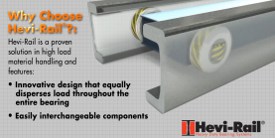 Shipping containers face a constant struggle to optimize storage space and accessibility within a confined area, as well as keep accurate inventory and streamline loading/unloading. A recent task was straightforward: Design a racking system that maximized organization and storage for cargo. In collaboration with a leading designer in storage containment, PBC Linear recommended implementing their high load-capacity Hevi-Rail linear bearing solution, which was installed in a specially designed assembly that could handle cantilevered loads.
View the video.
---