| | |
| --- | --- |
| February 22, 2022 | Volume 18 Issue 08 |
---



Great Resources: ABCs of gears and more
KHK USA takes you on a journey through the history and applications of gears in two information-packed, no-cost volumes called "The ABCs of Gears." Part A is aimed at beginners, while part B moves on to intermediate fare, such as types of gears and tooth forms, heat treatment, surface treatment, production methods, etc. "Introduction to Gears" and an in-depth "Gear Technical Reference" are also available.
Click here to learn more. No registration required.
---
---


Tips to avoid resonance problems in stepper motors
If you need a low-cost motor with simple operation, stepper motors are a solid choice -- they can be driven, step by step, without an encoder or Hall sensor for rotor position feedback. However, according to the motor experts at Portescap, the straightforward design that makes stepper motors so popular can also lead to resonance problems in certain conditions.
Read this informative Portescap blog.


Injection Molding: Top tips for designing multipart assemblies
There are many different ways to approach product designs that involve multiple components. To keep things cost effective and efficient, simplify your design, don't make what you can buy off the shelf, explore all of your manufacturing options, and understand the rules of each part of the process. However, it's not always that easy. Here's what else you can do. Great info from Protolabs.
Read the full article.


Structural adhesive offers 4x temp stability
Developed primarily for use in the automotive industry and mechanical engineering, DELO has launched an adhesive with exceptionally high temperature stability. DELO MONOPOX HT2999 achieves compression shear strength of 20 MPa at 180 C. This is four times greater than its predecessor and other products on the market. High-temperature-resistant adhesives are in demand for use with electric motors and power electronics. Many products that are currently on the market show a clear drop in performance at temperatures above 150 C. DELO's new structural adhesive can handle it.
Learn more.


Servo cylinder actuator is ideal for UAV applications
R-Series actuators from Ultra Motion leverage years of experience in high-reliability actuator design for spaceflight applications such as thrust vector control, throttle control, and fin control. The actuators use a modular platform that allows for application-specific requirements to be met easily, such as Mighty Mouse connectors, specific mounting arrangements, variations in force/speed, and more. Customizations available.
Learn more.


Xometry: What does it mean to be the 'Uber of Manufacturing'?
Xometry consolidates the supply chain by having a single storefront for multiple manufacturing options. When you place an order for CNC machining, injection molding, compression molding, 3D printing, sheet metal fabrication, laser and waterjet cutting, or urethane casting, it is sent through Xometry's extensive Manufacturing Partner Network. This is a vetted network of professional manufacturers from job shops to serialized production facilities. Xometry uses its AI-driven technology to pair projects with those manufacturers best suited to produce your parts on time and to your requirements.
Learn answers to FAQs about Xometry.


Lower friction than comparable sliding bearings
AutomationDirect has added WON linear bearings and rails to its line of mechanical power transmission products. WON linear bearings generate lower friction than comparable sliding bearings. With less friction to overcome, less power is required to move a load, higher speeds can be achieved, and greater efficiency is reached. Available in various sizes to meet the needs of any specialized motion project.
Learn more.


Higher-torque rotary tables for bigger applications
The new RTMB+ high-precision indexing tables from ETEL are the ideal solution for large-diameter manufacturing applications where high repeatability and short indexing times are required, such as in the back-end semiconductor, electronics, automation, or printing industries. A unique encoder-bearing solution provides the RTMB+ with the best torque-to-volume ratio on the market, and with the integration of a new water-cooling feature, users can expect an up to a 30% indexing gain compared to an equivalent air-cooled version. New diameters and heights available.
Learn more.
---
Most popular last issue


2023 Toyota Sequoia SUV: Big and brawny redesign
The full-size, three-row 2023 Toyota Sequoia is all new from the ground up and showcases a beefy redesign with plenty of power behind it. Available in five trims, it boasts a powerful twin-turbo V6 hybrid powertrain that produces 437 hp and 583 lb-ft of torque, heavy-duty performance features, loads of space, and a solid offering of tech features.
Read the full article.
---
Videos+: Technologies and inspiration in action
SOLIDWORKS Tech Tips: Resolving mesh failures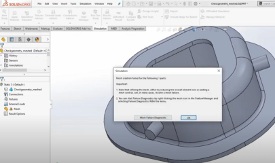 The SOLIDWORKS experts over at TriMech are full of useful information. This tech tip video focuses on what to do if you receive a "mesh terminated" or "failure to create a mesh" error message when working with assemblies or complex parts in SOLIDWORKS Simulation. TriMech takes a look at why this happens and what can be done to remedy the situation. Be sure to check out TriMech's YouTube channel for other helpful tips.
View the video.
---