| | |
| --- | --- |
| March 22, 2022 | Volume 18 Issue 12 |
---
---


Your Source for Metric Gears
KHK USA Inc offers the largest selection of stock metric gears in North America -- with over 30,000 configurations. KHK USA can supply your Metric Spur Gears, Helical Gears, Internal Ring Gears, Gear Racks, Bevel Gears, Worms and Wormwheels from stock in most cases. Free 3D CAD models and 24/7 quoting available.
See what KHK USA has in stock for you today!


In-wheel motor unit upgraded to carry 500 lb
If you are a developer of mobile robots and the like, it may be worth your while to check out ElectroCraft. The motor and motion solutions provider has expanded its award-winning MobilePower wheel drive family with the MPW86, which features a high-torque-density brushless DC motor with a heavy-duty integrated planetary gearbox mounted inside the hub of a lightweight aluminum wheel with custom tread. The MPW Wheel Drive combines optimum performance with high efficiency, quiet operation, and long life -- and now it can handle heavier loads.
Read the full article.


Engineer's Toolbox: Landing-gear drop testing
Landing-gear manufacturers use load cells to measure shock forces and fatigue ratings during quality-assurance examinations. FUTEK's LCA Family of miniature column load cells offers a robust design in a small package for these high-capacity measurements. See how it's done.
Read the full article.


Low-GWP refrigerant market heats up
According to Parker Hannifin's Climate Control Team, low-global-warming-potential (low-GWP) refrigerants may be good news for the environment, but they pose their own challenges: "They may increase energy consumption, introduce added safety risks, and require significant equipment modifications." (Image credit: Carlos Lindner on Unsplash)
Read this informative Parker blog.


NEMA 24 stepper motor with best-in-class power density
Permanent magnets between the stator teeth make Nanotec's SCB6018 with 60-mm flange a smooth-running -- yet powerful -- stepper. FluxFocus technology guides the entire magnetic flux into the stator teeth. This prevents flux leakage and provides more torque across all speeds. This motor generates a holding torque up to 3.6 Nm. Combined with a closed-loop controller, the SCB6018 is ideal for use in valves and textile or other applications that require rapid acceleration over a short distance.
Learn more.


SMART SYSTEM belt-driven linear actuators
Rollon has updated its SMART SYSTEM lineup of belt-driven linear actuators with a rugged new design that supports heavy loads and ensures low-maintenance operation in automated manufacturing, packaging machines, and food and beverage equipment. The actuators have a self-sustaining anodized aluminum frame and a steel-reinforced driving belt, and they are engineered to provide stiffness for greater load capacity. Symmetrical heads on both ends of the actuators allow users to assemble the gearbox in one of four different positions. The SMART SYSTEM also simplifies creating multi-axis systems.
Learn more.


All about slip rings -- how they work and their uses
Rotary Systems has put together a really nice basic primer on slip rings -- electrical collectors that carry a current from a stationary wire into a rotating device. Common uses are for power, proximity switches, strain gauges, video, and Ethernet signal transmission. This introduction also covers how to specify, assembly types, and interface requirements. Rotary Systems also manufactures rotary unions for fluid applications.
Read the overview.


LEGO 'Back to the Future' Time Machine three-in-one set: Great Scott!
Inspired by the DeLorean car seen in the time-traveling adventure film franchise, the new LEGO "Back to the Future" Time Machine set allows builders to create the car from either the first, second, or third movie. This 1,872-piece set comes complete with a light-up flux capacitor, a box of plutonium, Marty's hoverboard, and LEGO mini-figure versions of Doc Brown and Marty McFly. Available April 1 (no foolin').
Learn more.
---
Videos+: Technologies and inspiration in action
Control panel solutions: Wire duct and wire wrap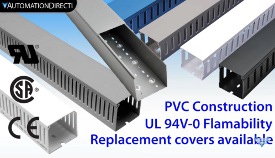 AutomationDirect sells everything you need to build quality control panels, including a large assortment of wiring duct, flexible duct, wire wrap, wire sleeve, and associated tools and accessories. Check out all that this one-stop shop has to offer. High stocking rates and fast shipping too.
View the video.
---