| | |
| --- | --- |
| April 05, 2022 | Volume 18 Issue 13 |
---



Stuck on Coil Springs?
Smalley Wave Springs can replace conventional coil springs while occupying only 50% of the space and providing the same force and deflection. Over 4,000 springs are available from stock in carbon and stainless steel or utilize Smalley's No-Tooling-Cost™ manufacturing process on custom designs, available from .118" to 120". Free samples are available for testing.
Learn more.
---
---


Small installation space? Don't compromise on performance.
Optimal application design or maximum torque? With FAULHABER's BXT series of flat motors, developers get both. The series is designed as an ultra-compact system solution. With coordinated stainless steel planetary gearheads and integrated encoder and speed controller, it offers exceptional torque and high positioning accuracy in the tightest spaces.
Learn more.


High-performance linear motors: A technical overview
Linear motors are found in everything from automated optical inspection machines to amusement park rides and even aircraft carrier jet launchers. Learn about the different types of linear motors available for industrial use, their principles of operation, history of development, design methods, and applications in this in-depth overview from HIWIN Corp. Lots to learn here.
Read the full HIWIN article.


How a NASA engineer created the modern airplane wing
Once dubbed "the man who could see air," NASA engineer Richard T. Whitcomb used a combination of visualization and intuition to revolutionize modern aviation -- by turning the shape of the airplane wing on its head. Today, nearly every commercial airplane bears the marks of Whitcomb's several innovations, which include the development of winglets on wing tips.
Read the full article.


Run about in retro style: All-new Morgan Super 3
If classic cars with a modern twist get your motor running, then specialty British automaker Morgan Motor Co. has a little something for you. It's a two-seat three-wheeler called the Super 3 that features a clean-sheet jet-age design, a 116-hp three-cylinder Ford gasoline engine, and loads of opportunities for fun driving while you feel the road. Left-hand drive available.
Read the full article.


New Standard Parts Handbook from JW Winco
JW Winco's printed Standard Parts Handbook is a comprehensive 2,184-page reference that supports designers and engineers with the largest selection of standard parts categorized into three main groups: operating, clamping, and machine parts. More than 75,000 standard parts can be found in this valuable resource, including the company's most popular sellers as well as brand new products such as toggle clamps, shaft collars, concealed multiple-joint hinges, and hygienically designed components (including ones made of metal-detectable plastics or antibacterial materials).
Get your Standard Parts Handbook today.


Low- and high-volume injection molding production
Scale your 3D-printed prototypes into high-volume production parts with Xometry's injection molding service featuring a wide variety of materials, colors, cosmetics, polishes, and surface textures. Low costs and fast lead times are offered for molded parts, and they are all backed by Xometry's Quality Service Guarantee. Insert and overmolding are available too. "7 Ways to Save on Injection Molding" design video featured on this linked page.
Learn more.


Top Product: Copper foam -- so many advantages
Copper foam from Goodfellow combines the outstanding thermal conductivity of copper with the structural benefits of a metal foam. These features are of particular interest to design engineers working in the fields of medical products and devices, defense systems and manned flight, power generation, and the manufacture of semiconductor devices. This product has a true skeletal structure with no voids, inclusions, or entrapments. A perennial favorite of Designfax readers.
Learn more.


Motors for the robotics industry
Lin Engineering has been supporting the robotics industry for more than 30 years by designing and manufacturing a wide variety of motion control products that include hybrid step motors, PM steppers, linear actuators, BLDC motors, servo motors, frameless BLDC motors, and slotless BLDC motors. Applications include manufacturing robots, delta robots, collaborative robots, and more.
See all Lin Engineering has to offer.


High-def SWIR camera for military apps
Attollo Engineering's new Phoenix HD5 SWIR Camera is an uncooled high-def imager that features the industry's smallest shortwave infrared HD sensor and an ultra-small 5-µm pixel pitch, which permits more pixels on target with a short-focal-length optic. Specifically designed for low size, weight, and power (low-SWaP) applications, the HD5 SWIR camera is ideal for integration into small gimbals, small unmanned aircraft systems (SUAS), and handheld and soldier-mounted systems.
Learn more.


Cool Tools: Entry-level high-tech portable 3D scanner
The GOM Scan 1 from CAPTURE 3D is an affordable, precise 3D scanner with mesh-editing capabilities to accurately digitize physical objects into the 3D world. GOM Scan 1 provides accessibility to the leading GOM blue light 3D scanning technology used by top manufacturers worldwide. Applications include creating a digital file of an object for 3D printing, reverse engineering, manufacturing, quality control, virtual display and 3D modeling, research and education, art and design, and healthcare. GOM Scan 1 offers GOM Inspect 3D inspection software to quickly capture, visualize, and analyze 3D measurement data within the same workflow.
Learn more.
---
Videos+: Technologies and inspiration in action
Affix a heat sink in seconds!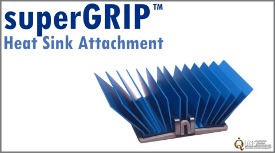 superGRIP is a two-component system from Advanced Thermal Solutions (ATS) that can be installed in seconds to mount heat sinks securely to a wide range of components -- without needing to drill holes in the PCB. It features an injection molded plastic frame clip and a stainless steel spring clip. This clever system provides a strong, even binding force with minimal space required around the component's perimeter, making it ideal for densely populated PCBs.
View the video.
---