| | |
| --- | --- |
| April 19, 2022 | Volume 18 Issue 15 |
---
---


Alumina: Gets the job done where metals can't survive
Alumina provides high temperature strength and stability when applications demand performance where metals can't survive. Parts don't wear, and they resist most chemicals. Alumina is readily available in standard forms and can be ground with desired features to the tightest of tolerances. It is the most common technical ceramic.
Learn more from Insaco.


Lamborghini Huracan Tecnica: Super all-rounder
Lamborghini unveiled the newest addition to its Huracan range, the Huracan Tecnica, at the New York International Auto Show last week. Featuring rear-wheel drive with four-wheel steering and lots of other goodies, the 631-hp mid-engine supercar combines some of the best aspects of the Huracan EVO, STO, and EVO RWD to provide a powerful-yet-nimble driving experience on road and track.
Read the full article.


Drive systems for robotics and automation
An industrial world without robotics or automation is inconceivable today. Process safety, reliability, and economic efficiency are on the forefront when it comes to the application of such systems in modern production lines. The industrial-grade drive components from FAULHABER are extremely capable, with their high endurance and performance in a robust and compact design, for exact and highly dynamic positioning tasks (SMT assembly machines, handling devices and electrical grippers, and conveyor systems) or sensitive and low-noise operations (artificial robotic hands and the like).
Read more here.


Line Vac Air Operated Conveyors
EXAIR's Line Vac connects to standard hose or tube to create a powerful conveyor. The design features large throat diameters for maximum throughput capability. A small amount of compressed air is injected through directed nozzles to produce a vacuum on one end and high output flows on the other.
See video online.


Speed limit of electronics determined
How much faster can electronics get? Researchers in Austria and Germany have been checking into it, studying the time evolution of ultra-fast processes in detail. When computer chips work with ever-shorter signals and time intervals, at some point they come up against physical limits.
Read the full article.


Top Product: Revolutionary Revolox™ Self-Locking Retaining Ring
The revolutionary Revolox Self-Locking Retaining Ring from Smalley. Secure and easy locking for your high-speed rotational needs. The "dimple and slot" design prevents ring expansion, safely securing your application at high RPM. This makes it possible to operate at higher speeds, withstand vibration, function under rapid acceleration, and absorb a degree of impact loading.
Learn more.


Self-lubricating toothed belt axis for clean use in food technology
igus has introduced a maintenance-free toothed belt axis specifically designed to improve sanitation in food manufacturing systems. The new drylin ZLW toothed belt axis is based on hygienic design principles and uses FDA-compliant materials. It can be cleaned quickly and thoroughly using high-pressure steam jets, chemicals, or by simply running water, which also increases product safety.
Learn more.


Mini medical motor with way more torque
Portescap's 22ECP35-2A brushless motor with integrated driver is the company's latest addition to its Ultra EC mini brushless DC motor line. This compact, 22-mm diameter motor is available in a length of 35 mm and offers almost 50% more continuous torque over similar motors without compromising on smooth operation and long life. The integrated motor drive is a good fit for applications such as respiratory and ventilation devices, infusion pumps, miniature industrial pumps, medical hand tools, and valve actuation.
Learn more.


New low-voltage compact LED bulbs
LEDtronics has released new additions to its industry-leading offering of intermediate-based LED bulbs that fit in enclosed fixtures, featuring low voltage, 160-degree spherical illumination, low power consumption, and high lumen intensity. The B605SM series is available either as a 14-VAC/VDC bulb that replaces incandescent lamps 67, 89, 97, 98, 1095, 1155, and 5008, or as a 28-VAC/VDC bulb that replaces incandescents 71, 303, 623, and 1251. These bulbs are a perfect fit in applications such as machine status or gaming candle indicators, indicator lights for instrumentation, panel-mount pilot lights, accent lighting, and automotive.
Learn more.
---
Videos+: Technologies and inspiration in action
What can you do with touchless magnetic angle sensors?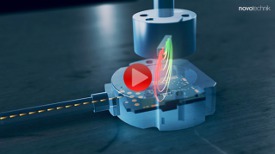 Novotechnik has put together a really informative video highlighting real-world applications for their RFC, RFE, and RSA Series touchless magnetic angle sensors. You may be surprised at the variety of off-highway, marine, material handling, and industrial uses. You'll learn how they work (using a Hall effect microprocessor to detect position) and their key advantages, including eliminated wear and tear on these non-mechanical components. We love when manufacturers provide such useful examples.
View the video.
---