| | |
| --- | --- |
| April 26, 2022 | Volume 18 Issue 16 |
---
---


Over 26,000 Stock Metric Gears
KHK USA Inc offers the largest selection of stock metric gears in North America -- with over 26,000 configurations. KHK USA offers Metric Spur Gears, Metric Helical Gears, Metric Internal Ring Gears, Metric Gear Racks, Metric Bevel Gears, Metric Worms and Wormwheels from stock! Free 3D CAD models, technical spec and 24/7 price and availability detailed online.
See what KHK USA has in stock for you today!
---
Feature articles


New NASA alloy built to handle extremes
NASA innovators recently developed a new metal alloy that can endure temperatures over 2,000 F, is more malleable, and can survive more than 1,000 times longer than existing state-of-the-art alloys. It affords engine part designers new flexibilities like lighter materials paired with vast performance improvements.
Read the full article.


Xerox aluminum wire 3D printer installed at Oak Ridge National Lab
A Xerox ElemX 3D metal printer has been installed at Oak Ridge National Lab to advance metal additive manufacturing (AM) technologies. ElemX leverages Liquid Metal AM that uses cost-effective aluminum wire and is easily deployed. Unlike many metal 3D-printing technologies, it requires minimal post-processing, which means shorter overall cycle times.
Read the full article.


First Lexus all-electric: 2023 RZ 450e
Lexus has graduated from offering hybrids to its first globally available battery-electric car. Slightly smaller than the gas-powered RX SUV, the dual-motor, all-wheel-drive RZ 450e is a luxury five-seat crossover with dynamic driving characteristics and a forward-thinking technology suite.
Read the full article.


When metals can't take the heat: Silicon Carbide is a top choice for high-temperature wear
Silicon Carbide is among the hardest of ceramics. It retains this hardness and strength at elevated temperatures, which translates into incredible wear resistance. Several grades of Silicon Carbide optimize wear performance for bearings and other parts requiring extreme precision in high-acceleration or aerospace applications. Insaco is the expert in precision machining SiC in applications where thermal conductivity or strength at high temperatures and low density are key.
Learn more.


Sheet metal finishing options from Xometry
Xometry now offers expanded options for sheet cut and sheet metal parts. Parts fresh off the waterjet or laser often have a burr on their bottom face, marks from handling, frosting near the cut line from overspray, and/or vestigial tabs from being held in place during cutting. Applying a finishing process post-cutting will help you get parts that need minimal cleanup before installation.
Learn more.


High-speed linear VCA with built-in encoder
Moticont has added a high-speed, high-acceleration/-deceleration, non-cogging, high-resolution, high force-to-size electric cylinder to its extensive product line of linear voice coil actuators (VCAs). The new SDLM-051-095-01-01 Linear DC Actuator features high repeatability, 1.25-micron resolution, and a continuous force of 33.9 N (7.6 lb). A linear encoder mounted internally provides the feedback for very high accuracy and repeatability.
Learn more.


2022 Stampings & Washers catalog
Have you requested your copy of Boker's latest Stampings and Washers catalog? This 72-page reference is a valuable industry resource for design engineers and purchasing teams. It showcases the company's vast stamping and washer capabilities, offering an all-inclusive guide to over 32,000 stock tools for flat washers, spacers, and shims -- including 369 new sizes recently added.
Get yours today.


Calculator simplifies cabinet cooling system selection
EXAIR Cabinet Cooler Systems provide a comprehensive solution for cooling and purging electronic cabinets and come in a litany of different cooling capacities, NEMA ratings, and classifications. With the breadth of available options, choosing the best Cabinet Cooler for a specific environment can be a tedious task and depends on a few key factors. With EXAIR's new Cabinet Cooler Calculator, it's easy to find the ideal Cabinet Cooler System for any specific application.
Learn more.
---
Most popular last issue


57 Years Ago: Contraband corned beef on Gemini III
The Gemini III mission carried two remarkable firsts: an astronaut's smuggled sandwich and NASA's first fundamental space biology experiment in orbit. Gemini III was the first crewed mission of the program that tested many new capabilities in space essential for the success of Apollo, such as rendezvous and docking in orbit.
Read the full article.
---
Videos+: Technologies and inspiration in action
Mini motors and drive systems on-demand webinars: Chock full of informative details!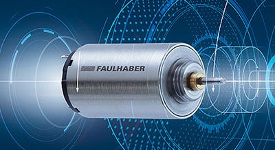 Faulhaber has made available a library of on-demand webinars about its miniature motors and drive systems. Each presentation is full of product details, technology overviews, selection help, design tips and tricks, and application examples. Topics include: stepper motors, brushless motors, DC motors, linear motors, encoders, gearheads, motion controllers, and more. Filled with useful information!
View the Faulhaber webinar library page.
---