| | |
| --- | --- |
| July 05, 2022 | Volume 18 Issue 25 |
---



Replace traditional fasteners: 50+ retaining ring applications
The benefits of a Rotor Clip Retaining Ring are simple: The ring is made from less material than traditional fasteners, eliminating machined shoulders, threads, cover plates, and heat-formed studs -- so you save. Using a retaining ring to fasten your assembly instead of a traditional fastener not only reduces your costs, but also saves the environment. This quality part offers lot traceability. Want to know what you can do with a Rotor Clip Retaining Ring?
View more than 50 application examples.
---
---
---
Feature articles


Update: DOD accelerating innovative technologies, enabling manufacturing workforce
Groundbreaking technologies -- such as lighter-weight materials for shipbuilding and an electronic stability control system for Humvees -- were on display in May when the Department of Defense's nine Manufacturing Innovation Institutes (MIIs) demonstrated advanced materials, engineering, and manufacturing. Central to the DOD MII mission is identifying industry partners, including small businesses, that have cutting-edge technologies that could benefit the warfighter.
Read the full article.


What's a sapphire piston used for -- and who can make one?
If you want a prototype piston made of metal for research purposes, you have a lot of options -- you can even 3D print your own. But what if you need something much more exotic, like the second-hardest natural material? When Mid Michigan Research had just such a need, it turned to Insaco for the company's long history of custom fabrication of sapphire precision parts, often in unusual forms.
Read the full article.


Solar Power: More light captured without sun tracking -- even on a cloudy day
In a real "why-didn't-I-think-of-that?" moment, Stanford University researchers designed a deceptively simple, pyramid-shaped lens device that can efficiently gather light from all angles and concentrate it at a fixed output position. The graded index optics have light-management applications in solar power arrays, solid-state lighting, laser couplers, and more. Testing demonstrated impressive results.
Read the full article.


Recommended: Alternative to traditional drive systems
Nexen Group has introduced a stainless steel version of its patented precision roller pinion system (RPS), which engages two teeth simultaneously to achieve superior accuracy with zero backlash at any length. RPS is extremely quiet and 99% efficient, with a long life up to 36 million meters. It provides a low-maintenance, durable alternative to rack and pinion, ball screw, and belt drive technology. The RPS is used for a wide range of applications including laser cutting, plasma cutting, and gantry applications.
Learn more.


Knob with a twist makes for easier operation
Created with ergonomics in mind, Rogan's new ST series clamping knobs feature a contoured design that allows for more comfortable operation and ease of function. Perfectly engineered for applications in industrial, medical, lawn and garden, and consumer, ST knobs are made of glass-reinforced polypropylene with zinc-plated brass inserts or zinc-plated steel studs. Available in black, grey, white, blue, yellow, green, or red. Completely customizable too.
Learn more.


Bonus Fun: Best telescopes for kids
Space.com has put together a list of the best telescopes for kids, so those little stargazers in your life can make the most of their summer nights. Recommended equipment runs the gamut, from beginner setups under a hundred bucks to more advanced tech with sky tracking and basic astrophotography. A great place to start if you are in the market for a kid's scope. [Image credit: Celestron]
Read the Space.com article.
---
Most popular last issue


Pilot recounts tales of SR-71 Blackbird
The SR-71 reconnaissance aircraft flew missions around the globe from 1966 to 1998 at speeds above Mach 3 and altitudes of 85,000 ft or more. Although its many contributions to national security will never be fully revealed to the public, the Skunk Works marvel holds world aviation records for its speed and altitude. In this interview with former SR-71 pilot Col. Buzz Carpenter, you'll hear a first-hand account of the aircraft's power and majesty.
View the video. An oldie but goodie.
---
Videos+: Technologies and inspiration in action
What can you do with touchless magnetic angle sensors?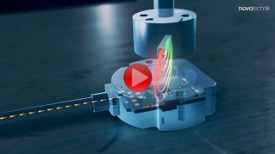 Novotechnik has put together a really informative video highlighting real-world applications for their RFC, RFE, and RSA Series touchless magnetic angle sensors. You may be surprised at the variety of off-highway, marine, material handling, and industrial uses. You'll learn how they work (using a Hall effect microprocessor to detect position) and their key advantages, including eliminated wear and tear on these non-mechanical components. We love when manufacturers provide such useful examples.
View the video.
---