| | |
| --- | --- |
| October 18, 2022 | Volume 18 Issue 39 |
---



You need motion control components?
HIWIN has them in stock!
Many models of linear motors, ballsplines, rolled ballscrews PLUS supports, linear guideways, crossed roller bearings and stages are in-stock at our Chicago factory, where HIWIN can cut and machine to our spec or yours. Fast shipment to meet applications in machine tool, medical, lab, packaging, metal fab, semicon and advanced high-precision automation equipment.
Learn more.
---
---


Cool Tools: Easy-setup orbital sander/polisher for cobots by OnRobot
The Sander package from OnRobot includes everything customers need to get their robotic sanding application started quickly, including plug-and-play sanding tool, pads, easy-to-use programming software, an optional force/torque sensor, and a Grit Changer. All of the advanced features are supported on Universal Robots cobots, but the tool is easily integrated with any major robot brand. Polishing and deburring can be accomplished too.
Read the full article.


New tech charges almost any EV battery in 10 minutes
A new breakthrough in electric vehicle battery design from researchers at Penn State has enabled a 10-minute charge time for a typical EV battery. The technology relies on internal thermal modulation, an active method of temperature control to demand the best performance possible from the battery.
Read the full article.


Recommended: ABCs of Gears and more
KHK USA takes you on a journey through the history and applications of gears in two information-packed, no-cost volumes called "The ABCs of Gears." Part A is aimed at beginners, while part B moves on to intermediate fare, such as types of gears and tooth forms, heat treatment, surface treatment, production methods, etc. Another mid-level text called "Introduction to Gears" and an in-depth "Gear Technical Reference" are also available. Best of all, there is no registration for any of these valuable resources. Thanks, KHK USA!
Click here to learn more.


Alternative to traditional drive systems
Nexen Group has introduced a stainless steel version of its patented precision roller pinion system (RPS). The Nexen RPS engages two teeth simultaneously to achieve superior accuracy with zero backlash at any length. The system is also extremely quiet and 99% efficient. Stainless steel makes the system corrosion resistant, with a long life of up to 36 million meters. Nexen's RPS provides a low-maintenance, durable alternative to rack and pinion, ball screw, and belt drive technology. The RPS is used for a wide range of applications including laser cutting, plasma cutting, and gantry applications.
Learn more.


Hollow shaft, solid performance: Stepper motor
FAULHABER has set a new standard for internal aperture motors with the new DM66200H stepper motor series. As a direct drive, the new hollow shaft motor operates backlash-free and can be integrated into different applications with minimal effort. This new stepper motor achieves impressive performance for both speed and torque values. Its exceptionally wide aperture has a diameter of 40 mm.
Learn more.


Automotive milling innovation: Sandvik CoroMill MF80
Sandvik Coromant has expanded its milling offering with the new CoroMill MF80 for automotive milling applications in ISO K and ISO P materials in close to 90-degree operations with fixture constraints. Based on a tech platform similar to the existing CoroMill 345, this new milling concept offers a 40% lighter cutter body with shim protection and a high number of inserts for secure and stable machining, even in vibration-prone overhang applications. Testing has shown a 67% increase in tool life, which boosted overall productivity by 60%.
Learn more.
---
Most popular last issue


World's whitest paint now thinner than ever -- ideal for vehicles
The world's whitest paint, seen in this year's edition of Guinness World Records, keeps surfaces so cool it could reduce the need for air conditioning in some cases. Now, the Purdue University researchers who created the paint have developed a new formulation that is thinner and lighter -- ideal for radiating heat away from cars, trains, and airplanes.
Read the full article.


Dodge Charger Daytona SRT Concept: All-electric eMuscle
Can a muscle car really be electric? Dodge thinks it has the winning formula with its two-door Charger Daytona SRT Concept EV. It's loud, it's powerful, and it's retained those traditional brawny looks. Along with multi-level electro-mechanical shifting, an audible "exhaust" system, an aerodynamic front wing, and even a "donut" mode, it has some modern features built in too. It's a rebel with a cause trying to shake up the EV market.
Read the full article.
---
Videos+: Technologies and inspiration in action
SOLIDWORKS: What's new for 2023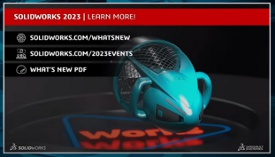 In 2023, SOLIDWORKS will help you break down barriers, so you can work from anywhere and be even more productive. Expand your horizons beyond the desktop and connect everyone to best-in-class tools using the cloud. 3DEXPERIENCE Works helps you move beyond parts, assemblies, and drawings. New capabilities will help you optimize your workflows for design, simulation, data management, documentation, and so much more. This is the long version of the presentation filled with interviews and examples, so skip around if you are short on time.
View the video.
---