| | |
| --- | --- |
| November 15, 2022 | Volume 18 Issue 43 |
---
---


Bugatti Mistral: Last to run on the W16 combustion engine
The 8.0-liter W16 engine has been propelling Bugatti's hyper sports cars for almost 20 years. It's the only 16-cylinder engine in the world to be used in a car, and now its days are officially numbered with the release of the Bugatti Mistral roadster, a 1,578-hp, 99-unit open-top that will be the last of its kind to feature the W16.
Read the full article.


You asked. We answered. All about wave springs
Finding the best possible solution for your design challenge is no easy task. Smalley engineers have created a brand new Ask the Expert - Wave Spring FAQ E-book that answers all of your wave spring questions in one simple guide. In this E-book, you will learn about wave spring performance, the design process, materials, and common applications.
Get your Wave Spring FAQ E-book now.


Design Tips: Build strength into parts with insert molding
Plastic injection-molded parts are tough and strong, able to withstand heavy loads, moderately high temperatures, and the corrosive effects of acids and alkalis. In some cases, plastic even competes with metal, and is lighter and usually less expensive to boot. But once in a while plastic needs a little help, like when the bore in an all-plastic pulley quickly wears out or tapped holes in molded handles and knobs get prone to stripping. In these cases, say hello to insert molding.
Read the full Protolabs article.


New cobot welders with extended range unveiled at FABTECH 2022
Universal Robots has grown its welding application segment more than 80% this year as partners develop new capabilities for the pioneering cobot welders. At FABTECH last week, Universal Robots' booth showcased new solutions from Vectis Automation and Hirebotics, enabling the weldment of larger and more complex parts. Attendees also experienced Precision Cobotics' automated MECCO laser-marking solution with Apera AI bin picking, laser welding with Cobot Systems, metal deburring with Kane Robotics, along with the new UR20 cobot in a machine-tending application.
Learn about the new welding options and other UR FABTECH releases.


ClampDisk micro fastener is new alternative for automotive and consumer electronics
Designed as a unique alternative in assemblies for the automotive and consumer electronics markets, the ClampDisk Press-on Fastener is a new offering from PennEngineering that delivers a fast, simple way to achieve sheet-to-sheet clamped fastening while replacing the use of standard screws, nuts, and adhesives. The most common challenges that can be eliminated or reduced by using ClampDisk include over installation, cross threading, stripped screw heads, broken screws, and damaged product. This fastener can be removed easily with a sharp-edged tool.
Learn more and see how ClampDisk works.


5 key considerations for selecting a propulsion motor
Josh Jennings, mobile servo motor and drive applications engineer for Parker Hannifin's Hydraulic Pump and Power Systems Division, runs through the key factors to consider for a vehicle electrification project, including how the motor is cooled, its speed range, flexibility, efficiency, and reliability. Solid basic information.
Read the full Parker blog.


New mini planetary gearmotors
New PH Series Mini Planetary Gearmotors from Applied Motion Products are used with small step motors in NEMA 8, 11, and 14 frame sizes. These gearmotors are used in applications where space is critical. Small motors usually don't produce enough torque for demanding applications. Mini Planetary Gearmotors are an ideal solution. They offer an increase in torque and better inertia matching without breaking the budget.
Learn more and see all the options offered by Electromate.


GMC HUMMER EV AWD eBike offered by Recon Power Bikes
Recon Power Bikes has secured a global licensing agreement with GMC to produce and sell an all-wheel-drive HUMMER EV EBike. Powered by twin 750-W hub motors with a peak output of 2,400 W, the two-wheeler has three riding modes: Cruise (rear-wheel drive), Traction (front-wheel drive), and Adrenaline (for maximum AWD performance). The eBike is powered by an LG battery that comes standard at 48 V and 17 Ah, with an option to upgrade to 21 Ah. Very pricey, but sometimes you gotta do you.
Learn more.
---
Most popular last issue


BMW M4 CSL: High-end racer for everyday driving
As part of its 50th birthday celebrations, BMW is producing a very special limited-edition model -- the new 2023 543-hp BMW M4 CSL. It mixes old-school track enthusiasm with innovative technology to create a formidable racer for everyday driving. It's also the closest a BMW production car has ever gotten to one of the brand's official race cars.
Read the full article.
---
Videos+: Technologies and inspiration in action
How to design a 10-in. cast-iron skillet in SOLIDWORKS in 10 min.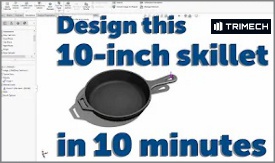 The engineers over at TriMech are always providing new tips, tricks, and tutorials. This time around, they have put together a 10-min. SOLIDWORKS demo on how to design a cast-iron skillet. The video covers sketch relations and dimensions to fully define the geometry and applying three-dimensional features. From beginner to advanced user, TriMech provides excellent training support.
View the video.
---