| | |
| --- | --- |
| December 06, 2022 | Volume 18 Issue 45 |
---



Stuck on Coil Springs?
Smalley Wave Springs can replace conventional coil springs while occupying only 50% of the space and providing the same force and deflection. Over 4,000 springs are available from stock in carbon and stainless steel or utilize Smalley's No-Tooling-Cost™ manufacturing process on custom designs, available from .118" to 120". Free samples are available for testing.
Learn more.
---
---


What is the C-Flex Pivot Bearing?
It's a flexure-based bearing utilizing internal flat crossed springs, capsuled in a cylindrical housing, to provide precise rotation with low hysteresis and no frictional losses. The C-Flex bearing will offer infinite life when used within its rated load and rotation values. Applications include Medical, Industrial, Aerospace, Semiconductor, and Optical.

Advantages include: Frictionless, Backlash-free, Self-centering, Simple installation, Low hysteresis, Vacuum applications, Stock items, No lubrication, No maintenance, and Infinite life.
Learn more from C-Flex, The Leader in Flexing Metal Technology.
View the C-Flex Pivot Bearing training page.
---
Feature articles


Air Force unveils new B-21 Raider stealth bomber
The U.S. Air Force and Department of Defense, along with employees/developers from Northrop Grumman, hosted a big reveal of the B-21 Raider stealth bomber -- the first new, long-range strike bomber in more than 30 years -- on the night of Friday, Dec. 2. We present the official version of what was shown at the event, along with many of the details that were left out of the celebrations.
Read the full article.


Better conveyors for automotive assembly lines
The Torque Arm Conveyor Drive is a more energy-efficient and maintenance-friendly replacement for the legacy "Floating Frame" conveyor drives used in many automotive assembly lines. Developed by OCC Systems, it features a custom-built gearbox solution with an Overhead Conveyor Drive gear unit from NORD DRIVESYSTEMS. This new drive concept contains far fewer parts, has a modular and maintenance-friendly construction, and comes with a built-in back-up system.
Read the full article.


Feel the difference: 2-shot injection molded knobs sample pack
In 1979, Rogan was the first knob company to mold a knob utilizing the 2-shot injection molding process, which uses a single plastic molding machine specially made to inject two materials sequentially or one on top of the other. If you've ever used a plastic toothbrush with a colorful rubber grip, it was likely 2-shot injection molded. Create a competitive advantage for your products. You can add markings, custom colors or graphics, and even glow-in-the-dark materials. Request a sample of control knobs or clamping knobs -- or both.
Request a sample pack from Rogan, and feel the difference.


NexSafe: Emergency stopping and holding
NexSafe Functional Safety certified Rod Locks, Rail Brakes, and Servomotor Brakes from Nexen provide a verified, reliable solution that machine builders can depend on. With ISO 13849-1 Functional Safety Certification by Intertek, these brakes are capable of Categories B through 4 and Performance Levels PLa through PLe. With spring-engaged, air-released functionality, these products are default-to-lock and are ideal for emergency stopping and holding applications.
Learn more.


maxon adds dynamism to robotic drives
Innovative motor concepts are the answer to growing market requirements for dynamic response, compactness, and power density. With the EC frameless DT, maxon presents a solution that really packs a punch. The DT50 with matching encoder is the precursor of a new product family developed specifically for dynamic movements like those in robotics. The brushless motor with its frameless concept can be easily integrated into a wide range of applications by design engineers in applications where speeds can change in an instant. When installed, the EC frameless DT50 effortlessly reaches a nominal torque of over 500 mNm at a nominal speed of 4,000 rpm.
Learn more.
---
Most popular last issue


Artemis 1 moon rocket blew launch pad elevator doors off
Space.com has posted a really interesting video that details the damage the Artemis 1 moon mission's Space Launch System (SLS) rocket and its almost 9 million pounds of thrust caused to the NASA launch pad and surrounding facilities at the Kennedy Space Center in Florida when it launched Nov. 16. Watch NASA's Mike Sarafin, Artemis mission manager, detail what happened, including views of the doors blown off the elevators used for servicing the launch tower when the most powerful rocket in the world took off.
View the video.


All-new Pilot: Largest and most powerful Honda SUV ever
The all-new 2023 Honda Pilot is the ultimate practical family SUV with rugged new styling, more passenger and cargo space, and a class-leading combo of off-road capability and sporty on-road dynamics. It comes in five flavors and boasts Honda's most powerful V6 ever (285 hp), seating for eight, and loads of tech features and upscale touches.
Read the full article.
---
Videos+: Technologies and inspiration in action
Very cool. Highly dynamic product sorting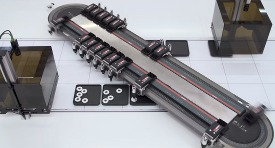 Beckhoff's NCT (No Cable Technology) enables contactless power and data transmission to the company's XTS linear transport system mover. Products can be picked up dynamically from an unsorted and irregular product inflow and then stored in an orderly manner. A wide variety of movers turns XTS into a flexible multi-robot system that increases sorting performance while reducing the required installation space to a minimum.
See how it works.
---