| | |
| --- | --- |
| December 20, 2022 | Volume 18 Issue 47 |
---



Over 26,000 Stock Metric Gears
KHK USA Inc offers the largest selection of stock metric gears in North America -- with over 26,000 configurations. KHK USA offers Metric Spur Gears, Metric Helical Gears, Metric Internal Ring Gears, Metric Gear Racks, Metric Bevel Gears, Metric Worms and Wormwheels from stock! Free 3D CAD models, technical spec and 24/7 price and availability detailed online.
See what KHK USA has in stock for you today!
---
---


Merry Christmas and Happy Holidays from Designfax!
2022 was another year overflowing with challenges for us all, but we made it! Thanks to all of our readers, sponsors, writers, and article contributors. We wish you a healthy and happy holiday season!

Don't forget to pass along your issue of Designfax to an engineering colleague.

Please check out our sponsors every week. They make our publication possible. If you're looking to advertise, we can help with that too.
Go to the Designfax advertise page.


OnRobot launches D:PLOY software platform for rapid and complete robotic deployments
Attendees at the IMTS 2022 show in Chicago in September got a sneak peek of OnRobot's latest product called D:PLOY -- the industry's first automated, application-centered software platform for robotic deployment. The new system boasts an 80% reduction in deployment time for jobs such as machine tending, with the entire application -- including any leading cobot or light industrial robot arm along with tooling, sensors, and other devices -- accessed and managed from D:PLOY's dashboard.
Read the full article.


Apollo 8: A story of Christmas around the Moon
Christmas Eve, 1968. As one of the most turbulent, tragic years in American history drew to a close, millions around the world were watching and listening as the Apollo 8 astronauts -- Frank Borman, Jim Lovell, and Bill Anders -- became the first humans to orbit another world.
Read the full article.


Hyundai IONIQ 5: EV SUV of the year -- again and again
What's the top electric SUV for 2022? According to Car and Driver, Kelley Blue Book, and other notable automotive publications worldwide, it's the Hyundai IONIQ 5 -- even beating out the Mustang Mach-E. MotorTrend named it the top SUV ... period. With a sharp angular design, a spacious and very cool interior (including a lounge-inspired leg rest for the driver when parked), two battery pack options, and a slew of responsive driving features, it's full of differentiators that count in this fast-growing market.
Read the full article.


High-end precision guide rollers -- new design
Guide rollers may seem like simple, standard parts, but these rollers with ball bearings are in exceptionally high demand. JW Winco has expanded its guide roller offering to include the standard part GN 753.1. With its entirely new design, these guide rollers have a special deep groove ball bearing of hardened roller bearing steel. They are available in six sizes, from 0.866 to 1.969 in. (22 to 50 mm) outer diameter. The bearing features permanent lubrication and a typical 2Z seal to protect against dust and dirt (in other words, the bearing is covered on both sides by metal disks).
Learn more from JW Winco.


Totally new! Hybrid stepper and PM motor
The Hybrid-PM-Mix (HPM) from Lin Engineering is the first motor of its kind, combining the stator of a hybrid stepper and the rotor of a PM motor in the form factor of a high-speed BLDC. The result is a motor that behaves like a typical high-speed BLDC with the added benefits of hybrid steppers -- precise position control and position holding -- with low noise and vibration too. The 1330 Series is a small motor with a frame size of just 13 mm, which is perfect for small applications with minimal space.
Find out all the specs.


Magnetic connectors for low-voltage applications
Newark has expanded its line of Multicomp Pro offerings to include Magnetic Connectors, a differentiated interconnect choice that combines spring-loaded pins with magnetic interfaces for reliable, self-mating, and easily detachable connections. These connectors are a quickly growing option for many low-voltage applications in healthcare, power management, industrial, computer peripherals and wearables, and more. Perfect for when quick disconnect is essential, or if accidental damage to connectors or cables is likely based on environment.
Learn more.


VariBlast Precision Safety Air Gun is the People's Choice
EXAIR's VariBlast® Precision Safety Air Gun has won the 2022 People's Choice award from Professional Tool and Equipment News (PTEN). These safety air guns provide a focused blast of air capable of handling tough jobs with remarkable strength while minimizing air consumption and noise. This OSHA-safe air gun employs an engineered, full-finger, variable-flow trigger. The VariBlast is available with a standard 12- or 20-in. extension that can also be outfitted with type 316 stainless steel or PEEK thermoplastic air nozzles for non-marring applications.
Learn more.
---
Most popular last issue


High entropy alloy is toughest material ever devised
Scientists have measured the highest toughness ever recorded, of any material, while investigating a metallic alloy made of chromium, cobalt, and nickel. Not only is the metal extremely ductile and impressively strong, its strength and ductility improve as it gets colder -- a real oddity in materials science.
Read the full article.
---
Videos+: Technologies and inspiration in action
Stacked conveyor system supercharges tea company production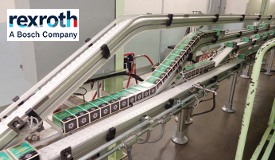 Watch how Bosch Rexroth's VarioFlow plus conveyor system, designed using a stacked configuration, moves products smoothly and quickly within a narrow footprint at the Yamamotoyama of America tea company in Pomona, CA. The facility operates multiple tea bag manufacturing and carton machines, each of which can produce 300 tea bags (which is 18 full cartons of tea bags) per minute. VarioFlow plus is a flexible, modular plastic chain conveyor system used for moving high-volume packaged goods. The solution has been a huge success for the facility, increasing production speed without damaging products.
View the video.
---