| | |
| --- | --- |
| February 07, 2023 | Volume 19 Issue 05 |
---



Applications with Heavy Loads?
Smalley is bringing you even more retaining ring solutions! When you need a quick and economical heavy-duty ring, our newest standard series, Tapered Section Rings (circlips), is here to secure your assembly needs. They can be axially installed into a bore/shaft groove to safely secure assemblies in place. In stock from 0.25 - 3", or 3 - 75 mm in Spring Steel SAE 1060 and 1074.
Request no-cost samples to test.
Learn more.
---
---
---
Feature articles


Boeing to build braced-wing plane demonstrator for NASA
NASA has selected Boeing and its industry team to lead the development and flight testing of a full-scale Transonic Truss-Braced Wing demonstrator airplane. A single-aisle airplane with this configuration could reduce fuel consumption and emissions up to 30% relative to today's most efficient equivalent aircraft.
Read the full article.


All-new Nissan Z: Racy coupe with upgrades all around
If a performance coupe with loads of heritage built in is your kind of ride, then the all-new Nissan Z could be a good option for you. The seventh-generation Z car boasts a more refined and updated interior, an exterior that mixes modern, angular design with throwback touches, and a bumped-up, 400-hp powerplant -- a 3.0-liter V6 twin turbo engine with an estimated 15% improvement in 0-to-60 acceleration.
Read the full article.


Build-to-order knobs and hand hardware
Rogan Corp.'s innovative use of two-shot plastic injection and insert molding has been providing customers with high-quality plastic clamping knobs, levers, and control knobs for almost 90 years. Rogan offers concurrent engineering, product design, and assistance in material selection to ensure customer satisfaction for standard or customized parts, with a focus on cost optimization and on-time delivery. Custom colors, markings, decorative inlays, or engineered materials to meet special requirements, such as adding extra strength or utilizing flame-retardant material, are all offered.
Learn more.


End-of-arm tooling components for vacuum pick-and-place systems
AutomationDirect now offers Schmalz end-of-arm tooling components for robot arm vacuum pick-and-place applications. Components can be purchased individually or in kits that include everything needed to create a single-beam or dual-beam end-of-arm tool. Kits are simple, save time and money, and include structural rails (which support optional internal vacuum), connectors, cup mounts, vacuum tubing, vacuum cups, fittings, a basic ejector, a flange for a Universal robot, and a blank robot flange. Components start at $8. Kits start at $995.
Learn more.


Dual encoder provides motor feedback and position measurement all in one
HEIDENHAIN's new KCI 120 Dplus unites two rotary encoders in a single device, offering high reliability in a rugged and extremely compact design. Once integrated into an application with up to SIL 3 safety, this unit can minimize malfunctions and facilitate the safe operation of machines and automated systems, including high-accuracy robotic systems and more. Thanks to its low 20-mm profile, this series is great for tight installation spaces. The encoders are particularly resistant to contamination and magnetic fields.
Learn more.


Mounted bearings handle world's toughest jobs
Over the last five years, Timken mounted bearing sales have grown at more than double the U.S. industrial production index. Sectors such as agriculture, mining, metals, aggregate, cement, HVAC, water treatment, and food and beverage are leading contributors to increased sales of these bearings, which provide enhanced protection from moisture, contamination, and other harsh conditions. From corrosion-resistant types to split cylindrical roller units, pillow blocks, and special ball bearing housed models, these highly engineered solutions provide trusted performance and reliability from one of the broadest product lines in the industry.
See what Timken has available for your needs.


What's new in ABAQUS 2023?
The Abaqus Unified FEA product suite offers powerful and complete solutions for both routine and sophisticated engineering problems. Best-in-class companies are taking advantage of these complete solutions for realistic simulation to consolidate their processes and tools, reduce costs and inefficiencies, and gain a competitive advantage. From new techniques in analysis, modeling, and visualization to special features for structural mechanics and linear dynamics, learn what's new in Abaqus 2023.
Learn more.
---
Most popular last issue


Ram 1500 Revolution all-electric concept: Work truck with a starship vibe
Ram unveiled its vision for its electric truck line at the CES show in January in the form of the 1500 Revolution all-electric concept -- an all-new work truck with a starship vibe. Filled with impressive features like an expansive cabin with third-row jump seats, suicide rear doors with no B pillar, four-wheel steering, and even a Shadow Mode where the vehicle will follow you around the job site on its own, Revolution is pushing hard to shake up the EV truck market.
Read the full article.
---
Videos+: Technologies and inspiration in action
Fascinating: What's inside a Lucid Motors EV motor?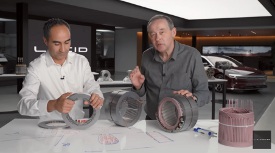 Take a really deep dive into electric vehicle motor design and manufacturing. Lucid Motors' CEO/CTO Peter Rawlinson and Powertrain VP Emad Dlala share how the company's "relentless focus on efficiency" led it to develop a 67-lb electric drive unit that can generate 670 hp for Lucid's high-end EVs. Learn about the company's innovative stator and rotor designs -- and so much more. It's a long video, but worth skipping through if you are short on time.
View the video.
---