| | |
| --- | --- |
| February 14, 2023 | Volume 19 Issue 06 |
---



What is the C-Flex Pivot Bearing?
It's a flexure-based bearing utilizing internal flat crossed springs, capsuled in a cylindrical housing, to provide precise rotation with low hysteresis and no frictional losses. The C-Flex bearing will offer infinite life when used within its rated load and rotation values. Applications include Medical, Industrial, Aerospace, Semiconductor, and Optical.

Advantages include: Frictionless, Backlash-free, Self-centering, Simple installation, Low hysteresis, Vacuum applications, Stock items, No lubrication, No maintenance, and Infinite life.
Learn more from C-Flex, The Leader in Flexing Metal Technology.
View the C-Flex Pivot Bearing training page.
---
---


Drako Dragon: American-made 2,000-hp SuperSUV
If you're interested in finding out what's on the bleeding edge of the expanding electric vehicle market, take a look at the new Drako Dragon, a 2,000-hp, quad-motor luxury SuperSUV being built in San Jose, CA. From its all-carbon-fiber structure to its gull-wing doors and its use of real-time USB networking in place of traditional CAN, Dragon is an exotic limited offering that aims to set a new standard for EV manufacturing and driving.
Read the full article.


Top Tech Tip: Stepper or servo motor -- Which should it be?
Bring out the full capacity of your machines through the most efficient mechatronic design. Hurley Gill, Senior Applications/Systems at Kollmorgen, outlines servo and stepper motor baseline capabilities for selection criteria like torque, speed, accuracy, and repeatability. Technical advantages and disadvantages are discussed, helping machine designers select the best motor drive system for their application.
Read "Servo or Stepper: Which Should It Be?"


New developments in integrated rupture disk assemblies: Cryogenic equipment and more
Rupture disks are one-time-use membranes designed to activate within milliseconds when a pre-determined differential pressure is achieved. In one use case, they protect cryogenic systems and tanks from overpressurization. OEMs are increasingly turning to integrated rupture disk assemblies with all components combined by the manufacturer, as opposed to loose rupture disk and holder devices that leave much to chance. Learn about the latest developments in rupture disk technology.
Read the full article.


New high-capacity, high-speed electric linear actuators
Thomson has introduced a high-capacity, high-performance electric linear actuator that gives motion system designers more cost-effective options to replace hydraulic cylinders. Among the many new features of the Thomson Electrak XD linear actuator is load handling up to 25,000 N (5,000 lb). The Electrak XD can also achieve operating speeds up to 75 mm/sec (3 in./sec) and duty cycles up to 100%.
Learn more.


New brushless DC motor design
The ElectroCraft RapidPower Enhanced series (RPE series) is a new and innovative brushless DC (BLDC) motor design that combines performance, flexibility, and affordability to offer OEMs the perfect platform for a wide range of motion applications. This level of configurability enables the RPE series to be quickly acquired and adapted into your application. ElectroCraft's BLDCs integrate rare Earth magnets and an eight-pole encapsulated core design to provide high torque density, peak torques up to 300% of continuous ratings for short-time operation, wide speed ranges, and low cogging torque for ultra-smooth motion.
Learn more.


Hold any shape with ID and OD Form Holding Clamps
These simple OD and ID clamping solutions from Fixtureworks clamp onto your part in one easy operation, eliminating the need for custom fixtures. They allow users to clamp onto the inner or outer diameter of small-size, irregularly shaped work parts fast. Lots of options.
Learn more.


All about slip rings: How they work and their uses
Rotary Systems has put together a really nice basic primer on slip rings -- electrical collectors that carry a current from a stationary wire into a rotating device. Common uses are for power, proximity switches, strain gauges, video, and Ethernet signal transmission. This introduction also covers how to specify, assembly types, and interface requirements. Rotary Systems also manufactures rotary unions for fluid applications.
Read the overview.


Nylon sleeve gear couplings catalog
The new and downloadable Huco NSG Couplings Catalog features flexible molded nylon sleeve couplings with a double crowned tooth design that provide free axial movement, low friction, no heat buildup, and minimal stress during misalignment. Designs are available with up to 9.5-mm axial travel. With this no-maintenance design, the load is distributed near the center of the tooth for maximum strength.
Learn more.
---
Most popular last issue


Boeing to build braced-wing plane demonstrator for NASA
NASA has selected Boeing and its industry team to lead the development and flight testing of a full-scale Transonic Truss-Braced Wing demonstrator airplane. A single-aisle airplane with this configuration could reduce fuel consumption and emissions up to 30% relative to today's most efficient equivalent aircraft.
Read the full article.


All-new Nissan Z: Racy coupe with upgrades all around
If a performance coupe with loads of heritage built in is your kind of ride, then the all-new Nissan Z could be a good option for you. The seventh-generation Z car boasts a more refined and updated interior, an exterior that mixes modern, angular design with throwback touches, and a bumped-up, 400-hp powerplant.
Read the full article.
---
Videos+: Technologies and inspiration in action
Ball screw assemblies from PBC Linear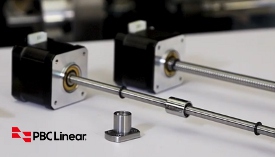 PBC Linear now offers a line of miniature rolled ball screws and nuts. They are designed for precision applications such as medical devices and electronic manufacturing equipment. Choose between flanged or cylindrical ball nut styles. Learn more about all the other options available.
View the video.
Atlas robot shows off impressive job-site skills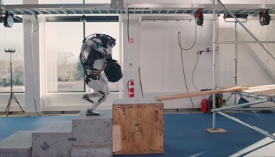 In the past, we've seen Boston Dynamics' impressive Atlas bipedal robot dance around, run on uneven terrain outside, and even perform parkour jumps. Now Atlas is showing off its job-site skills, fetching boards and a tool bag, navigating stairs, and even throwing stuff to a human partner.
View the video.
---