| | |
| --- | --- |
| February 28, 2023 | Volume 19 Issue 08 |
---



Easy retaining ring installation/removal
What's the difference between a Spirolox® Retaining Ring and a traditional stamped snap ring? Smalley's retaining rings are designed to be installed and removed by hand, so no special tooling is required. This video covers how to install and remove an External Spirolox Retaining Ring using a flathead screwdriver and a staple remover.
View the video.
---
---
---
Feature articles


Wilson shows off airless 3D-printed basketball
Houston Rockets' player KJ Martin used an airless 3D-printed basketball in the first round of the AT&T Slam Dunk Contest on Feb. 18, 2023. Created by Wilson Sporting Goods, who also makes the Official Basketball of the NBA, the first-of-its-kind ball closely matches the performance specs of a regulation basketball.
Read the full article.


Great Resources: Sheet metal design guide
If you're looking for a basic guide to sheet metal design, this one from Xometry will serve your needs well. Follow the design requirements and tolerances in this guide to ensure parts fall closer to design intent. This is the type of information you'll sock away and then refer to again and again.
Read the full article.


New method of refrigeration developed
Researchers hope that ionocaloric cooling could someday help replace refrigerants with high global warming potential and provide safe, efficient cooling and heating for homes. They have calculated that the technology has the potential to compete with or even exceed the efficiency of gaseous refrigerants found in the majority of systems today.
Read the full article.


Stainless steel tubing: 10 ordering tips
The stainless steel tubing suppliers at Eagle Stainless want to make the ordering process as straightforward as possible, so they've compiled a useful guide to help you get the correct tubing for your project or application. Learn the top answers to have on hand when it comes to materials, manufacture, specs, dimensions, and more. Very helpful.
Learn more.


Smart Flex Effector from Bosch Rexroth makes robots more sensitive
The Smart Flex Effector is a new, sensor-based compensation module from Bosch Rexroth that gives robots and Cartesian linear systems human-like sensitivity, offering new opportunities for factory automation. Typical applications include joining processes with minimal tolerances, complex assembly work, or difficult handling tasks. Errors and rejects are minimized, and teaching and commissioning can be carried out more easily and quickly.
Learn more.


Ceramic component assembly services available
High-volume machined ceramic parts are sometimes designed into small assemblies featuring metal pins or shafts. Insaco can provide assembly services to maintain and document the tight tolerance required of the assembly -- and not just the parts. Engineers are available to discuss options. Consider using ceramic components when parts made of metal can't take the heat or would degrade due to environmental conditions.
Learn more from Insaco.


LM guide actuator with right/left ball screw for symmetrical movement
THK's innovative Type KR-RL Actuator features a driving element that uses right/left threads and enables symmetrical movements with a single motor. Two drive systems are combined into a single package, resulting in a compact overall design. This electric actuator outperforms pneumatic versions by offering precise force control, speed control, longer life, and energy savings. Applications include gripping, measuring, and positioning for robot hands; screw-tightening machines; cutting equipment; and dispensers.
Learn more.


Optimize space with mini-FAKRA cables
Amphenol RF has expanded their AUTOMATE Type A mini-FAKRA breakout cable line with additional connector configurations and cable types. The cable assemblies combine industry-standard FAKRA connectors with next-gen mini-FAKRA. This combination allows for a compact solution at the compute module -- an industry-standard sealed solution at the connected device with a max frequency of 3 GHz for automotive and industrial applications such as compute modules, camera systems, and warehouse robotics. This assembly creates a waterproof seal at the connected device for added versatility.
Learn more.


Servo drives with Extended Environment capabilities
RS-485/232 FlexPro servo drives are now available with Extended Environment capabilities from ADVANCED Motion Controls. FlexPro is the perfect compact servo drive solution for robots, machines, and other motion control applications. Extended Environment servo drives push the boundaries to allow proper operation in conditions where other electronics fail. They can withstand both scorching and freezing temperatures, high and low pressures, shocks, vibrations, contamination, and other harsh conditions. These drives come in both PCB-mount and machine-embedded form factors.
Learn more.


Cryogenic deflashing improves molding projects
Nitrofreeze® Cryogenic Solutions is providing molders and OEM manufacturers that make injection molded, extrusion molded, and compression molded parts with a rapid, consistent, and cost-effective alternative to hand trimming molding flash. Nitrofreeze cryogenic deflashing is an automated, computer-controlled batch process that removes flash from tens to thousands of molded parts all at the same time. This patented process will not change part tolerances or surface finish, is more consistent than hand trimming, and is safe for medical plastics and medical silicones.
Learn more.
---
Most popular last issue


Toroidal propeller: More speed, fuel savings claimed
Is a toroidal propeller the next big thing in boating? Sharrow Marine, creator of the Sharrow Propeller, thinks so. Four years of independent and factory testing have proven this design bests standard blade technology by providing: significant speed increase at mid-range RPMs, up to 30% greater fuel efficiency, less vibration, dramatic noise reduction, more reverse thrust, superior handling in tight turns at high speeds, and more. The Sharrow Propeller has won numerous innovation awards from both boat shows and highly respected marine publications.
Learn all about the development of this very cool technology.
---
Videos+: Technologies and inspiration in action
What can you do with touchless magnetic angle sensors?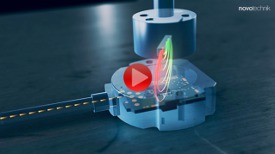 Novotechnik has put together a really informative video highlighting real-world applications for their RFC, RFE, and RSA Series touchless magnetic angle sensors. You may be surprised at the variety of off-highway, marine, material handling, and industrial uses. You'll learn how they work (using a Hall effect microprocessor to detect position) and their key advantages, including eliminated wear and tear on these non-mechanical components. We love when manufacturers provide such useful examples.
View the video.
---