| | |
| --- | --- |
| March 07, 2023 | Volume 19 Issue 09 |
---



Stuck on Coil Springs?
Smalley Wave Springs can replace conventional coil springs while occupying only 50% of the space and providing the same force and deflection. Over 4,000 springs are available from stock in carbon and stainless steel, or utilize Smalley's No-Tooling-Cost™ manufacturing process on custom designs, available from .118" to 120". Free samples are available for testing.
Learn more.
---
---
---
Feature articles


Researchers try to stop military aircraft hacking
A cybersecurity technique that shuffles network addresses like a blackjack dealer shuffles playing cards could effectively befuddle hackers gambling for control of a military jet, commercial airliner, or spacecraft. This is important to try to defeat increasingly sophisticated machine learning algorithms.
Read the full article.


Engineer's Toolbox: How to pin a shaft and hub assembly properly
One of the primary benefits of using a coiled spring pin to affix a hub or gear to a shaft is the coiled pin's ability to prevent hole damage. Another is the coiled pin absorbs wider hole tolerances than any other press-fit pin. This translates to lower total manufacturing costs of the assembly. However, there are a few design guidelines that must be adhered to in order to achieve the maximum strength of the pinned system and prevent damage to the assembly.
Read this very informative SPIROL article.


Solterra: Subaru's first all-electric SUV
If your driving lifestyle includes a get-up-and-go-anywhere attitude and you are game for trying a new all-electric vehicle, Subaru's Solterra could be a good choice for you. The five-passenger EV comes standard with a Symmetrical All-Wheel Drive system that provides outstanding traction and capability in all kinds of weather and terrain.
Read the full article.


New air atomizing spray nozzle video
EXAIR's Atomizing Spray Nozzles create a fine liquid mist perfect for washing, coating, cooling, dust control, and more. These nozzles offer an assortment of flow rates and patterns including flat fan, round, and hollow cone patterns, and are highly effective with a wide range of liquids making them a perfect tool for a variety of industries. Combining liquid and compressed air, atomizing nozzles create a fine atomization for superior coverage and can be easily adjusted to fit your application's demands.
See how they work.


Tamper-proof seal screws build in security
ZAGO security/tamper-proof seal screws are designed with a distinct drive style that requires a specialized tool to unlock, effectively deterring tampering, vandalism, and misuse. What's more, a groove-fit rubber O-ring expands on installation to create an impervious, unbreakable seal. Available in a variety of corrosion-resistant metals, they are reusable and removable for maintenance and repair with proper tooling.
Learn more.


Micro-AM tech makes plastic 3D-printed parts conductive
Horizon Microtechnologies' new micro-AM technology can help in the elimination of electro-static discharge (ESD) in applications that would benefit from 3D printing by combining precision polymer additive manufacturing and ESD compliancy. Parts can be made with a controllably conductive surface coating and also coated internal channels with multiple bends. In one use, very compact and high-performance end-effectors were created for vacuum pick-and-place devices that were conductive enough to prevent electrostatic discharge.
Learn more.


5-Star Product: Constant-torque position hinge
The RT-50 position hinge from Reell Precision Manufacturing incorporates unique engineering in a compact design to hold the angle of mounted components reliably in any position in small assemblies. The hinge's scaled-down 5-mm size and impressive constant-torque capabilities ideally suit demanding applications with limited footprints in consumer electronics, mobile devices, small appliances, and others. A dual-ended mounting configuration enables a single hinge to be used in place of two. Many other types/sizes available.
Learn more and see all the specs.
---
Most popular last issue


New method of refrigeration developed
Researchers hope that ionocaloric cooling could someday help replace refrigerants with high global warming potential and provide safe, efficient cooling and heating for homes. The technology has the potential to compete with or even exceed the efficiency of gaseous refrigerants found in the majority of systems today.
Read the full article.


Wilson shows off airless 3D-printed basketball
Houston Rockets' player KJ Martin used an airless 3D-printed basketball in the first round of the AT&T Slam Dunk Contest on Feb. 18, 2023. Created by Wilson Sporting Goods, who also makes the Official Basketball of the NBA, the first-of-its-kind ball closely matches the performance specs of a regulation basketball.
Read the full article.


Lithium-air battery could offer much longer EV range
A new and safer battery, tested for a thousand cycles in a test cell, can store far more energy than today's common lithium-ion batteries. More importantly, the battery chemistry with the solid electrolyte can potentially boost the energy density by as much as four times above lithium-ion batteries, which translates into longer driving range.
Read the full article.
---
Videos+: Technologies and inspiration in action
How to customize a base model electric linear actuator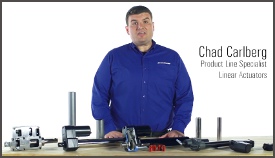 Chad Carlberg, Product Line Manager at Thomson Industries, runs through how to find the optimal balance of performance, life, and cost when it comes to electric linear actuator solutions. Your application may not require the fastest, sturdiest, most accurate, or even the least expensive option, after all. Learn how to create just the right balance for your needs. Some good details here.
View the video.
---