| | |
| --- | --- |
| March 21, 2023 | Volume 19 Issue 11 |
---



Super Ion Air Knife
Static electricity causes lots of problems including dust attraction, jamming, tearing, and painful shocks. EXAIR's Super Ion Air Knife cleans and neutralizes static up to 20' away! The laminar sheet of air sweeps surfaces clean of static, particulates, dust and dirt.
Website offers detailed information, video.
---
---


Over 26,000 Stock Metric Gears
KHK USA Inc offers the largest selection of stock metric gears in North America -- with over 26,000 configurations. KHK USA offers Metric Spur Gears, Metric Helical Gears, Metric Internal Ring Gears, Metric Gear Racks, Metric Bevel Gears, Metric Worms and Wormwheels from stock! Free 3D CAD models, technical specs and 24/7 price and availability detailed online.
See what KHK USA has in stock for you today!


Scientists recycle one plastic type into another
Scientists from the University of Illinois Urbana-Champaign, University of California, Santa Barbara, and Dow have developed a breakthrough process to transform the most widely produced plastic -- polyethylene (PE) -- into the second-most widely produced plastic, polypropylene (PP) using a scalable and rapidly implementable process.
Read the full article.


Sensors built right into 3D-printed rotational parts
MIT researchers have devised a way to 3D print sensors directly into rotational parts using conductive 3D-printing filament. This gives devices the ability to sense their angular position, rotation speed, and direction of rotation. The researchers have created a SolidWorks plugin to help the design process too.
Read the full article.


BMW X5 M Competition SUV: A high-performance winner all around
If you are looking for the perfect combo of power, high performance, luxury, and prestige, BMW's updated 2024 X5 M Competition midsize SUV covers all the bases -- and then some. Boasting a new 617-hp 4.4-L M TwinPower Turbo V8 engine paired with an electric motor for extra umph, owners will be cruising in style in an updated cabin with lots of nifty tech tweaks.
Read the full article.


Try it: Retaining rings and wave springs solutions
Finding the best possible solution for your design challenge is no easy task. That's why Smalley is here to help you find the right wave spring, retaining ring, or constant section ring for all of your applications. Choose from one of their 12 product types, 400 sizes, and 10,000+ standard parts in carbon and stainless steel, or challenge Smalley's team of engineers to tailor a custom part fit to your exact application requirements.
Request free samples today!


Magnetic couplings 'mechanically isolate' shafts and motor
Magnetic couplings from Miki Pulley are ideal for machine designs involving food, pharmaceutical, and laboratory applications requiring clean, non-contact connection between motor and shafts. The mechanically isolated magnetic coupling transmits torque through the air. This occurs through both input and output hubs of the coupling, which contain powerful rare-earth magnets. These magnets create a magnetic field that transmits torque through plastic, glass, aluminum, and other minimally ferrous materials without physical engagement. There is no dust, debris, or mechanical wear using this coupling compared to conventional couplings. It can also act as a torque limiter in an over-load event.
Learn more.


Cobot packer helps with labor shortages and boasts 1-year ROI
Proco Machinery's new Collaborative Robot Packer, which is designed to work alongside human operators to increase efficiency and performance, promises a one-year payback to customers, making it one of the industry's most effective solutions for reducing labor costs. The easily adaptable new robot packer can perform a range of tasks, from testing containers to packing them into cases. The system includes advanced sensors and software. It is modular and on castors, making it easy to use and flexible in operation.
Learn more.


NFPA cylinders provide a fit-and-forget solution
Norgren's latest range of NFPA pneumatic cylinders, the P-Series, offers a light and modernized design with standard adaptive cushions for changing speed and load to provide a fit-and-forget solution. P-Series is designed to offer consistent and reliable performance in a broad range of industrial automation applications. This actuator allows for simple installation and operation, reducing complexity and promoting longer machine life.
Learn more and get the full specs.


Can you run water through an air valve?
Can you run water through an air valve? Should you do it? And if you're going to do it, what do you need to know? Mike Kettering, product manager for Electronic Valves at Clippard, answers another Pneumatics 101 question. Also check out Clippard's vast range of Electronic Valves, Air Pilot Valves, Control Valves, Directional Control Valves, Isolation Valves, Proportional Valves, and more.
Read this informative Clippard blog.
---
Most popular last issue


All-new Dodge Hornet: Fastest CUV under 30 grand
Dodge hasn't had a completely new model release in about a decade, but the all-new Dodge Hornet will change that and bring a good bit of muscle to the compact utility vehicle (CUV) segment. Hornet will come in two powertrain options: GT (4-cylinder turbo) and R/T (the brand's first hybrid). Dodge says the entry-level GT is the industry's quickest, most powerful utility vehicle under $30,000. Hornet includes lots of high-performance features.
Read the full article.
---
Videos+: Technologies and inspiration in action
How do you use a staking compound on a circuit board?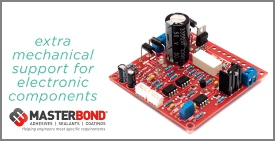 The technical experts at Master Bond demonstrate how to apply a staking compound to an electronic component properly for enhanced mechanical reinforcement. Staking compounds provide extra mechanical support for components due to vibration, shock, or handling. Learn how to apply the material on components of differing sizes and shapes as well as what material works best for this type of application.
View the video.
---