| | |
| --- | --- |
| March 28, 2023 | Volume 19 Issue 12 |
---



Replace traditional fasteners: 50+ retaining ring applications
The benefits of a Rotor Clip Retaining Ring are simple: The ring is made from less material than traditional fasteners, eliminating machined shoulders, threads, cover plates, and heat-formed studs -- so you save. Using a retaining ring to fasten your assembly instead of a traditional fastener not only reduces your costs, but also saves the environment. This quality part offers lot traceability. Want to know what you can do with a Rotor Clip Retaining Ring?
View more than 50 application examples.
---
---
---
Feature articles


Ford teases new electric truck, touts new mega-factory
Ford was filled with updates on Friday, March 24, including teasing a second-generation electric truck (code named Project T3) for 2025 and giving a progress report on its BlueOval City vehicle and battery manufacturing mega-campus being built in West Tennessee. The company aims to produce 500,000 EV trucks a year at the site.
Read the full article.


Cadillac XT4 small SUV: An elevated driving experience
Cadillac has pulled from its top-level LYRIQ and Escalade lines to update the 2024 XT4 small SUV, which now includes an expansive 33-in. LED color touchscreen display, AKG Studio 13-speaker audio system, and revamped interior and exterior designs. Powered by a 235-hp turbocharged four-cylinder engine and boasting new safety features, it's a luxe little ride with lots of capabilities. Cadillac has had a good run gaining first-time customers with this model.
Read the full article.


Design Tips: Fasteners for printed circuit boards
When specifying hardware for printed circuit board applications, many designers may still turn either to loose fasteners or broaching fasteners. While both provide the necessary functionality, each carries potential risks that may impact the production process, the integrity of boards, and even disassembly if required. Leon M. Attarian of PennEngineering runs through profiles of the latest surface-mount fastener families.
Read the full article.


New Standard Parts Handbook from JW Winco
JW Winco's printed Standard Parts Handbook is a comprehensive 2,184-page reference that supports designers and engineers with the largest selection of standard parts categorized into three main groups: operating, clamping, and machine parts. More than 75,000 standard parts can be found in this valuable resource, including toggle clamps, shaft collars, concealed multiple-joint hinges, and hygienically designed components.
Get your Standard Parts Handbook today.


5 new manufacturing options from Xometry
Get the parts you need made fast and at a great price. Xometry has added five new manufacturing options to their quoting engine: Die Casting, Metal Extrusion, Metal Stamping, Laser Tube Cutting, and Tube Bending. Experts will manually quote these options and work closely with you to ensure the best outcome and success. Get your quote today, and get started on your next metal production order.
Learn more.


Low-friction lightweight thermoplastic composite bearing
Trelleborg Sealing Solutions recently launched its latest lightweight thermoplastic composite bearing, the HiMod Advanced Composite Bearing Plus, which is an enhanced dual-layer bearing with a modified PEEK layer that reduces friction and increases wear performance for use in bearing, wear ring, and bushing applications. These bearings will not seize or gall. Manufactured using Trelleborg's patented Automated Fiber Placement (AFP) technology, a thin, low-friction liner is bonded to the inner diameters and can be added to the outer diameters of the bearing to create a high-quality solution for use in a wide range of industries.
Learn more.


Newly developed overhung load adaptors
When fluid power and power transmission products are discontinued, finding replacements can be challenging. Zero-Max now fills this Overhung Load Adaptor void with its new 212k and 412k OHLA models for 2-bolt SAE A mount and 4-bolt non-SAE mount applications requiring a 1-1/4" output shaft. For both new and replacement applications, these new OHLA models provide overhung radial and axial load support to protect hydraulic motors and pumps from heavy application loads, extend the lifetime of the motor or pump, and alleviate the cost of downtime both from maintenance costs and loss of production.
Learn more.


MW Components: 20+ brands of mechanical components
MW Industries, the Charlotte-based precision component manufacturer, has brought together more than 20 of its businesses under a single umbrella: MW Components. Engineers can use MW OnDemand to source more than 1 million parts from well-known brands such as Ideal Fasteners, Century Spring, Accurate Screw Machine, RAF Electronic Hardware, Servometer, and Maudlin. Simplify sourcing by shopping tens of thousands of stock spring designs along with fasteners, shims, electrical contacts, metal stampings, tubing products, bellows, and more -- all at once.
See what MW Components can offer you today.
---
Most popular last issue


BMW X5 M Competition SUV: A high-performance winner all around
If you are looking for the perfect combo of power, high performance, luxury, and prestige, BMW's updated 2024 X5 M Competition midsize SUV covers all the bases -- and then some. Boasting a new 617-hp 4.4-L M TwinPower Turbo V8 engine paired with an electric motor for extra umph, owners will be cruising in style in an updated cabin with lots of nifty tech tweaks.
Read the full article.


Sensors built right into 3D-printed rotational parts
MIT researchers have devised a way to 3D print sensors directly into rotational parts using conductive 3D-printing filament. This gives devices the ability to sense their angular position, rotation speed, and direction of rotation. The researchers have created a SolidWorks plugin to help the design process too.
Read the full article.
---
Videos+: Technologies and inspiration in action
UR cobots control CNC machining cells at Go Fast Campers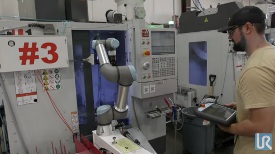 Learn how Go Fast Campers (GFC) has integrated a line of four UR5 cobots from Universal Robots with their Haas CNC machines. GFC manufactures 174 unique parts -- from bolts to connectors to hinges -- for its customized pop-up truck campers. All parts start as raw pieces of aerospace-grade aluminum billet material. The company can run 20 to 25 jobs across the four machining centers each day, with changeovers taking only 10 to 15 minutes. Watch how the cobots' built-in I/Os allow GFC to control all auxiliary systems through the robot program, including part loading, flipping, and unloading with a special extra retractor arm.
View the video.
---