| | |
| --- | --- |
| April 04, 2023 | Volume 19 Issue 13 |
---



Wave Washer Supplier Issues?
Smalley Single-Turn Wave Springs can replace stamped wave washers and are ideal for bearing preload. Preloading the bearing through its outer race takes up play in the bearing. This reduces bearing damage, wear, noise, and vibration. Over 150 sizes in stock, or design a custom to meet your requirements.
Learn more.
---
---


Can LEDs replace lasers?
In a major breakthrough, a Sandia National Laboratories research team has demonstrated the ability to dynamically steer light pulses from conventional, so-called incoherent light sources. This could allow low-power, relatively inexpensive sources like LEDs to replace more powerful laser beams in new technologies.
Read the full article.


Toyota Grand Highlander: Ultimate family SUV
Toyota's all-new 2024 Grand Highlander offers options from entry level to efficiency to performance -- all in one attractive, versatile, and roomy three-row package. The midsize SUV is available in three powertrains across three grades: the 2.4L turbo gas engine, an efficiency-leading 2.5L hybrid with a manufacturer-estimated 34 combined MPG, and an ultimate performance-seeking 362-hp Hybrid MAX. Rally the troops. There's plenty of room to zoom.
Read the full article.


Great Resources: ABCs of gears and more
KHK USA takes you on a journey through the history and applications of gears in two information-packed, no-cost volumes called "The ABCs of Gears." Part A is aimed at beginners, while part B moves on to intermediate fare, such as types of gears and tooth forms, heat treatment, surface treatment, production methods, etc. Another mid-level text called "Introduction to Gears" and an in-depth "Gear Technical Reference" are also available, chock full of materials information and calculation examples and tables.
Learn more.


Simplify your designs with slewing ring bearings
According to Kaydon Bearings, "A slewing ring bearing has rolling elements designed to create a reactive moment within the bearing's dimensions envelope to oppose applied (overturning) moment load," so you can use one bearing instead of two, reducing the height requirements, and even improve performance. Slewing ring bearings can also simplify a drive system by utilizing gear teeth on the inner or outer race. Learn all about slewing ring bearings in this informative article.
Read the Kaydon whitepaper.


DENSO reduces component sim time by 80% using Simcenter 3D and NX integrated process
DENSO Corp., the second-largest automotive parts and systems provider in terms of sales in the world, is developing its "NX CAD and Simcenter 3D integrated process" from Siemens that allows analysts to understand the simulation processes, which are repeatable for certain types of components. The DENSO team captures modeling and process best practices and packages these up into simulation templates that are leveraged by designers using NX. This process has led to increased quality, because design problems are identified earlier and can be corrected before the project advances. DENSO estimates the average time for analysis was reduced up to 80% using this integrated process.
Read the Siemens case study.


Ultra-small pancake-style gimbal motors
Orbex Group has introduced a line of ultra-compact, high-performance gimbal motors. Featuring a pancake-style form factor, these lightweight motors are wound to operate at low speeds typical for gimbals while exhibiting a high torque constant for fast response when needed. The new gimbal motors are available in two sizes (16 x 10 mm and 26 x 12 mm) and are engineered to minimize cogging torque, ensuring smooth rotation for stable imaging or pointing. Because these brushless motors are electronically commutated, they can change speeds quickly and offer exceptional reliability.
Learn more.


Great Applications: 50 ways to use a hexapod
Hexapods, six-legged parallel-kinematic machines, can solve many complex positioning and alignment tasks in fields including Optics, Photonics, Precision Automation, Automotive, and Medical Engineering. Features include a programmable pivot point, sub-micron precision, and load capacities from 2 to 2,000 kg.
Learn more from PI.
---
Most popular last issue


Ford teases new electric truck, touts new mega-factory
Ford was filled with updates on Friday, March 24, including teasing a second-generation electric truck (code named Project T3) for 2025 and giving a progress report on its BlueOval City vehicle and battery manufacturing mega-campus being built in West Tennessee. The company aims to produce 500,000 EV trucks a year at the site.
Read the full article.


Cadillac XT4 small SUV: An elevated driving experience
Cadillac has pulled from its top-level LYRIQ and Escalade lines to update the 2024 XT4 small SUV, which now includes an expansive 33-in. LED color touchscreen display and revamped interior and exterior designs. Powered by a 235-hp turbocharged four-cylinder engine and boasting new safety features, it's a luxe little ride with lots of capabilities. Cadillac has had a good run gaining first-time customers with this model.
Read the full article.
---
Videos+: Technologies and inspiration in action
Will AI replace car designers? Designer Frank Stephenson weighs in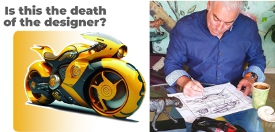 World-renowned designer Frank Stephenson gives his take on the role of artificial intelligence (AI) in the fast-evolving creative space of automotive design. Stephenson's career of almost 40 years includes being the Design Director for top automotive brands such as Ferrari, Maserati, McLaren, Lancia, and Alfa Romeo. He's even worked at BWM, and he designed the New MINI that launched in 2000 as the modern successor to the iconic little runabout. Worth 10 minutes to find out his take. [Credit: Photos courtesy Frank Stephenson Design]
View the video.
---