| | |
| --- | --- |
| April 25, 2023 | Volume 19 Issue 16 |
---



Over 26,000 Stock Metric Gears
KHK USA Inc offers the largest selection of stock metric gears in North America -- with over 26,000 configurations. KHK USA offers Metric Spur Gears, Metric Helical Gears, Metric Internal Ring Gears, Metric Gear Racks, Metric Bevel Gears, Metric Worms and Wormwheels from stock! Free 3D CAD models, technical specs and 24/7 price and availability detailed online.
See what KHK USA has in stock for you today!
---
---
---

Feature articles

Will a hydrofoiling center console boat fly in America?

Swedish boat builder Candela aims to electrify America's No. 1 boat segment: center consoles for fishing, families, and watersports. The company's 29-ft C-8 CC model flies on computer-guided hydrofoils, which are underwater wings that enable it to soar above the waves using 80% less energy than conventional V hulls.
Read the full article.

---


Lamborghini Revuelto: First V12 hybrid plug-in supercar
How do you take the power and performance of a Lamborghini supercar to the next level? Add three electric motors to a mid-engine, V12 powertrain and throw in hybrid tech and a new carbon frame concept for good measure. The result is the 1,001-hp Revuelto: unique and innovative but still faithful to Lamborghini's DNA.
Read the full article.


How to implement redundancy in stepper motors
Some of the recent research activities in the area of electric motor drives for safety-critical applications (such as aerospace and nuclear power plants) are focused on looking at various fault-tolerant motor and drive topologies. After discussing different solutions, this article focuses on a miniature permanent magnet (PM) stepper motor design that provides increased redundancy.
Read this informative FAULHABER article.


Engineer's Toolbox: 9 considerations for specifying a slewing ring bearing
In applications that require a bearing to support a structure while it rotates (e.g., cranes, radar, tank turrets), premature bearing failure can put people and equipment at risk. While slewing ring bearings have proven themselves countless times in such applications, designers must consider many factors when specifying them. The bearing's support structure, mounting (including bolt strength, tensioning, and hole patterns), installation, and even storage are all factors in a bearing's success or failure.
Read the full article by Kaydon Bearings.


When metals can't take the heat: Silicon Carbide is a top choice for high-temperature wear
Silicon Carbide is among the hardest of ceramics. It retains this hardness and strength at elevated temperatures, which translates into incredible wear resistance. Several grades of Silicon Carbide optimize wear performance for bearings and other parts requiring extreme precision in high-acceleration or aerospace applications. Insaco is the expert in precision machining SiC in applications where thermal conductivity or strength at high temperatures and low density are key.
Learn more.


Customized alloy powders: Your next breakthrough made to order
Goodfellow is now able to offer custom alloys, including high-entropy alloys, to meet your specific application requirements. The materials expert is able to produce state-of-the-art alloy powders characterized by high sphericity and narrow particle size distribution. These characteristics result in fantastically flowable powders for additive manufacturing and other powder metallurgy processes. Choose up to 5 elements for fastest orders. Small batch options available.
Learn more.


Comprehensive guide to laser cutting parameters
Certain properties, or laser parameters, such as power, wavelength, and polarization, characterize the behavior of the laser. You won't achieve the highest-quality cutting results unless you first understand the parameters and the ways they impact the final product. This article from Xometry discusses the ideal laser parameters, their definitions, and their benefits.
Read this informative Xometry article.


New ultrasonic metal welder for bonding larger pieces
Emerson's new Branson GMX-HP ultrasonic metal welder combines greater power and downforce, essential for larger welds required by electric vehicles, batteries, and energy storage systems. It boasts a modular equipment design and features that simplify installation and automation for machine builders and manufacturers. It provides increased weld power, furnished by a high-capacity 8-kW, 20-kHz power supply. Welding power is transmitted through a direct-press actuator, equipped with dual linear bearing guides, precision distance sensors, and a dynamic pressure trigger. Applications include high-energy batteries, large cross-section wire terminations, and busbars.
Learn more.
---
Most popular last issue


NASA's Mars Helicopter completes 50th flight
Designed to fly no more than five times, the 4-lb Mars Helicopter called Ingenuity was intended to prove powered, controlled flight on another planet was possible. Built with many off-the-shelf components, such as smartphone processors and cameras, it has wildly exceeded expectations.
Read the full article.
---
Videos+: Technologies and inspiration in action
One Touch Fasteners slash set-up times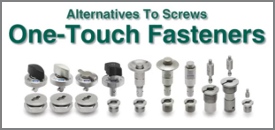 Quick-release One Touch Fasteners from Fixtureworks provide quick and easy locking and unlocking for fixture plates, covers, machine components, and more. These quarter-turn clamping fasteners have clearly visible ON and OFF markings and are ideal for fast-changeover applications and frequent disassembly, providing reliable hold up to 100 lb. Lots of versions available, including standard, retractable, heavy duty, and knob- and button-locking pins.
Learn more and see how they work in different applications.
---