| | |
| --- | --- |
| May 02, 2023 | Volume 19 Issue 17 |
---



Do Not Let High Speeds Hold You Back
Smalley's Revolox® Self-Locking Ring enables you to design for high RPM requirements. The "dimple & slot" design enables engineers to design around high RPM requirements safely and with ease of assembly for high production volumes. From electric motors to transmissions, upgrade to the Revolox today and enjoy the peace of mind that comes with a strong and reliable retaining ring.
Learn more.
---
---
---
Feature articles


Air Force pilots test electric 'flying taxi'
The U.S. Air Force is looking at all-electric transport options too. Four Air Force pilots remotely flew a Joby electric vertical takeoff and landing (eVTOL) aircraft recently. They were the first Air Force personnel to assume remote pilot-in-command responsibilities and transition flight for the eVTOL, preparing the Air Force for delivery of aircraft to Edwards Air Force Base in California.
Read the full article.


WWII Engineering: The saga of the bird-brained bombers
During World War II, the National Institute of Standards and Technology (NIST) was among those working intensely to develop guided weapons to help the Allies win the war. But before the advent of satellites and GPS, laser targeting, or even radar, how would one guide a bomb? Why, trained pigeons, of course.
Read the full article.


Researchers 3D print a better mini vacuum pump
Researchers at MIT rethought the design of a peristaltic pump from the bottom up, looking for ways they could use additive manufacturing to make improvements. They used one pass on a multimaterial 3D printer to make a mini device that can create and maintain a vacuum that has an order of magnitude lower pressure than a so-called dry, rough pump, which doesn't require liquid to create a vacuum and can operate at atmospheric pressure.
Read the full article.


Porsche's top seller: Cayenne SUV gets more more more for 2024
Porsche's top-selling vehicle for 2022, the Cayenne, was responsible for just under one-third of all Porsches sold overall last year. To that end, Porsche is sticking with a real winner and has upgraded the third generation of the Cayenne with comprehensive changes to the powertrain (including new V8 options), chassis, design, and in-car technology.
Read the full article.


Slimmest enclosure air conditioner on the market!
Seifert's SlimLine Series of enclosure air conditioners integrates unique technologies -- maximum power-to-size ratio and a mounting of merely 4.5 in. inside-cabinet depth -- making the it the slimmest air conditioner in the market. The condenser is specifically designed to maintain performance without maintenance in environments where dirt and dust are present. Cooling capacity: 1,090 to 5,120 Btu/hr. Lots of model options.
Learn more.


What they didn't teach you about fittings in engineering school
Do you know why an old standard "Christmas-tree" barbed fitting may not be your best choice for your miniature fluid power application? Experts at Beswick Engineering run through the common types of fittings used in these smaller pneumatic applications, along with thread sizes and seals to help you make the correct choice. They also touch on pressure and temp ranges, chemical compatibility issues, rigid and flexible lines, and the ease of assembly and maintenance.
Read the full article.


Food-grade, long-reach stainless steel delta robot
FANUC America's DR-3iB/6 STAINLESS delta robot sets a new benchmark for robotic food handling. Designed for picking and packing primary food products, it has a 1,200-mm reach and a powerful four-axis design that allows it to handle 6-kg payloads at high speeds. Rated IP69K, the robot meets USDA and FDA food safety standards. It is also very fast.
Learn more.


Part finishing: New smart cobot solution sands, grinds, and more
Kane Robotics has launched its first collaborative robot (cobot) solution, the GRIT™ cobot. Developed by aeronautics and composite experts, GRIT dramatically improves productivity, reduces health risks, and solves labor shortages for aerospace maintenance, repair, and overhaul (MRO) companies and other types of manufacturers. This reconfigurable cobot comes in three sizes and works alongside humans to perform labor-intensive sanding, grinding, and polishing for materials removal within any size and type of manufacturer. Average ROI is 6 months.
Learn more.
Watch a video of how it works.


Couplings solve misalignments more precisely with targeted center designs
ALS Couplings from Miki Pulley feature a simplistic, three-piece construction and are available in three different types for more precisely handling parallel, angular, or axial misalignment applications. The key feature of this coupling design is its center element. Each of the three models has a center member that has a unique and durable material and shape. Also called a "spider," the center is designed to address and resolve the type of misalignment targeted, thereby reducing reaction loads resulting from the misalignment. Ideal for unidirectional continuous movement or rapid bidirectional motion.
Learn more.


Tips for improving mechanical motion control systems
Learn the important considerations beyond torque and backlash requirements that can improve the design of mechanical drive trains in servo motion control systems with this new guide from GAM. The tips in "Beyond Torque: Considerations for Improving Overall Mechanical Drive System Performance" are targeted at saving costs and improving performance.
Get the GAM guide.


LEGO X-wing Starfighter: May the 4th Be With You
The newest LEGO set in the Ultimate Collector Series celebrates one of the most iconic Star Wars ships: the T-65 X-wing Starfighter. Available just in time for Star Wars Day, the 1,949-piece set is highly detailed and includes the Incom 4L4 fusil thrust engines and the Taim & Bak KX9 laser cannons on the starship used by the Rebel Alliance in long missions and dog fights. Finished length is about 21.5 in. Comes complete with Luke Skywalker and R2-D2 mini figures.
Learn more.
---
Most popular last issue


Will a hydrofoiling center console boat fly in America?
Swedish boat builder Candela aims to electrify America's No. 1 boat segment: center consoles for fishing, families, and watersports. The company's 29-ft C-8 CC model flies on computer-guided hydrofoils, which are underwater wings that enable it to soar above the waves using 80% less energy than conventional V hulls.
Read the full article.


Lamborghini Revuelto: First V12 hybrid plug-in supercar
How do you take the power and performance of a Lamborghini supercar to the next level? Add three electric motors to a mid-engine, V12 powertrain and throw in hybrid tech and a new carbon frame concept for good measure. The result is the 1,001-hp Revuelto: unique and innovative but still faithful to Lamborghini's DNA.
Read the full article.
---
Videos+: Technologies and inspiration in action
Everything you need to know: Electric vehicle tires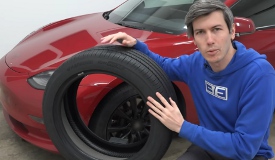 What happens if you put a "regular" car tire on an electric vehicle (EV)? Engineering Explained's Jason Fenske covers that and more when he gets deep into why EV tires are different than internal combustion engine (ICE) car tires due to weight, efficiency, noise, and torque demands and other characteristics. You always learn something from a Fenske video.
View the video.
---