| | |
| --- | --- |
| May 09, 2023 | Volume 19 Issue 18 |
---
In this issue of Designfax

NASA extracts oxygen from lunar soil simulant
New ROEQ cart system for automated mobile robot
New drone design adapts to wind and flight position
Road boss: BMW XM Label Red SUV
Easy retaining ring installation/removal
What is 3D-MID? Molded parts with integrated electronics
maxon adds dynamism to robotic drives
DIY high-performance aluminum cold plates
Corrosion-resistant stainless steel shock absorbers
Plug & Play connectors for mobile machinery
The best high-speed rotary bearing in THK history
Videos+: Technologies and inspiration in action

Next-gen robotic welding training

Most Popular Last Issue

WWII Engineering: Bird-brained bombers
Air Force pilots test electric 'flying taxi'
Porsche's top seller: Cayenne SUV updated

New Products

Electrical, Mechanical, Motion,

Special: Fasteners

Cover Image: BMW XM Label Red SUV

News

New world record for tandem solar cell efficiency

Researchers create antimicrobial 'superfoam'

OSU research shows how hackers can target smart meters to destabilize electricity grid
---
---
Feature articles


NASA extracts oxygen from lunar soil simulant
Scientists at NASA's Johnson Space Center in Houston have successfully extracted oxygen from simulated lunar soil. Resources like oxygen, which can be used for breathing and as a propellant, are crucial building blocks to establishing a long-term presence on the Moon.
Read the full article.


New ROEQ cart system for automated mobile robot supports up to 287 lb
For customers looking to automate tasks such as quickly moving smaller, lighter cargo between work stations or shelves -- even in narrow spaces where larger carts are challenged -- ROEQ's new TMC130 top module and cart system for the OMRON LD-90x is an ideal solution. The new system will make its debut at Automate 2023. This type of cart tech is popular in automotive manufacturing but is gaining traction quickly in many other industries.
Read the full article.


Road boss: BMW XM Label Red SUV
V8 + e-motor = 748 hp
You can drive around like an ultimate road boss in the new BMW XM Label Red, the brand's most powerful road-legal BMW M car ever. The luxe performance SUV's distinctive accents and styling are sure to get you noticed. Its combined V8 and electric motor hybrid powertrain provide the super-oomph to take you anywhere, and its cushy, race-inspired interior is something to behold.
Read the full article.


Easy retaining ring installation/removal
What's the difference between a Spirolox® Retaining Ring and a traditional stamped snap ring? Smalley's retaining rings are designed to be installed and removed by hand, so no special tooling is required. This video covers how to install and remove an External Spirolox Retaining Ring using a flathead screwdriver and a staple remover.
View the video.


What is 3D-MID? Molded parts with integrated electronics from HARTING
3D-MID (three-dimensional mechatronic integrated devices) technology combines electronic and mechanical functionalities into a single 3D component. It gives engineers the power and freedom to shrink components, optimize space, and provide higher overall functional density -- while offering the same or more capabilities as in larger devices. HARTING's tagline for the tech is, "Like a PCB, but 3D."
Read the full article.


maxon adds dynamism to robotic drives
Innovative motor concepts are the answer to growing market requirements for dynamic response, compactness, and power density. With the EC frameless DT, maxon presents a solution that really packs a punch. The DT50 with matching encoder is the precursor of a new product family developed specifically for dynamic movements like those in robotics. The brushless motor with its frameless concept can be easily integrated into a wide range of applications by design engineers in applications where speeds can change in an instant. When installed, the EC frameless DT50 effortlessly reaches a nominal torque of over 500 mNm at a nominal speed of 4,000 rpm.
Learn more.


Do-it-yourself high-performance aluminum cold plates
New high-performance aluminum cold plates from Advanced Thermal Solutions (ATS) let engineers safely drill holes in a mounting pattern that matches the specific connection points of hot devices that need cooling, providing lots of customization options. ATS says its cold plates have been demonstrated to provide more than 30% better thermal performance than other commercially available cold plates.
Learn more.


Corrosion-resistant stainless steel shock absorbers
Corrosion Resistance Series (CRS) Stainless Steel Shock Absorbers from Enidine are adjustable and non-adjustable small bore units that provide an eco-friendly solution for various harsh-environment, industrial, food-grade, and medical washdown applications. Accessories in stainless steel and food-grade hydraulic fluid are available for this broad range of products upon request.
Learn more.


Plug & Play connectors for mobile machinery
binder USA recently announced new Plug & Play connectors compatible with Deutsch DT, AMP Superseal, and AMP CPC series connectors (in combination with connectors from the binder portfolio) as part of its Plug & Play product selection. Mobile machinery used in agriculture and construction requires a high level of customization. A complex network of sensors, actuators, controls, and other components must connect to moving equipment such as tractors, harvesters, excavators, and cranes. These ready-to-connect and pre-assembled connectors allow machine engineers the flexibility to combine products from multiple manufacturers for the best overall solution.
Learn more.


The best high-speed rotary bearing in THK history
THK has developed its best-performing, high-speed rotary bearing ever: the High-Speed, Double-Row Angular Contact Ring BWH. This rotary bearing has balls aligned inside a cage between the inner and outer rings and is part of the THK Rotary Series, along with the cross-roller ring. The main features of this product are its ability to receive loads in all directions as well as its high rigidity and rotational accuracy, which are equal to that of cross-roller rings. By adopting a new structure to change the rolling elements from rollers to balls, this product achieves the greatest high-speed performance ever offered by THK.
Learn more.
---
Most popular last issue


WWII Engineering: The saga of the bird-brained bombers
During World War II, the National Institute of Standards and Technology (NIST) was among those working intensely to develop guided weapons to help the Allies win the war. But before the advent of satellites and GPS, laser targeting, or even radar, how would one guide a bomb? Why, trained pigeons, of course.
Read the full article.


Air Force pilots test electric 'flying taxi'
The U.S. Air Force is looking at all-electric transport options too. Four Air Force pilots remotely flew a Joby electric vertical takeoff and landing (eVTOL) aircraft recently. They were the first Air Force personnel to assume remote pilot-in-command responsibilities and transition flight for the eVTOL, preparing the Air Force for delivery of aircraft to Edwards Air Force Base in California.
Read the full article.


Porsche's top seller: Cayenne SUV gets more more more for 2024
Porsche's top-selling vehicle for 2022, the Cayenne, was responsible for just under one-third of all Porsches sold overall last year. To that end, Porsche is sticking with a real winner and has upgraded the third generation of the Cayenne with comprehensive changes to the powertrain (including new V8 options), chassis, design, and in-car technology.
Read the full article.
---
Videos+: Technologies and inspiration in action
Next-gen robotic welding training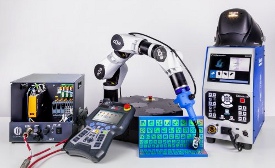 Comau and Seabery recently unveiled cutting-edge robotic welding training to expand opportunities and promote an increasingly skilled workforce. The dedicated solution combines Seabery's patented, augmented reality technology-based Soldamatic simulated welding training with Comau's e.DO educational robot. This easy-to-use, first-of-its-kind system enables students to practice the skills needed to become proficient and certified robotic welders and to attain Comau's Robotics Welding License. The Soldamatic Augmented Training solution is currently implemented in more than 80 countries.
Learn more and view the video.
---