| | |
| --- | --- |
| June 06, 2023 | Volume 19 Issue 21 |
---



Stuck on Coil Springs?
Smalley Wave Springs can replace conventional coil springs while occupying only 50% of the space and providing the same force and deflection. Over 4,000 springs are available from stock in carbon and stainless steel, or utilize Smalley's No-Tooling-Cost™ manufacturing process on custom designs, available from .118" to 120".
Learn more. Free samples are available for testing.
---
---


Liquid Atomizing Spray Nozzles
EXAIR's FullStream Liquid Atomizing Nozzles have a full cone spray pattern for cooling, cleaning, washing and more. The right-angle design is compact, operates at up to 250 PSI liquid pressure. 1/4, 3/8 and 1/2 NPT. HollowStream Liquid Atomizing Nozzles are also available.
Learn more.


Aston Martin DB12: Super-slick Super Tourer
Ever feel like you need to get your James Bond groove on? Aston Martin's new 671-hp DB12 Super Tourer could be just the ticket. Powerful, luxurious, dynamic, and easy on the eyes, it's a matured evolution of the DB 11 (with hints of the DBS) and a study in mixing high class and high performance.
Read the full article.


Motors: Understanding electric traction and steering for autonomous robots, AGVs, and lift trucks
Electrically driven vehicles, including warehouse and factory-floor trucks, hoists, pushers, tuggers, and various types of mobile robots, are clean, quiet, and more precise than hydraulic solutions and can handle loads up to 20,000 lb in some cases. Learn all about traction actuators from Allied Motion for these vehicles -- including discrete and integrated power wheels and electric steering solutions -- and design approaches and powertrain comparisons.
Read this informative Allied Motion article.


Engineer's Toolbox: 7 ways to improve sheet metal parts
When designing sheet metal components, there's a lot to consider: bends, reliefs, offsets, hems, holes, slots, tabs, and inserts -- not to mention material and finishing options. The engineers at Protolabs take a look at the different ways to improve sheet metal part design while creating cost-efficient components. Learn some great tips.
Read the full article.


Quiet gearboxes for noise-sensitive applications
With the GP42-N series, Nanotec now offers low-noise planetary gearboxes for brushless DC motors and stepper motors with NEMA 17 flange (42 mm). The helical toothing allows the teeth to mesh gradually, resulting in a smoother transmission of forces so vibrations and noise are reduced. Since the planetary gears and the ring gear are made of top-of-the-line, wear-resistant plastic, the new gearboxes are also significantly quieter. Available in single- and two-stage versions with seven different reductions. Output torques from 0.8 to 4.9 Nm. Ideal for applications in medical devices and building automation.
Learn more.


Servo vs. stepper motor systems
The engineers at Electromate have put together a solid comparative analysis of servo and stepper motor systems. Learn the advantages and disadvantages of each technology, including their construction, control systems, and feedback requirements. Cost and system complexities are also discussed, as well as a really interesting historical development timeline.
Read this informative Electromate article.


New inline fuse holder series
Littelfuse has just announced the release of the 150520 Series Inline Fuse Holders product line, with fuses rated 600 VAC/VDC voltage at 20 amps in a 5 x 20 mm size. These convenient inline fuses are ideal for applications requiring supplemental circuit protection, including data centers, industrial HVAC, and power supplies. The 150520 provides 8-in. pre-stripped wire leads and preassembled fuse clips for quick installation.
Learn more.


Electrical-erosion-resistant bearings for eAxles
NSK now offers a greater range of options in anti-electrical-erosion technologies for bearings used in eAxles in all-electric and hybrid vehicles, and the company has completed performance evaluations. New options for eAxle bearings include insulating polymer coatings and conductive brushes, enhancing NSK's ability to respond to diverse customer requirements for electrical erosion and contributing to improved reliability and extended range of electric vehicles.
Learn more.


Watertight LED lighted pushbutton in almost any color
OTTO now offers its LP9 RGB LED lighted pushbutton in nearly any color. These units offer full-button illumination and are available in a flush or raised style with a glossy or matte finish bezel. They feature positive tactile feedback, short behind-panel depth, and can withstand extreme shock and vibration.
Learn more.
---
Most popular last issue


55 years ago: Armstrong survives training crash
On May 6, 1968, astronaut Neil A. Armstrong, then assigned as back-up commander for the Apollo 9 mission, took off on a simulated lunar landing mission in Lunar Landing Research Vehicle #1 at Ellington Air Force Base in Houston. He had been airborne about 5 minutes when he suddenly lost control of the first pure fly-by-wire aircraft.
Read the full article.
---
Videos+: Technologies and inspiration in action
Robotic machining just got a whole lot better! All-electric force compensator for robotic sanding, grinding, and deburring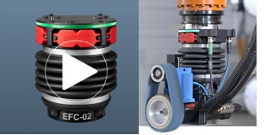 SUHNER's new end-of-arm EFC-02 active compliance system combines over a century of abrasives and material removal expertise with smart automation to deliver precise, constant force for robotic sanding, grinding, and deburring processes. The result is superior, consistent surface quality. EFC-02 is used for material removal or surface finishing -- even in tight or narrow spaces. It features simple robot programming for complex processes, Industry 4.0 functionality, and is fully compatible with angle grinders, orbital sanders, angle polishers, and straight grinders. Optional automatic changers for abrasives or belts are available.
Learn more and see how this new SUHNER innovation works.
---