| | |
| --- | --- |
| June 20, 2023 | Volume 19 Issue 23 |
---
---


Over 26,000 Stock Metric Gears
KHK USA Inc offers the largest selection of stock metric gears in North America -- with over 26,000 configurations. KHK USA offers Metric Spur Gears, Metric Helical Gears, Metric Internal Ring Gears, Metric Gear Racks, Metric Bevel Gears, Metric Worms and Wormwheels from stock! Free 3D CAD models, technical specs and 24/7 price and availability detailed online.
See what KHK USA has in stock for you today!


Drive shafts getting lightweight builds
Researchers at the Fraunhofer Institute (Germany) are developing a new, very lightweight drive and side shaft system for cars and trucks. The shafts' matrix consists of thermoplastic materials that can be recycled and have additional lightweighting and processing advantages.
Read the full article.


New VW bus long wheelbase coming to U.S. in 2024
Looking to capture a little of that old-school California Dreamin' vibe? The reborn VW bus will finally be available in the U.S. next year as the all-electric ID. Buzz with long wheelbase (LWB), after the short-wheelbase model rolled off the production lines for European customers this year. The rear-motor LWB bus is filled with retro-futuristic design touches, and a more powerful AWD version will be an option eventually too.
Read the full article.


Tech Tip: Innovative way to take up tolerances!
Smalley Linear Springs are a continuous wave formed (marcelled) wire length produced from spring tempered materials. They act as a load-bearing device with approximately the same load/deflection characteristics as a wave spring. Linear Springs are now available as a standard part in carbon and stainless steel, with over 200 sizes.
Learn more.


Best high-speed rotary bearing in THK history
THK has developed its best-performing, high-speed rotary bearing ever: the High-Speed, Double-Row Angular Contact Ring BWH. This rotary bearing has balls aligned inside a cage between the inner and outer rings and is part of the THK Rotary Series, along with the cross-roller ring. The main features of this product are its ability to receive loads in all directions as well as its high rigidity and rotational accuracy, which are equal to that of cross-roller rings. By adopting a new structure to change the rolling elements from rollers to balls, this product achieves the greatest high-speed performance ever offered by THK.
Learn more.


When metals can't take the heat: Silicon Carbide is a top choice for high-temperature wear
Silicon Carbide is among the hardest of ceramics. It retains this hardness and strength at elevated temperatures, which translates into incredible wear resistance. Several grades of Silicon Carbide optimize wear performance for bearings and other parts requiring extreme precision in high-acceleration or aerospace applications. Insaco is the expert in precision machining SiC in applications where thermal conductivity or strength at high temperatures and low density are key.
Learn more.


Molded threads and how to design them
Molded threads are everywhere as part of mass-produced plastic parts we encounter every day, parts that were made using multi-cavity, highly automated molds costing hundreds of thousands of dollars and requiring many months to design and manufacture. But what if you don't have that kind of time or money? No worries, that's what contract manufacturers like Protolabs are for. Just follow some basic design guidelines, and understand that the threads found on molded parts are a bit different than the ones made in a machine shop.
Read this informative Protolabs article.


New bonding tech to join different materials
Polyplastics has introduced an innovative bonding technology that is unlike traditional joining methods such as plastics welding or adhesion. AKI-Lock has few restrictions on the materials that can be used and forms strong, airtight bonds with combinations of different materials that are usually difficult to join. AKI-Lock uses the glass fibers in glass fiber-reinforced resins as a physical anchor for bonding. AKI-Lock can also be used to give one component multiple properties. For example, even when installing an O-ring into a complex shape that is difficult to perform manually, double molding with AKI-Lock can be used to secure the O-ring with molding. Doing so makes it possible to produce a secure seal, even with complex shapes.
Learn more. This could be a promising solution for many products.


Power inductors sample kit
TDK Corporation has a new sample kit available for its extremely compact and reliable CLT32 power inductors for power management of safety-relevant automotive Advanced Driving Assistance Systems/Autonomous Driving (ADAS/AD) applications. Included in the sample kit, part number B82403X1, are inductors with nine different inductance values. These AEC-Q200 certified components are designed with a solid copper coil over-molded with a ferromagnetic plastic compound. The coil ends already function as terminals, which significantly increases reliability.
Learn more.
---
Most popular last issue


Porsche Mission X: Next-gen supercar concept
Porsche has created the one-off Mission X concept to gauge potential customer interest in the future of supercar offerings from the 75-year-old automaker. The evolution of the 959, the Carrera GT, and the 918 Spyder is an all-electric affair finished in Rocket Metallic that aims to be the fastest road-legal vehicle around the Nürburgring Nordschleife.
Read the full article.


World's first X-ray of a single atom
A team of scientists led by researchers from Ohio University and Argonne National Lab have taken the world's first X-ray SIGNAL (or SIGNATURE) of just one atom. Atoms are routinely imaged with scanning probe microscopes, but without X-rays scientists cannot tell exactly what they are made of.
Read the full article.


Air Force field testing robotic blacksmith
Researchers from the Air Force Research Lab have combined efforts with The Ohio State University and industry robotics partners to create an autonomous robotic incremental metal forming prototype called AI-FORGE. The effort aims to significantly impact the future of metamorphic manufacturing, also called robotic blacksmithing.
Read the full article.
---
Videos+: Technologies and inspiration in action
Did you know you can 3D print rubber?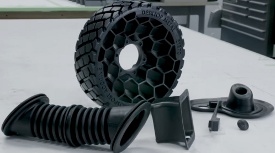 3D-printing materials just keep getting better -- and now there are more choices than ever. Watch as Walter Voit, SVP Polymer Materials, Desktop Metal, describes the 3D printing of DuraChain Elastic ToughRubber photopolymers, which produce tough and resilient end-use parts while eliminating the need for a two-part resin. DuraChain photopolymers also demonstrate a long pot life of roughly one year, depending on environmental conditions, making them more suitable for volume production and reducing waste from spoiled, unused material. These materials are offered exclusively on the ETEC Xtreme 8K top-down DLP systems. ETEC is a wholly-owned subsidiary of Desktop Metal.
View the video.
---