| | |
| --- | --- |
| July 05, 2023 | Volume 19 Issue 25 |
---



Feel the difference: 2-shot injection molded knobs sample pack
In 1979, Rogan was the first knob company to mold a knob utilizing the 2-shot injection molding process, which uses a single plastic molding machine specially made to inject two materials sequentially or one on top of the other. If you have ever used a plastic toothbrush with a colorful rubber grip, it was likely 2-shot injection molded. Create a competitive advantage for your products. You can add markings, custom colors or graphics, and even glow-in-the-dark materials. Request a sample of control knobs or clamping knobs -- or both.
Request a sample pack from Rogan, and feel the difference.
---
---


Pinch valves: Flow control without contamination
Beswick miniature pinch valves are now available for 1/8-in. OD and 1/4-in. OD tubing. The PV series miniature pinch valve is designed to control fluid when it is advantageous to avoid fluid contact with mechanical components and elastomeric seals. Pinch valves achieve fluid control by clamping down on the outside diameter of the tubing in order to limit or stop flow. The PV has a port for pneumatic actuation as well as a manual knurled knob for extra flexibility.
Learn more.
Watch the pinch valve video to learn all of the benefits.
---
Feature articles


Electric vehicle tires modeled for noise -- virtually
Can developing nuclear weapons also help in designing tires? As more electric vehicles come to market, drivers and car companies are noticing tire noise more than before. Sandia and The Goodyear Tire & Rubber Co. have developed a virtual way to test how noisy a tire will be on the road -- without the need for physical testing.
Read the full article.


What is a sapphire piston used for -- and who can make one?
If you want a prototype piston made of metal for research purposes, you have a lot of options -- you can even 3D print your own. But what if you need something much more exotic, like the second-hardest natural material? When Mid Michigan Research had just such a need, it turned to Insaco for the company's long history of custom fabrication of sapphire precision parts, often in unusual forms.
Read the full article.


New FireDrone can operate through flames
Researchers in Europe are developing a heat-resistant drone that can analyze the source of danger at close range in the event of a building or forest fire. This allows firefighters to optimize the strategy of a high-risk operation before entering the danger zone. Design challenges include special insulation, cooling, and cladding.
Read the full article.


Ride along with the U.S. Air Force Thunderbirds
Take a ride with the U.S. Air Force Thunderbirds as they train flying F-16 Fighting Falcons in formation for upcoming air shows and flyover events. Training during winter months takes place at Spaceport America in New Mexico and Ft. Huachuca in Arizona. Interestingly, the Thunderbirds also train with the U.S. Navy Flight Demonstration Squadron, the Blue Angels, at the Naval Air Facility in El Centro, CA.
View the video.


Engineer's Toolbox:
Self-clinching fasteners design tips
Dozens of types and thousands of variations of self-clinching fasteners (steel, stainless steel, or aluminum) have been engineered over the years. Leon M. Attarian of PennEngineering provides three mini case studies where manufacturers benefited greatly by switching to self-clinching fasteners in their assemblies. This article is filled with insightful tips and suggestions.
Read the full article.


SPIROL Press-N-Lok™ Pin for plastic housings
The Press-N-Lok™ Pin was designed to permanently retain two plastic components to each other. As the pin is inserted, the plastic backfills into the area around the two opposing barbs, resulting in maximum retention. Assembly time is quicker, and it requires lower assembly equipment costs compared to screws and adhesives -- just Press-N-Lok™!
Learn more.


Flat motors with maximum torque
Optimal application design or maximum torque? With FAULHABER's BXT series of flat motors, developers get both. The series is designed as an ultra-compact system solution. With coordinated stainless steel planetary gearheads and integrated encoder and speed controller, BXT offers exceptional torque and high positioning accuracy in the tightest spaces.
Learn more.


Ultrasonic leak detector for energy conservation
EXAIR's Ultrasonic Leak Detector (ULD), a hand-held instrument engineered to help locate the source of costly leaks in a compressed air system, has received an upgrade in look and function. Up to 30% of the compressed air generated in industrial plants is wasted through leaks that go undetected. The EXAIR ULD can play a major role to identify and pinpoint these costly leaks, allowing quick repair and cost savings. Testing the various unions, pipes, valves and fittings of a complete installation can be done quickly and effectively at distances up to 20 ft (6.1 m) away.
Learn more.


Get full-spectrum 3D printing: Xometry PolyJet printing service
Xometry now offers full-spectrum 3D printing with their PolyJet printing service, thanks to the latest generation of PolyJet equipment from Stratasys. PolyJet technology is known for its high detail, smooth surface finish, and ability to simulate various material properties, such as rigidness or flexibility, in a single part. With over 600,000 available colors, Xometry can print full-color files submitted in 3MF format.
Learn more.


AI-powered robot controller is now hardware agnostic
Micropsi Industries' artificial intelligence-powered robot control software MIRAI, which helps automate complex tasks too difficult or costly to automate with traditional programming, will soon be accessible for all robot users. Previously compatible exclusively with Universal Robots and FANUC robots, MIRAI will be available for KUKA robots in early Q4, followed by other collaborative robots (cobots) and industrial robots as requested. Using AI, MIRAI generates robot movements directly and in real time. Robot skills (or specific tasks) are trained, not programmed, in a few days through human demonstration, without users needing programming or AI knowledge.
Learn more.
---
Videos+: Technologies and inspiration in action
What can you do with touchless magnetic angle sensors?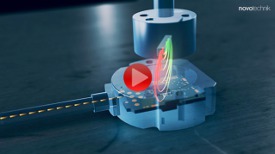 Novotechnik has put together a really informative video highlighting real-world applications for their RFC, RFE, and RSA Series touchless magnetic angle sensors. You may be surprised at the variety of off-highway, marine, material handling, and industrial uses. You'll learn how they work (using a Hall effect microprocessor to detect position) and their key advantages, including eliminated wear and tear on these non-mechanical components. We love when manufacturers provide such useful examples.
View the video.
---