| | |
| --- | --- |
| July 11, 2023 | Volume 19 Issue 26 |
---



1/4 Ton Of Refrigeration
This small, stainless steel Vortex Tube produces 1/4 ton of refrigeration and has no moving parts to wear out. Temperatures range from minus 50 to +250 degrees Fahrenheit. Cooling applications include electronic controls, machining operations, heat seals, welding operations, hot melts and more.
More details online.
---
---


Far out: NASA awards 6 new innovative concepts for further study
NASA's Innovative Advanced Concepts program has awarded six far-out air and space exploration concepts for future study, including nearly silent electric aircraft that could ferry people and packages around cities, a sprawling radio telescope array on the far side of the Moon, and a way for long-duration astronauts to grow their own medicines.
Read the full article.


BMW Concept Touring Coupe: Slick and stylish mashup
BMW's latest concept car is a slick two-door affair that looks like a mashup of their Z4 roadster up front and a mod station wagon in back. The Concept Touring Coupe is a one-off build that has a real chance of making it to production. It brings the old-style shooting brake into the future while maintaining a high-end, timeless quality that is effortlessly appealing.
Read the full article.


First dual-cure high-temp adhesive for electric motors
DELO has developed its first dual-curing, high-temperature adhesive for electric motor applications. DELO DUALBOND HT2990 is designed for use in multiple processes, including magnet bonding and magnet stacking in electric motor manufacturing. This product is the first heat-resistant adhesive capable of light fixation. This supplemental means of curing helps electric motor manufacturers quicken assembly processes and optimize efficiency in their production, achieving light fixation in 5 to 10 sec. Final curing with heat takes 30 min. at 150 C.
Learn more.


Compact spiral system for product transport
With the VarioFlow plus chain conveyor system, Bosch Rexroth provides an essential component for flexible and economical transport within a plant. This system conveys packed and unpacked goods vertically and horizontally in the smallest possible space. Together, with the spiral transport system from smartPac Srl, manufacturers benefit from a continuous spiral transport system with low commissioning and maintenance costs.
Learn more.


Motion controller for medium-power motors
FAULHABER has added another extremely compact motion controller without housing to its product range. The MC3603 is ideal for integration in equipment manufacturing and medical technology applications. With 36 V and 3 A (peak current 9 A), it covers the power range up to approximately 100 W and is suitable for DC motors with encoder, brushless drives, or linear motors. Lots of communication options too.
Learn more.


Great Resources: Flexible circuit design guide
Tech-Etch uses advanced techniques to manufacture flex and rigid-flex circuits to exacting customer specifications. Special processes include selective plating a single circuit with two different finishes, contoured circuits with variable metal thickness, semi-additive and subtractive techniques, open window or cantilevered contact leads, plus SMT for component assembly. Tech-Etch specializes in flexible circuits for medical device, medical implant, diagnostic ultrasound, and patient monitoring applications, in addition to telecommunications, aerospace, semiconductor, and other high-reliability electronic applications.
Learn about flex circuits and get the guide (no registration required).


Spinning flare nuts eliminate loose fasteners in thin metal sheet applications
The PEM SFN spinning flare nut from Penn-Engineering is a one-piece, flanged hex nut that installs by simply pressing it into a properly sized, prepunched embossed mounting hole. The nut is permanently captive and still spins freely in the sheet. This allows quick fastening to mating hardware, eliminating much of the need for loose fasteners. Using these nuts promotes savings in assembly time and costs.
Learn more.
---
Most popular last issue


Ride along with the U.S. Air Force Thunderbirds
Take a ride with the U.S. Air Force Thunderbirds as they train flying F-16 Fighting Falcons in formation for upcoming air shows and flyover events. Training during winter months takes place at Spaceport America in New Mexico and Ft. Huachuca in Arizona.
View the video.


What is a sapphire piston used for -- and who can make one?
If you want a prototype piston made of metal for research purposes, you have a lot of options -- you can even 3D print your own. But what if you need something much more exotic, like the second-hardest natural material? When Mid Michigan Research had just such a need, it turned to Insaco for the company's long history of custom fabrication of sapphire precision parts, often in unusual forms.
Read the full article.
---
Videos+: Technologies and inspiration in action
Watch Ford F-150 Lightning electric trucks being made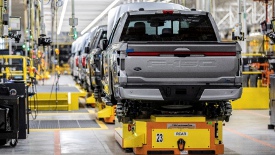 Join Zack Nelson from his JerryRigEverything YouTube channel on a tour of the Ford Rouge Electric Vehicle Center in Dearborn, MI, to see how F-150 Lightning all-electric trucks are assembled. Ford has a goal of cranking out 150,000 Lightnings a year in this facility. It is always neat to see how all the parts come together -- and sometimes a little surprising. [Photo credit: Ford]
View the video.
---