| | |
| --- | --- |
| August 01, 2023 | Volume 19 Issue 29 |
---
---


BMW making head-up display glasses for motorcyclists
BMW Motorrad's future-forward ConnectedRide Smartglasses for motorcyclists provide navigation, speed, and gear info directly into the rider's field of vision in real time. Navigation options include reduced arrow display or detailed navigation with street names, intersections, and precise directions.
Read the full article.


Big discovery: Metals can heal themselves
For the first time, scientists have witnessed pieces of metal crack, then fuse back together without any human intervention, overturning fundamental scientific theories in the process. If the newly discovered phenomenon can be harnessed, it could usher in an engineering revolution.
Read the full article.


Aston Martin Valour: High-end muscle vibes
James Bond's favorite carmaker Aston Martin has given a street-muscle vibe with throwback styling to its latest limited-edition creation. Inspired by the original 1970s V8 Vantage and some other Aston Martin creations, the two-seat 705-hp Valour features a twin-turbo V12, a manual transmission, and powerful prowler looks. The car helps mark Aston Martin's 110th anniversary.
Read the full article.


Open-access learning center for multiphysics modeling
COMSOL, the developer of the COMSOL Multiphysics simulation software, has introduced a new online resource that provides no-cost, open access to modeling and simulation learning material across all areas of physics. Designed with the user in mind, the Learning Center offers a single entry point for users of all skill levels, where courses, articles, and videos present a clear path for learning how to use COMSOL Multiphysics for modeling and simulation.
Check out the COMSOL Learning Center.


New piezo actuators for high-precision applications
TDK presents two new piezo actuators made of RoHS-compatible lead zirconate titanate (PZT) with an internal copper electrode. COM30S5 and COM45S5 are available as unhoused, passivated components. They are characterized by an extraordinary dynamic range, a high force-to-volume ratio, and precision in the nanometer range and feature TDK's patented copper-based High Active Stack (HAS) technology. Numerous high-end solutions in nano-positioning, valve control for liquids and gasses in process engineering, and semiconductor manufacturing are already relying on piezo actuators from TDK.
Learn more.


Linear servo motor: High force and precision
The GVCM-095-064-01 Linear Servo Actuator from Moticont combines high precision and high force in an easily integrated and compact package. This linear voice coil servo actuator, also called a moving coil motor, features zero cogging, high speed, high acceleration/deceleration, and high-precision accuracy and repeatability when operated in a closed servo loop. It is an ideal choice for assembly, clamping and work holding, sorting equipment, medical devices, optical focusing, antenna positioning, shutters and doors, testing, slide actuators, valve actuation, and wafer handling.
Learn more.


5 biggest 3D-printing misconceptions
3D printing first made its debut in manufacturing over 35 years ago, but there is still a lot to learn about this quickly evolving technology. The engineers at EOS are often met with 3D-printing misconceptions or myths when educating the market about their technology. What can 3D printing do, and what can't it? What do you have to know about CAD files and their prep and conversion? What about equipment and production costs?
Learn all this and more in this informative EOS blog.


Uniquely durable and repeatable salt fog silver coating
Zygo Corp. has developed a salt fog silver coating that can be applied to silver reflector optics used either in harsh marine salt spray environments or for optics exposed to extreme temperatures. Salt fog silver is a silver mirror coating that offers high reflectivity from visible through to infrared wavelengths. A protective layer of salt fog silver is added to standard metallic silver coatings, ensuring that optics are better able to resist corrosion and mechanically induced damage. This product has been meticulously tested.
Learn more details.


Universal Latch Sensor for enhanced security
Southco's Universal Latch Sensor (ULS) is a simple magnet that attaches to an existing latch, and a magnetic sensor that attaches to the inside of an existing door frame. When the door is closed and the latch is engaged, the magnet comes into proximity with the sensor, sending an electronic signal to your security system. This lets you know the door is closed and the latch is secure. The signal from the ULS can be used in a variety of ways, from integrating security systems to turning on existing lights inside an enclosure. Southco also offers a sensor with built-in LEDs that automatically illuminate when the latch is opened.
Learn more.


End-to-end asset tracking now even more efficient
onsemi has launched an end-to-end positioning system that enables the simpler and faster development of more accurate, cost- and power-efficient asset tracking solutions. The system is based on onsemi's RSL15 MCU, the industry's lowest-power Bluetooth 5.2 MCU, and incorporates software algorithms and components provided by Unikie and CoreHW, resulting in a fully integrated solution with components that have been optimized to work together. The new Bluetooth Low Energy solution enables tags to be used for tracking objects or persons with sub-meter accuracy in defined closed spaces. Ideal for various industrial automation applications, including asset tracking, smart retail, and IoT edge nodes.
Learn more.
---
Videos+: Technologies and inspiration in action
Neat. Scan really large objects fast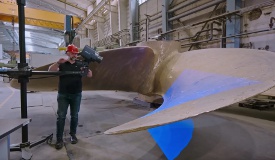 CAPTURE 3D has just released the ZEISS ATOS LRX, a new, large-volume 3D-scanning sensor with an ultra-bright laser light source that captures up to 2 × 12 million coordinate points with one scan, quickly delivering precise, full-field data from very big parts. With a measuring area of up to 4 m2, the ZEISS ATOS LRX is ideal for applications such as aerospace (structural components like fuselage, wings, wing ribs, and tail), MRO automotive design, tool making, crash testing, machine building, marine propellers, rotor blades and molds, and wind turbine housings.
See how it works.
---